Past Professors
Bernard L. Stein - Spring 2002
Sydney Schanberg - Spring 2001
"I hope New Paltz continues this tradition of excellence with the Ottaway Endowed Professorship. How many people can say they learned from two Pulitzer-Prize winners?"
- Andrew Hackmack, Journalism Alumnus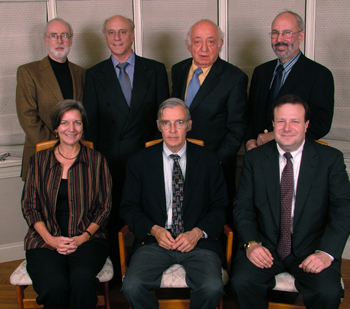 The Ottaway Professors gathered for a five-year reunion. Seated, from left, Ann Cooper, James Ottaway Jr., and College President Steven Poskanzer. Standing, from left, Sydney Schanberg, John Darnton, Roger Kahn and Bernard Stein.