Roger Kahn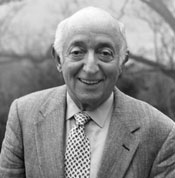 Roger Kahn
SUNY New Paltz President Steven Poskanzer describes Kahn as "a national treasure," and a "wonderful resource and teacher" for students.
News & Events:
Course Description
Beyond The Boys of Summer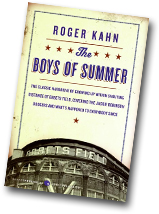 Best-selling writer Roger Kahn, author of the 1972 book, The Boys of Summer, will explore and explain the writing process he has used in authoring 17 nonfiction books, two novels, and hundreds of magazine articles on sports, politics and culture. Emphasis will be on journalism as literature.
Bio:
Roger Kahn, the college's fourth James. H. Ottaway professor, has often been called the dean of American sports writers and the best baseball writer in the country. He has earned those labels after more than 50 years as a newspaper reporter, magazine writer and columnist, and as the author of 19 books.
Kahn earned national fame and celebrity in 1972 with the publication of his book, The Boys of Summer, which captured the imagination of the nation. It has sold nearly three million copies and is in its 65th printing. The book recounts Kahn's early years as a sports reporter in New York City and his nostalgic visits with some of the famous Brooklyn Dodgers of the 1950s, including baseball players Jackie Robinson, Pee Wee Reese and Duke Snider.
One reviewer said the book entranced the public because "it is not just another book about baseball or a boy growing up to like baseball, but a book about pain and defeat and endurance, about how men, anywhere, must live."
Kahn, however, is more than a sportswriter. He has written two novels and two nonfiction books not about sports. During the 1960s he wrote often about politics, and even his books about sports deal with social issues, especially racial injustice. His writing about Dodger player Jackie Robinson, the first black player in the major leagues in 1947, is particularly moving and noteworthy.
The course he will teach at the college is entitled "Beyond the Boys of Summer." In it he will discuss the process he has employed - from choosing topics, to researching his subjects, to writing the prose that novelist James Michener has described as having "high moral purpose and great poetic accomplishment."
Kahn is the author of 17 nonfiction books, two novels, and hundreds of articles in national magazines such as Esquire, Sports Illustrated, Time and the now-defunct Saturday Evening Post. His most recent book is entitled October Men: How The 1978 Yankees Fought Themselves and Won a World Championship. The 1978 Yankees were well known for the internal strife between New York legends Billy Martin, the manager, and Reggie Jackson, the Hall of Fame right fielder.
On becoming the Ottaway professor Kahn said: "One of the finer journalistic traditions has been for one generation to guide those that follow. Harold Rosenthal of the Herald Tribune taught me how to tip on the baseball beat. Red Smith reminded me that no matter how dramatic a ball game seemed to be it was not a battle of Titans. John Lardner suggested that putting some humor in your stuff was a benediction."
"While occupying the Ottaway Chair," he added, "I hope to pass on to another generation as much as possible of what I have learned in 50 years of walking the back alleys and the main streets of journalism."
Kahn, who is 76 years old, grew up in Brooklyn where he idolized the Brooklyn Dodgers. He joined the New York Herald Tribune as a copy boy in 1948 and rose quickly to become a sports writer. He began to write about the Dodgers in 1952, but also wrote about the other New York teams, the Giants and the Yankees. At the age of 26 he was the newspaper's "star" sports reporter, making a salary of $10,000.
In 1956 Kahn was named sports editor at Newsweek magazine and then from 1963 to 1969 became editor at large at the Saturday Evening Post. For a decade he wrote features for Esquire magazine. Five times his articles were voted the best in the country.
In 1972 he wrote The Boys of Summer, which became not only a best seller but a phrase that is used hundreds of times by other writers during the baseball season. Some of Kahn's other books include a biography of Jack Dempsey, a memoir of the season he owned a minor league baseball team, a history of a student uprising at Columbia University, and a recollection of the era when the Yankees, Dodgers and Giants ruled the world. Two anthologies are entirely devoted to a collection of some of the best of Kahn's writing. He is now working on a third anthology with SUNY New Paltz journalism professor Robert Miraldi.
Kahn has taught writing at various colleges and lectured at Yale, Princeton, and Columbia universities. He lives in Stone Ridge, N.Y., with his wife, Katherine Johnson. He has two grown children.
Books:
Mutual baseball almanac, edited by Roger Kahn and Al Helfer in co-operation with the Mutual sports staff (Garden City, N.Y.: Doubleday ,1955).
The world of John Lardner, edited by Roger Kahn, with a preface by Walt Kelly (New York, Simon and Schuster, 1961).
Inside big league baseball. (New York: Macmillan, 1962).
The Passionate People: What It means to be a Jew in America (New York: Fawcett, 1968).
Battle for Morningside Heights; why students rebel. Foreword by Eugene McCarthy. (New York: William Morrow & Co., 1970)
Boys of Summer (New York, Harper & Row, 1972).
How the weather was (New York, Harper & Row 1973).
A season in the sun (New York : Harper & Row, c1977). Reprinted (Lincoln: University of Nebraska Press, 2000).
But not to keep: a novel (New York: Harper & Row, 1979).
The seventh game (New York : New American Library, 1982).
Good enough to dream (Garden City, N.Y.: Doubleday, 1985), With a new afterword by the author 2000.
Joe & Marilyn: a memory of love (New York: William Morrow & Co., 1986).
Pete Rose: my story / Pete Rose and Roger Kahn (New York: Macmillan Pub. Co., 1989).
Games we used to play : a lover's quarrel with the world of sport (New York: Ticknor & Fields, 1992).
The Era : 1947-1957, when the Yankees, the Giants, and the Dodgers ruled the world (New York : Ticknor & Fields, 1993).
Memories of summer: when baseball was an art and writing about it a game (New York: Hyperion, 1993).
Flame of pure fire: Jack Dempsey and the roaring '20s (New York: Harcourt, Brace. & Co., 1999).
Head game: baseball seen from the pitcher's mound (New York: Harcourt, 2000).
October men : Reggie Jackson, George Steinbrenner, Billy Martin, and the Yankees' miraculous finish in 1978 (New York: Harcourt, 2002).
Links:
» Roger Kahn Wikipedia bioography
» Roger Kahn's official Web Site