Honors
The mission of the SUNY New Paltz Honors Program is to provide an enhanced intellectual experience in a climate conducive to interaction among highly motivated students and faculty. This experience will seek to develop and intensify skills from a conceptual point of view in a diverse multidisciplinary analytical environment that nurtures independent thinking, creativity, respect and social responsibility.
The Honors Program consists of around 320 students. Once admitted to the program, students take special Honors seminars, which are interdisciplinary and small in size (usually around 15 students). Unlike traditional lecture courses, Honors seminars emphasize dialogue and non-lecture based learning; students are expected to come to class with something to say and to actively participate in debate and discussion.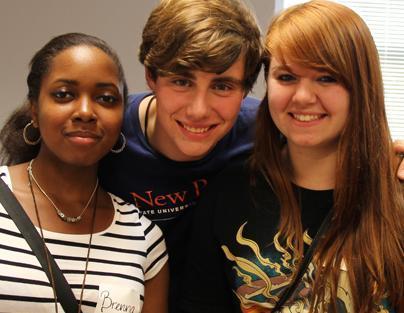 Give to the Honors Program
The collective genorosity of our alumni and friends ensures that the Honors Program can continue to enrich the academic experience of our students. Thank you for your continued support.
Dr. Patricia Sullivan, Director
Office: CH-H 111
Phone: 845-257-3456
Email: sullivap@newpaltz.edu

Spring 2019 Office Hours*:
Monday: 2 - 4 p.m.
Tuesday: 3 - 5 p.m.
Wednesday: 2 - 4 p.m.
Thursday: 2 - 5 p.m.

*Also available by appointment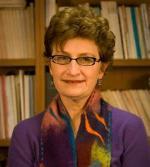 Dr. Pat Sullivan is the director of the Honors Program at SUNY New Paltz and professor in the Department of Digital Media & Journalism. She served as department chair for seven years. She specializes in the study of rhetoric or public communication and has published criticism on a variety of texts (e.g., political speeches, U.S. Supreme Court decisions, autobiographies, media coverage). Current research interests focus on gender, race, and class issues in political communication; political apologies; and ethics and political communication. She is co-author of From the Margins to the Center: Contemporary Women and Political Communication and co-editor of Political Rhetoric, Power, and Renaissance Women and New Approaches to Rhetoric. Her articles have appeared in journals such as Quarterly Journal of Speech, Communication Quarterly, Western Journal of Communication, and Women and Politics. For the Honors Program, she teaches seminars on "The Individual and Society" and "Debates in U.S. History." She received her B.A. in English and communication from Marquette University and her Ph.D. in communication (rhetorical studies) from the University of Iowa.
Events

Women's, Gender and Sexuality Studies Colloquium Series presents Crystal Donkor. Tuesday, April 9 ay 5:00p.m. in the Honors Center.
The James H. Ottaway Sr. Visiting Professor of Journalism program presents Jillian Steinhauer. Tuesday, April 16 at 3:30p.m. in the Honors Center.
Honors Program Spring 2019 Thesis Presentations
Schedule for April thesis/project presentations:
Wednesday, April 17, 2019
2:00-2:20 Reuben Slater, "Don't Keep it Bottled Up: An Analysis of Black Glass Wine Bottles at Historic Huguenot Street New Paltz, NY" (Majors: History & Anthropology)
2:20-2:40 Halimat Sulayman, "Poetry Its Impact on Art and the Modern World" (Major: Communication Studies - Public Relations, Minors: Political Science & Theatre Arts)
2:40-3:00 Simone Evans, "Asymptotic Behaviors and Applications of Nonlinear Networks" (Majors: Biochemistry & Mathematics)
3:20-3:40 Rachel Gumbrecht, "The Art of Fashion: Exploring the Boundaries Between Ceramic Materials and Human Dress & Adornment" (Major: Visual Arts, Minor: French)
3:40-4:00 Mary Durkin, "Healing Children on the Autism Spectrum with Anxiety and/or OCD Navigate School" (Major: Communication Disorders, Minors: Deaf Studies & Psychology)
4:00-4:20 Sarah Wallin, "Why Chivalry Should Die: The Effects of Benevolent Sexism on Hetero-Romantic Relationships" (Major: Psychology, Minors: Art Studio & Philosophy)

Tuesday, April 23, 2019
3:00-3:20 Stephanie Serwan, "The Power of the Narrative: What We Know About the Effects of Narrative Writing and What We Don't" (Major: Psychology, Minor: Disaster Studies)
3:40-4:00 Katherine Dobosh, "Tracking the Genotypic Changes in Paramecium Isolates Between Ponds and Seasons in Ulster County, NY (Majors: Biology - Cellular/Molecular & Psychology, Minor: Evolutionary Studies)
4:40-5:00 Jason Vasquez, "Hasbrouck Explained" (Major: Digital Media Production, Minor: Black Studies

5:00-5:20 Nina Tucker, "Coloring in the Cannon: Lessons for an Inclusive Literature Curriculum and Classroom" (Majors: Adolescence Education: English & English-Creative Writing)
Thursday, April 25, 2019
3:00-3:20 Conor O'Riordan, "Shifting Sandstone: How German Monuments are Vessels of Collective Memory" (Majors: Mathematics & History, Minor: German)
3:20-3:40 Alvina Ahmed, "Humanist Discourse in Mann's Faustus: Rereading the Novel in Light of the Contemporary Refugee Crisis in Europe" (Majors: English & Contract, Minor: German)
3:40-4:00 Eleanor Condelles, "Aggrieved Entitlement and Hegemonic Masculinity in U.S. School Shootings" (Majors: Psychology & Sociology, Minor: French)
4:20-4:40 Morgan Eckwall, "American Government: Representation of Women in Congress" (Major: Political Science)
4:40-5:00 Emily King, "Connection Between Hostility Towards Cross Cultural Contact of Before Common Era to Present Day" (Major: History, Minors: Environmental Studies & Journalism)
Monday, April 29, 2019
2:00-2:20 Johanna Ferrer, "Deaf Education in Developing Countries" (Major: Communication Disorders, Minor: Deaf Studies)
2:20-2:40 Andrea Paredes Santacruz, "The Art of Performing Sexual Identity" (Major: Communication Studies-Public Relations, Minor: Black Studies)
2:40-3:00 Emily Larkin, "Life is Meaningless: A Study of Absurdist Theatre and the Zillenial Generation" (Major: Theatre Arts-Technical, Minors: Geology & History)
3:20-3:40 Emma Allen, "Building A Performance: The Art of Creating a Puppet" (Major: Theatre Arts-Performance, Minor: Psychology)
3:40-4:00 Mary Lee, "Hiking Thru: An Analysis of Hiking Subculture in North America" (Major: Anthropology, Minors: Deaf Studies & Creative Writing)
4:00-4:20 Terrance Patterson, "Black Mental Health Matters: An Afrocentric Analysis of the Modern Epidemic of Black Students Well-Being at Predominantly White Institutions" (Majors: Black Studies & History)
Tuesday, April 30, 2019
10:00-10:20 Ahmad Tipu, "Progress on SDG1: No Poverty by Latin American Social Protection Programs" (Major: International Relations)
10:20-10:40 Rebecca Snyder, "Feminism or Homophobia? An Analysis of Discourse on Female Yaoi Readers" (Major: Sociology, Minors: Asian Studies, Anthropology, and Business Administration)
10:40-11:00 Shrien Alshabasy, "A Whole New World: Redefining Gender in Disney Films from the 20th to 21st Century" (Major: English, Minor: Film & Video Studies
11:20-11:40 Gabrielle Lee, "My Brother Duels Me to the Death: Social Commentary in Percy Jackson and the Olympians" (Major: English)
11:40-12:00 Ella Jordan-Smith, "A Historical Analysis of U.S. Imperialism on Women in Puerto Rico" (Major: History, Minors: Women's, Gender and Sexuality Studies & Political Science)
12:00-12:20 Emily Brown, "A Tune to the Teatro: The Relationship Between Spanish Theatre of the Golden Age and Modern Day Music, Una melodía al teatro: la relación entre el teatro Español del siglo de oro y la música moderna" (Major: Spanish, Minor: History)
---
There will be events added to this list as the semester progresses.