Ann Cooper
Ann Cooper
"(She is) an experienced and fearless journalist who has become the leading defender of journalists around the world who are censored, sued, attacked, jailed and murdered for doing their jobs, for telling the truth."
- James Ottaway Jr.
News & Events:
Committee to Protect Journalist Head to Speak
NEW PALTZ, NY (2003-03-31) Over the weekend, the Committee to Protect Journalists alerted the world of the disappearance of two Newsday journalists and a freelance photographer from Bagdad. The Committee's executive director, former NPR foreign correspondent Ann Cooper, is on sabbatical teaching at SUNY New Paltz this semester. She recently spoke with WAMC's Hudson Valley Bureau Chief Lisa Phillips.
© Copyright 2003, WAMC
Ann Cooper > Course Description
Risky Business: Where the Press Operates Without Press Freedom (Spring 2003)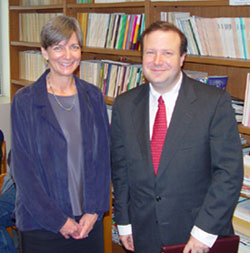 A global look at press freedom, examining the techniques used to suppress independent reporting and critical opinion. Why journalists in dozens of countries risk repression to report the news, and why their role is essential for building democracy.
Ann Cooper bio:
Ann Cooper worked as a reporter in the former Soviet Union, Africa, and Washington, D.C., before joining the Committee to Protect Journalists in 1998 as executive director.
Her voice is well known to radio listeners in the United States from her nine years as a correspondent for National Public Radio (NPR). She has also reported for The Louisville Courier-Journal, the Capitol Hill News Service, Congressional Quarterly, The Baltimore Sun, and National Journal magazine.
Appointed NPR's first Moscow bureau chief in 1987, Cooper spent five years covering the tumultuous events of the times, including the failed coup attempt in Moscow. She co-edited a book of first-person accounts of that siege, Russia at the Barricades. NPR also sent her to Beijing to cover the Tiananmen Square pro-democracy movement.
Based in Johannesburg, South Africa, from 1992-95, Cooper's coverage there won NPR a prestigious Alfred I. duPont-Columbia University Award in broadcast journalism. She traveled throughout Africa, writing features and analysis on a range of subjects, including the famine and international intervention in Somalia, the 1994 Rwandan refugee crisis, and the cholera epidemic in Zaire. Returning to the United States in 1995, she studied refugee policy issues as a fellow at the Council on Foreign Relations in New York and also traveled in Kenya, Rwanda, Zaire, Bosnia and Haiti to produce a series on refugee policy for NPR.
Cooper has taught radio and international reporting at the Columbia University Graduate School of Journalism, and is herself a journalism graduate of Iowa State University. In 1997 she received the Iowa State journalism department's James W. Schwartz award, an honor given annually for "distinguished service to journalism."
Cooper is married, has a 12-year-old son, and lives in New York City.