Deborah Amos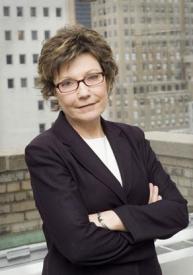 Deborah Amos, an award-winning foreign correspondent for NPR, has been named the 2013 James H. Ottaway Sr. Professor of Journalism at the State University of New York at New Paltz.
Amos joins the faculty in the spring of 2013 for a two-week residency of workshops and guest speaking on broadcast and multimedia journalism and international reporting.
Amos will be introduced to the campus community at 6 p.m. Tuesday, April 9 in the Honors Center. She will be interviewed by President Donald Christian about her life and career, with an audience Q&A to follow. The event is free and open to the public.
At 7 p.m. Thursday, April 18, Amos will give a public speech called "A Passport to the Middle East: A Career of Revolution, Upheaval and Hope" at in the Coykendall Science Building auditorium. The event is free and open to the public. A reception will follow, where Amos will sign copies of her book, Eclipse of the Sunnis: Power, Exile, and Upheaval in the Middle East.
Her speech is part of a series of events in at SUNY New Paltz focusing on the Middle East. As part of the Distinguished Speaker Series, U.S. Ambassador Dennis Ross will speak on "Challenges for American Foreign Policy in the Middle East" at 7:30 p.m. Tuesday, April 16 in Lecture Center 100. Amos will moderate the question and answer session following the talk.
"A Passport to the Middle East: A Career of Revolution, Upheaval and Hope," a speech on April 18 by 2013 Ottaway Professor and NPR Middle East Correspondent Deborah Amos
Eleven well-known journalists have preceded Amos as Ottaway professors. Four have been Pulitzer Prize winners, including Renée C. Byer, a photographer for The Sacramento Bee; former New York Times investigative reporter and columnist Sydney Schanberg; Bernard Stein, an editorial writer with The Riverdale Press in the Bronx; and John Darnton, a former Times foreign correspondent.
Other past Ottaway professors were New York Times investigative reporter Andrew Lehren; award-winning broadcast journalist and media consultant John Larson; Ann Cooper, a former NPR reporter who headed the Committee to Protect Journalists; Byron E. Calame, a longtime Wall Street Journal editor and reporter who has served as The New York Times' public editor; Roger Kahn, the author of 20 books and one of America's foremost literary journalists; Trudy Lieberman, one of America's best consumer reporters; and Martin Gottlieb, the global edition editor of The New York Times.
The Ottaway Professorship is named for the founder of Ottaway Newspapers Inc., now the Dow Jones Local Media Group, which operates print and online community media franchises in seven states. The flagship newspaper of the chain is the Times Herald-Record in Middletown.
Profile
Amos' expertise is in reporting from the Middle East. She has reported extensively on the Arab Spring and sectarian conflicts in the region. In 2012, she was one of the only American journalists allowed into war-torn Syria.
Amos won a 2013 Alfred I. DuPont-Columbia University Award for her role in NPR's coverage of the bloody uprising in Syria. In 2010, she received the Edward R. Murrow Lifetime Achievement Award from Washington State University. She won the 2009 Edward Weintal Prize for Diplomatic Reporting from Georgetown University. She was part a team of NPR reporters who won a 2004 Alfred I. Dupont-Columbia Award for coverage of Iraq.
She has been a Neiman Fellow at Harvard University and a Shorenstein Fellow at Harvard's Kennedy School of Government. She was a visiting professor at Princeton University in 2012.
Amos started her journalism career at NPR in 1977 as a director for "Weekend All Things Considered." From 1979-1985, she worked on radio documentaries. Her 1982 documentary, Father Cares: The Last of Jonestown won several awards, including a duPont-Columbia Award and the Prix Italia. From 1985 until 1993, she reported for NPR from London and the Middle East.
Amos then spent a decade in television news, reporting for ABC's "Nightline" and "World News Tonight," and PBS's "Now with Bill Moyers" and "Frontline."
Amos is the author of Eclipse of the Sunnis: Power, Exile, and Upheaval in the Middle East (Public Affairs, 2010) and Lines in the Sand: Desert Storm and the Remaking of the Arab World (Simon and Schuster, 1992).