Jelani Cobb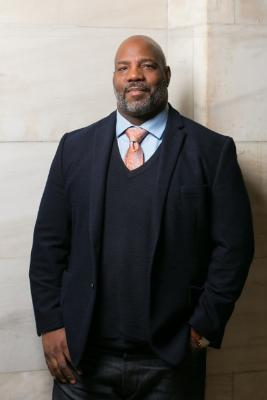 Jelani Cobb, Columbia professor and New Yorker staff writer, will teach at SUNY New Paltz as 2019 Ottaway Visiting Professor
SUNY New Paltz is pleased to announce that Jelani Cobb, the Ira A. Lipman professor of journalism at Columbia University's School of Journalism, will share insight and expertise with New Paltz students and community members as the 2019 James H. Ottaway Sr. Visiting Professor of Journalism.
Cobb, who also has been contributing to The New Yorker since 2012, writes frequently about race, politics, history and culture. Prior to joining Columbia University, he was associate professor of history and director of the Africana Studies Institute at the University of Connecticut.
As Ottaway Visiting Professor, Cobb will give a public lecture on campus on Feb. 12; teach a one-credit course, titled "The First Draft of History," and hold office hours from Apr. 1-12; and participate in a Q & A with President Donald P. Christian on Apr. 11.
His seminar will explore the notion of journalism as the "first draft of history," our early attempts to place current events within broader historical and cultural contexts. The course will offer ideas for how the historical perspective and the tools of the historical trade can be useful to journalists hoping to cultivate a long view of contemporary events.
Cobb's recent work for The New Yorker offers numerous examples of his historically-conscious approach to covering the news, including:
Born and raised in Queens, New York, Jelani Cobb is a graduate of Howard University and holds a Ph.D. in American History from Rutgers University. His most recent book is "The Substance of Hope" (2010, Walker Books), which examines the 2008 election of Barack Obama through the lens of the shifting priorities of the movement for civil rights. He is the 2015 recipient of the Sidney Hillman Prize for Opinion and Analysis Journalism.
About the James H. Ottaway Sr. Visiting Professorship
The James H. Ottaway Sr. Visiting Professorship, SUNY New Paltz's only endowed professorship, is named for the founder of Ottaway Newspapers Inc., who was a leader of the American Press Institute and a lifelong supporter of high quality journalism in the Hudson Valley and across the globe.
The Ottaway Visiting Professorship was established in 2000 through the generosity of James H. Ottaway Jr. and Mary Ottaway '70g (Elementary Education). James Jr. received an honorary doctorate of humane letters from SUNY New Paltz at the 2018 Commencement Ceremony.
Seventeen well-known journalists have preceded Cobb as Ottaway professors, among them Pulitzer Prize winners, foreign correspondents, book authors, editors, investigative reporters and experts in finance, science and consumer journalism.
More information about the Ottaway Visiting Professorship, including biographies of previous professors, can be found at https://www.newpaltz.edu/ottaway/.