Eyal Press
Eyal Press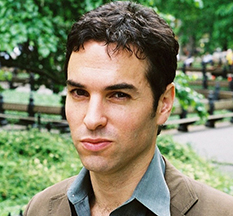 Eyal Press, an author and prolific journalist whose work concentrates on ethics and social justice, is the 2016 James H. Ottaway Sr. Visiting Professor of Journalism.
Press is teaching an upper-level journalism seminar called "Reporting on Divisive Subjects," which will explore the challenges reporters face when they choose to write about emotionally fraught subjects, and to introduce students to journalists' varied approaches to meeting those challenges.
Eyal Press is the author of Beautiful Souls: Saying No, Breaking Ranks, and Heeding the Voice of Conscience in Dark Times, a book of narrative journalism that considers the choices and dilemmas faced by those who reject duty and the expectations of others in order to remain true to their principles. His previous book, Absolute Convictions, is a personal account of conflicts between abortion providers, protesters and politicians. His articles have appeared widely in publications including The New York Times and The Nation.
Press is a 2016 Visiting Journalist Fellow at the Russell Sage Foundation, which supports journalists in projects related to the Foundation's mission of the "improvement of social and living conditions in the United States."
He is also a recipient of the James Aronson Award for Social Justice Journalism, a prize presented annually by Hunter College of the City University of New York in recognition of original reporting that brings to light widespread injustices, examines their causes and searches for possible reforms.
His prior teaching experience includes serving as a Visiting Scholar at the Institute for Public Knowledge.
About the James H. Ottaway Sr. Visiting Professorship
The James H. Ottaway Sr. Visiting Professorship, SUNY New Paltz's only endowed professorship, is named for the founder of Ottaway Newspapers Inc., now the Dow Jones Local Media Group, which operates print and online community media franchises in seven states. The flagship newspaper of the chain is the Times Herald-Record in Middletown, N.Y.
Thirteen well-known journalists have preceded Quart as Ottaway professors. Four have been Pulitzer Prize winners, including Renée C. Byer, a photographer for The Sacramento Bee; former New York Times investigative reporter and columnist Sydney Schanberg; Bernard Stein, an editorial writer with The Riverdale Press; and John Darnton, a former Times foreign correspondent.
Other past Ottaway professors were science journalist and author Sonia Shah; NPR Foreign Correspondent Deborah Amos; New York Times investigative reporter Andrew Lehren; award-winning broadcast journalist and media consultant John Larson; Ann Cooper, a former public radio reporter who headed the Committee to Protect Journalists; Byron E. Calame, a longtime Wall Street Journal editor and reporter who has served as The New York Times' public editor; Roger Kahn, the author of 20 books and one of America's foremost literary journalists; Trudy Lieberman, one of America's best consumer reporters; and Martin Gottlieb, the global edition editor of The New York Times.