Barney Calame
»
News & Events
»
Course Description
»
Profile
»
New York Times Editor Columns
Related Articles:
» Ottaway Professor Urges Press Accountability
» Ethics Debate Stirs Discussion
---
Barney Calame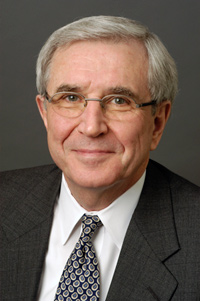 News & Events
Award Winning Editor named next Ottaway Professor of Journalism
Ottaway Professor to Visit Journalism Classes
Course Description
Journalism and Integrity
The world of journalism is challenged by the growth of the Internet, plunging circulations and a 24-hour news cycle. And yet the public needs the integrity of newsgatherers more than ever. This class will explore the threats to the press' basic function as a reliable news purveyor – from corporate takeovers to advertisers' growing influence to the growth of anonymous sources in print and online. Professor Barney Calame, longtime editor at the Wall Street Journal and former public editor of the New York Times, will use his distinguished career in journalism to lead students through a look at key issues currently facing journalism and journalists.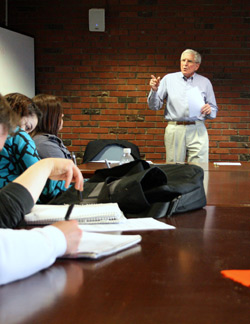 Ottaway professor Barney Calame met two classes on media ethics and led a spirited debate about issues facing journalists.
Profile
Byron E. "Barney" Calame retired at the end of 2004 as a deputy managing editor of The Wall Street Journal and served as public editor for The New York Times for a two-year term ending in June 2005.
As the No. 2 person in The Journal news department, Calame's responsibilities included paper-wide quality control, maintaining and monitoring reporting and ethical standards, and taking charge of the paper in the absence of the managing editor. As the reader's representative at The Times, his responsibilities included making sure their concerns were heard and publicly assessing the paper's journalistic integrity.
Calame, who is 69 years old, had joined The Journal in September 1965 and worked as a reporter in New York, Los Angeles and Washington, D.C., before becoming a bureau chief in Pittsburgh in 1974. He returned to Los Angeles as bureau chief in September 1978 and in 1985 became an assistant managing editor in charge of West Coast coverage. He returned to New York as a senior editor in 1987, and in May 1992, he became the deputy managing editor.
From 1961 to 1965, Calame served in the U.S. Navy as an officer on a minesweeper that was part of the first division of ships assigned to duty in South Vietnam, and as a public information officer in Washington.
The Penn State College of Communications awarded Calame the 2006 Bart Richards Award for Media Criticism for a series of columns he wrote as public editor of The Times.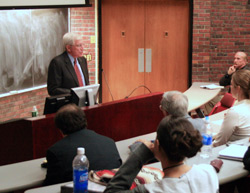 A large group of students and community members turned out in April to hear Barney Calame discuss some of the major ethics issues American journalism during a time of great change.
Calame was the recipient of the 2005 Gerald Loeb Lifetime Achievement Award "for exceptional career contributions in the field of business, financial and economic news." The award recognizes a journalist "whose superior insight and professional skills have contributed to the public's understanding of these issues."
In 2002, he was honored by the Society of American Business Editors and Writers (SABEW) with its Distinguished Achievement Award. The award cited "his dedication to business journalism and his exemplary performance on September 11, 2001" at The Journal. He served as president of the 3,200-member national organization of business journalists during 2000-2001. In June 2005, he received the Elliott V. Bell Award from the New York Financial Writers Association for "a significant long-term contribution to the profession of financial journalism."
Calame is the recipient of a 1996 Faculty-Alumni Award from the University of Missouri. He was the Thomas Jefferson Distinguished Visiting Lecturer at the University of Missouri in 1997. In 2004, he became the 55th recipient of the Beta Theta Pi national fraternity's Oxford Cup award for "distinguished service and accomplishments in his chosen field." In 1996, he was a participant in the Bill Moyers television series, "Genesis, A Living Conversation."
Upon his retirement from The Journal, Calame served for four months as president of the board of directors of The Dow Jones Newspaper Fund before accepting the public editor position at The Times.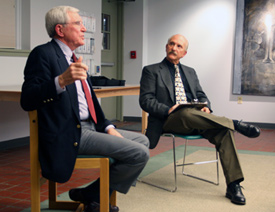 Barney Calame and Dr. Robert Miraldi lead a discussion about the current state of journalism last Feb. 12 before a bout 100 students and faculty.
A native of Missouri, Calame received a bachelor's degree in journalism from the University of Missouri and a master's degree in political science from the University of Maryland.
He is married to Kathryn Calame, who retired in April as professor of biochemistry and molecular biophysics and of microbiology at the Columbia University College of Physicians and Surgeons in New York. They have two grown children.