Sonia Shah
Sonia Shah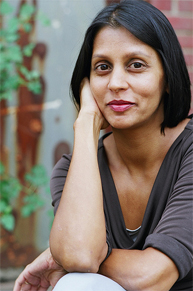 NEW PALTZ – Sonia Shah, an award-winning journalist who covers science and international human rights issues, has been named the 2014 James H. Ottaway Sr. Visiting Professor of Journalism at the State University of New York at New Paltz.
Shah joins the faculty in the spring of 2014 to teach a journalism seminar called "Science, Environment, and Disease: New Approaches to Science Journalism."
Sonia Shah is an investigative journalist and author of critically acclaimed and prize-winning books. Her latest book, The Fever: How Malaria Has Ruled Humankind for 500,000 Years (Sarah Crichton Books/ Farrar, Straus & Giroux, July 2010) is based on five years of original reportage in Cameroon, Malawi, Panama and elsewhere.
Shah is also the author of The Body Hunters: Testing New Drugs on the World's Poorest Patients (New Press, 2006) and Crude: The Story of Oil (Seven Stories Press, 2004). She is the editor of the anthology Dragon Ladies: Asian American Feminists Breathe Fire (South End Press, 1997).
A former writing fellow of the Nation Institute and the Puffin Foundation, Shah is a frequent keynote speaker, and has lectured at universities and colleges across the country. Her writing on science, global health, and politics have appeared in the Wall Street Journal, The New York Times, Scientific American, Foreign Affairs and other publications. Her work has been supported by The Nation Investigative Fund and the Pulitzer Center for Crisis Reporting.
Shah was born in 1969 in New York City to Indian immigrants. Growing up, she shuttled between the northeastern United States where her parents practiced medicine and Mumbai and Bangalore, India, where her extended working-class family lived, developing a life-long interest in inequality between and within societies and the role of science and medicine in modern life. She holds a BA in journalism, philosophy, and neuroscience from Oberlin College.
The James H. Ottaway Sr. Visiting Professorship, SUNY New Paltz's only endowed professorship, is named for the founder of Ottaway Newspapers Inc., now the Dow Jones Local Media Group, which operates print and online community media franchises in seven states. The flagship newspaper of the chain is the Times Herald-Record in Middletown.
Twelve well-known journalists have preceded Shah as Ottaway professors. Four have been Pulitzer Prize winners, including Rene C. Byer, a photographer for The Sacramento Bee; former New York Times investigative reporter and columnist Sydney Schanberg; Bernard Stein, an editorial writer with The Riverdale Press in the Bronx; and John Darnton, a former Times foreign correspondent.
Other past Ottaway professors were NPR Foreign Correspondent Deborah Amos; New York Times investigative reporter Andrew Lehren; award-winning broadcast journalist and media consultant John Larson; Ann Cooper, a former public radio reporter who headed the Committee to Protect Journalists; Byron E. Calame, a longtime Wall Street Journal editor and reporter who has served as The New York Times' public editor; Roger Kahn, the author of 20 books and one of America's foremost literary journalists; Trudy Lieberman, one of America's best consumer reporters; and Martin Gottlieb, the global edition editor of The New York Times .