Tanhena Pacheco Dunn, Esq.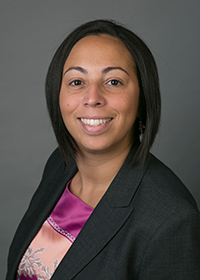 Tanhena Pacheco Dunn, Esq.
Associate Vice President for Human Resources, Diversity and Inclusion
Associate Vice President for Human Resources, Diversity and Inclusion
Tanhena Pacheco Dunn, Esq. assumed the role of Associate Vice President for Human Resources, Diversity and Inclusion in August 2016. In this role, Pacheco Dunn oversees human resources functions while creating a more intentional and integrated organization charged with broad responsibility for supporting the people who form our community, and are our most valued resource. This position complements and enhances Pacheco Dunn's work as Chief Diversity Officer (CDO) and Title IX coordinator.
Pacheco Dunn was appointed as the first executive director for compliance and campus climate in 2012. In this new role, Pacheco Dunn is responsible for monitoring the college's compliance with all applicable laws, regulations, policies, and procedures as they apply to: Title IX provisions that deal with sexual assault, sexual harassment, and hostile workplace issues; affirmative action; and New York State ethics legislation. This includes resolving complaints, making policy recommendations, designing and facilitating training for students and employees (with support from Student Affairs and Human Resources respectively), and coordinating interdepartmental efforts to comply with these employment legislations.
Additional duties include developing and administering the college's affirmative action plan; determining outcomes of employee accommodation requests; participation in the college's various employee search processes and serving as the point of contact on relevant compliance questions from state, federal or other regulatory agencies.
Prior to her appointment at New Paltz, Pacheco Dunn served as the assistant director of human resources at Vassar College in Poughkeepsie, N.Y., where she was responsible for employee relations issues including compliance, performance management and staffing needs for over 1,100 employees. She also worked with the EEOA office to support continued training in regards to harassment, non-discrimination and Title IX. In addition, Pacheco Dunn managed the Worker's Compensation, Family Medical Leave, and Disability processes; had administrative oversight of three collective bargaining agreements and assisted with drafting policies and responses to legal matters. Prior to her position at Vassar College, Pacheco Dunn was an alumni recruiter for the Albany Law School in Albany, N.Y.
Pacheco Dunn holds her juris doctor degree from Albany Law School of Union University and her Bachelor of Arts degree in English from Vassar College. She is also certified as a New York State mediator.