Importance of Graphic Standards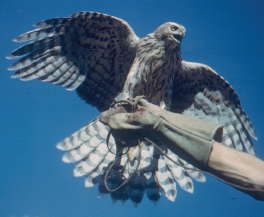 The Hawk has been the official mascot for the University since 1951, when the student body voted in favor of the hawk as a symbol of "the spirit of New Paltz courage, good will and good sportsmanship." The first live mascot was "Gus," a tame goshawk in the care of Dr. Heinz Meng of the Biology department, and first appeared as a painting by Dr. Meng on the side of the University bus in 1954. The goshawk is the largest in the family of Accipiters. It is a short-winged (rounded tip), long-tailed hawk – ferocious and maneuverable.
It is with great pleasure that I present to you the University's athletic identity graphic standards, which will enable the Department of Athletics, Wellness and Recreation to present a consistent look and feel in all its materials. The athletics marks described in these standards, developed under the auspices of the Brand Marketing Task Force in 2009, are designed to identify our teams visually; to promote strength, character and energy; to make a strong statement for the University, Athletics, and Wellness and Recreation and to generate pride in our students' co-curricular accomplishments.
The athletic and the recreational programs at the State University of New York at New Paltz provide students with the opportunity to develop their physical and leadership abilities while pursuing their academic goals and while helping to set New Paltz apart with an uncompromising focus on excellence in support of the campus' mission and vision. These guidelines are representative of a department where students find opportunities to excel beyond the classroom and to serve as beacons for the University. We encourage all who wish to use our logo to respect and to adhere to the standards outlined in this manual.
When we use our graphic identity consistently throughout the University, we show that we are united as a team, each taking pride in the development and the successes of our students. As we move forward, we believe this look will serve us well as we distinguish New Paltz as "a highly selective public university—the site of the finest and most intellectually engaging undergraduate education in the State University of New York and a worthy rival to fine liberal arts colleges across the nation." *
Respectfully,

Stuart Robinson
Director of Athletics

* Steven G. Poskanzer