Laura Barrett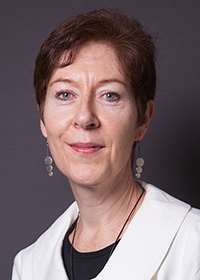 Laura Barrett
Dean, College of Liberal Arts & Sciences
Dean, College of Liberal Arts & Sciences
Laura Barrett was appointed as the dean of the College of Liberal Arts and Sciences at the State University of New York at New Paltz, effective Aug. 1, 2014.
The College of Liberal Arts & Sciences, the largest academic unit at New Paltz, has 16 departments and programs, offering majors to about 2,800 undergraduate and graduate students primarily in the humanities and social sciences.
Barrett brings exceptionally broad experience in interdisciplinary studies, curriculum development, teaching, and research to New Paltz. Prior to her tenure at Armstrong Atlantic State University (AASU), where she served as dean of the College of Liberal Arts and a professor in the English Department, Barrett served as the chair of fine arts, humanities, and social sciences at Wilkes Honors College, a branch of Florida Atlantic University. There, she worked with colleagues to create curriculum, centered on interdisciplinary efforts, worked on the development of the writing program, and developed majors and minors, mentored junior colleagues, sponsored student organizations, and served on various standing committees. Barrett also served as assistant/associate director of the Honors Program at the Brooklyn Campus of Long Island University, where she developed and taught interdisciplinary classes, interviewed and selected Honors students, counseled undergraduate students, coordinated special events and co-directed an annual campus conference, and served as an adjunct professor.
Barrett has written numerous articles and delivered many conference presentations and lectures on works of literature ranging from "Moby Dick" and "Ragtime" to "The Wonderful Wizard of Oz" and "The Great Gatsby." In 2001, Barrett was recognized with the Honors College Distinguished Teacher of the Year Award.
She holds a Ph.D. in English from the State University of New York at Stony Brook, a master's degree in English literature from Columbia University, and a bachelor's degree in English, summa cum laude, from Long Island University (LIU), Brooklyn Campus.