Kristin Backhaus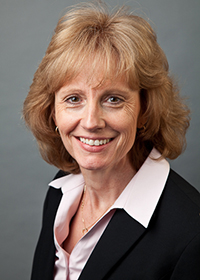 Kristin Backhaus
Dean, School of Business
Dean of the School of Business
Kristin Backhaus was appointed as the dean of the School of Business effective April 6, 2015, after serving as interim dean of the school since July 2014.
Backhaus has held positions of increasing responsibility since joining the College in 1986. During her 29-year tenure at SUNY New Paltz she has served as Assistant Dean for Assessment, Professor of Management, Assistant Director of Human Resources, Affirmative Action Officer and Assistant to the Dean of Education. Since 2000, she has served as the faculty advisor to the Management Association.
During her time as Interim Dean of the School of Business, she recruited and hired seven new faculty members; selected the new chair of the Business Advisory Committee (BAC) and reconfigured BAC membership, adding new members; and increased alumni outreach and interaction, bringing nearly a dozen alumni back to campus to engage with students. She was also instrumental in securing a Bloomberg Terminal (a state-of-the-art financial information resource) housed in the Kenneth Pasternak Trading Room; offered for the first time, a live CPA review course through the Business Institute; and collaborated with the School of Science and Engineering in New Paltz's Business Plan Contest, enabling participants to develop market-ready products as part of their plan.
Backhaus is the recipient of a 2009 Chancellor's Award for Excellence in Teaching, a 2008 School of Business Distinguished Service Award and a New Paltz Alumni Association Distinguished Teaching Award in 2005. She is president-elect for the Eastern Academy of Management, and will become president of this organization in May 2014, and serves the co-editor of current empirical research for the Organization Management Journal.
She holds a doctorate in educational administration and policy studies from the University at Albany, a master of education degree in student personnel administration from the University of Vermont, and a bachelor's degree in literature and rhetoric from Binghamton University.