Useful Information for New Employees
Welcome to SUNY New Paltz!
[How to find it. Where to go. Who to ask.]
WHO WE ARE
Campus Identity and Branding
Campus History
Fast Facts
Accolades
College's Strategic Plan
SUNY New Paltz has developed a plan consisting of several institutional-level goals that will improve the institution, our contributions and the quality of education provided for students and the region. More information on New Paltz's Strategic Plan can be found on the Strategic Planning website.
SCHOOL PRIDE
Colors
Blue and orange
More information can be found in the College's style guide by visiting my.newpaltz.edu > faculty /staff tab > Communication & Marketing > style guide
Logo
Downloadable high res logos can be found on my.newpaltz.edu > faculty /staff tab > Communication & Marketing > New Paltz logos
Points of Pride
Points of Pride is a compilation of accomplishments, successes, practices, and qualities that each academic and administrative department across the New Paltz campus is most proud. They can be found on the Points of Pride website.
Mascot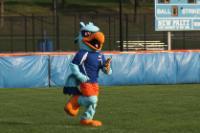 Hugo the Hawk is the official mascot of SUNY New Paltz and the 2013 SUNY Mascot Madness champion. Follow him on Twitter @HugotheHawk.
PARKING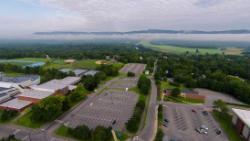 All students, faculty, staff, and visitors must have a valid parking hangtag or visitor permit to park on the SUNY New Paltz campus.
Visitors to New Paltz can purchase a one-day visitor parking permit at the Welcome Center in the Haggerty Administration Building (HAB) lobby or the Parking Office in HAB 35 for $3. Permits are also available at the park-and-pay machines located on Hawk Drive at the West entrance, the Route 32 parking lot (lot #28), and the Main Elting lot (lot #5).
New employees should purchase a one-day parking permit, as noted above, until they have received their one-year permit. One-year permits, to be renewed every August, can be purchased online or in the Parking Office located in HAB 35. To purchase online, visit my.newpaltz.edu > faculty/staff tab > employee resources > parking account.
One-day Visitor Parking Permit fee is $3
Faculty & Staff registration fee is $25 per year.
Management/Confidential registration fee is $100 per year.
PAYROLL & BENEFITS
The payroll office is located on the third floor (room 301) of the Haggerty Administration Building and can be reached by calling 845-257-3145.
Faculty and staff are paid bi-weekly (26 paychecks per year). All new employees will have a delay of two pay periods for their first paycheck.
CSEA, PEF, and MC employees also have a 5-day salary withholding. For new employees represented by these bargaining units, the first five paychecks will reflect a one-day pay deduction, which is repaid in their final salary check when they leave service. This final check shall be paid at the employee's then-current salary rate. This is explained in more detail at new hire orientation.
Benefits enrollment is time-sensitive and the effective dates for new hire benefits may vary. It is critical that new hires attend orientation as soon as possible to get benefits information and submit their enrollment forms in a timely manner. Any questions regarding benefits can be directed to the Office of Human Resources, Diversity & Inclusion on the 6th floor (room 601) of the Haggerty Administration Building, or by emailing benefits@newpaltz.edu or calling 845-257-3171.
Internal job listings; bulletins, notices and materials issued by the bargaining units on campus; and federal and state employment notifications are posted on the bulletin boards in the basement of the Haggerty Administration Building.
COMMUNICATION / TECHNOLOGY
Help with Office 365 (Campus Email)
https://sites.newpaltz.edu/csc/
Office 365 help
NP Hawks Wireless Network


SUNY New Paltz provides wireless network service and wireless printing to students, faculty and staff of the College. Wireless coverage is available in all buildings on campus and can be used with laptops, smartphones and other WiFi enabled devices. Read more information or call the Academic Computing Help Desk at 845-257-3597.
NP Alert (Emergency Notifications)
SUNY New Paltz has partnered with Rave Wireless to offer NP Alert as part of our fully integrated and coordinated notification system. Faculty, staff and students have the ability to sign up to receive notifications in the event of a delay or cancellation due to inclement weather (weather alert), as well as other important campus-related emergency information. More information on how to register can be found at the NP Alert website.
Cancellations and Delays Policy
Safety App
The free Rave Guardian safety app is available to employees at no cost. More information is available on the safety app webpage.
Office of Communication & Marketing
The Office of Communication & Marketing works to effectively communicate the College's messages in harmony with its identity, mission and vision. The department offers services such as media relations, writing, photography, web, design and print.
Downloadable powerpoint templates can be found at my.newpaltz.edu > Faculty/Staff tab > Communication & Marketing
News hub: The source for up-to-date news and events across the College


To submit news, a form can be found at my.newpaltz.edu > Faculty/Staff tab > Communication & Marketing

Faculty/staff experts database

Expert profiles can be updated at my.newpaltz.edu > Faculty/Staff tab > Communication & Marketing > Expert Database profile
More information can be found on the Office of Communication & Marketing website. To request services from the department, visit my.newpaltz.edu > Faculty/Staff tab > Communication & Marketing
Social Media
We encourage faculty and staff to follow the College's social media accounts, including Facebook, Twitter and LinkedIn. Additionally, the social hub features several different types of accounts in one main stream.
A full list of social media accounts can be found on the NP Social Directory, and guidelines for posting to social media are listed on the Office of Communication & Marketing web guide.
IT / Computer Services
Free Online Training for All Employees:
All employees (and students) have access to Lynda.com, an online library of instructional videos covering the latest software, creative, and business skills. Taught by accomplished teachers and recognized industry experts, Lynda.com tutorials are high-quality resources for faculty, staff, and students to develop skills in Microsoft Office, Adobe Creative Suite, project management, communication, and more.
With more than 4,000 courses -- and more added every week -- lynda.com is designed for all levels of learners and is available whenever you're ready to learn. You can even view it on your mobile device.
To access the site, go to my.newpaltz.edu and click on "Lynda.com Training Resources" on the left.
We also recommend you watch the How to use lynda.com course as a first step.
If you have questions, please contact the IT Help Desk.
Posting Flyers
Flyers can be posted on indoor bulletin boards found in office buildings around campus, as well as on outdoor kiosks by Hasbrouck dining hall, Mohonk Walk, the Lecture Center and Elting Gym. Any flyers posted indoors must be approved by the Office of Student Activities & Union Services in Student Union Building 211.
CALENDARS
Events calendar: faculty, staff and students can post their campus-wide events to this calendar.
SERVICES
LIBRARY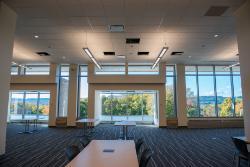 The Sojourner Truth Library fosters learning and supports scholarship at SUNY New Paltz by providing an extensive array of information resources and services. The Library's collection of more than 500,000 books and bound periodicals, print journals, government and state documents, and electronic resources, as well as information services, library systems and equipment, are available to faculty and staff. Visit the Library website for more information.
On-Campus Dining
Dining venues on campus include the Hawk's Nest Food Court in the Student Union Building, Hasbrouck Dining Hall, Starbucks at Parker, The Roost at Ridgeview, Jazzman's Café in the Faculty Tower, Truth Cafe in the Sojourner Truth Library, Backstage Cafe at the McKenna Theatre, and Element 93 in Wooster Hall.
Hawk Dollars
Hawk Dollars are funds deposited to your ID card that can be used at campus dining services locations, the Campus Bookstore and the vending machines around campus. Hawk Dollars are also accepted at several local businesses. Stop by the ID/Meal plan office in the Student Union Building (room 100) to sign up. More information can be found on the New Paltz CAS website.
On-campus Banking
Hudson Heritage Federal Credit Union is located in the basement of the Haggerty Administration Building and can be contacted by phone at 845-257-2600. ATM machines are located on the first floor of the Student Union Building and in Hasbrouck Dining Hall.
Campus Bookstore
The SUNY New Paltz Bookstore is a resource for more than textbooks! In addition to snacks, beverages, technology, cosmetics, gifts, and gear, the Bookstore carries a wide selection of apparel and logo gifts, many featuring Hugo the Hawk. Visit the Bookstore's website for more information.
ENVIRONMENTAL HEALTH & SAFETY
The State University of New York at New Paltz Office of Environmental Health and Safety is a resource organization dedicated to providing the expertise, advice, guidelines and current standards of professional practice, to ensure the safety and well being of our employees, students and visitors. We strive to uphold the eight central elements of the campus vision plan.
Our primary goal is to prevent injury, illness, and environmental damage through the recognition, evaluation, and control of potential hazards arising from campus activities, and to comply with federal, state and local safety and environmental regulations while being a fiscally responsible representative of the state of New York. Read more on the Environmental Health & Safety website.
CULTURE
Samuel Dorsky Museum of Art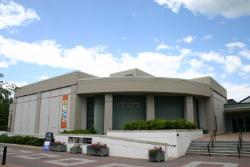 Located at the State University of New York at New Paltz and one of the leading art museums in the region, the Dorsky Museum comprises more than 9,000 square feet of exhibition space distributed over six galleries. The permanent collection comprises more than 5,500 works of art from around the world and can also now be viewed online. While encyclopedic in nature, areas of focus include American art, with an emphasis on the Hudson Valley and Catskill Mountain region, 19th century American prints, photography and contemporary metals. The museum's temporary exhibition program has been hailed as one of the best in the region, and features exhibitions, installations and projects by internationally recognized artists as well as annual thematic exhibitions of work by regional artists. Read more on the Dorsky Museum's website.
John R. Kirk Planetarium and Smolen Observatory
Astronomy Nights are held on the 1st and 3rd Thursday of each month the College is in session. Employees can reserve tickets at no cost. After the planetarium show, the Smolen Observatory is open for telescopic viewing when the sky is clear. More information is available on the planetarium's website.
Theatres on Campus
The Parker Theatre, McKenna Theatre, Julien J. Studley Theatre and the Max and Nadia Shepard Recital Hall are all settings for approximately 100 performing arts events, concerts and lectures throughout the academic year, including four mainstage productions by the Department of Theatre Arts.
For more information about the Box Office and purchasing tickets to mainstage productions, visit the Box Office website.
Information about other events and cultural happenings around campus can be found on the College's events calendar or on the news hub.
Saturday Arts Lab
The Saturday Arts Lab is part of the School of Fine and Performing Arts' Community Arts School at SUNY New Paltz. The program offers dynamic classes in visual arts, theater and music for students from Kindergarten through high school and adults. Classes are taught by SUNY New Paltz faculty, area arts teachers, community artists and performers, and advanced students in our arts education and graduate music programs. Families of SUNY New Paltz faculty and staff are encouraged to register. More information can be found on the Saturday Arts Lab website.
Young Writers' Programs
The Hudson Valley Writing Project (HVWP) at SUNY New Paltz offers young writers' programs for kindergarten through high school-age students. Under the guidance of HVWP's experienced teachers and writers, the programs support children and young adults' development as writers and thinkers through extensive practice and unique experiences at cultural and historic sites in Orange, Ulster and Dutchess counties. Families of SUNY New Paltz faculty and staff are encouraged to register.
ATHLETICS



Show your Hawk pride by attending SUNY New Paltz athletic events. The College has 15 men's and women's teams that compete at the NCAA Division III level, including baseball, basketball, cross country, soccer, swimming, volleyball, field hockey, lacrosse, softball and tennis. The Hawks, members of the State University of New York Athletic Conference, Eastern College Athletic Conference and United Volleyball Conference (men's volleyball), have won 30 conference championships since 1958. Learn more on the Athletics website.
HEALTH & WELLNESS
Athletic & Wellness Center (AWC)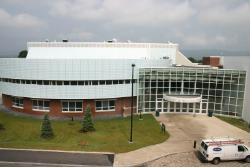 All Facility Membership: Faculty/staff can purchase membership by the month, semester or year. Membership provides access to all of the following facilities in the 57,000 square-foot AWC: WC fitness centers, group exercise classes, personal training sessions and health assessments, indoor running track, Elting Gym, racquetball courts and pool. Read more about the Athletic & Wellness center.
Elting Gym
Membership is available to faculty/staff and retired faculty and staff at no cost. This includes access to the pool, basketball gym and racquetball courts. No application is necessary; you must present your college-issued faculty/staff ID at the front desk. Read more on the Athletics website.
Mother's Room
Student Union room 429 is designated for use as a "Mother's Room" for faculty/staff and students in need of a private and comfortable room in which they can express breast milk for their children. The room is equipped with a refrigerator, microwave and rest room. There are several comfortable seating options and tables available, as well as several power strips for convenience.
To access the room, faculty/staff in need of this space may obtain a key from the Benefits Office of Human Resources, Diversity & Inclusion (HAB room 601). For convenience, the faculty/staff member may keep the key for as long as they need it. We simply request that keys be returned when use of the room is no longer necessary.
Employee Assistance Program (EAP)
The New York State Employee Assistance Program (EAP) provides a full range of confidential, individualized services to public sector employees or covered contract staff and their family members. The program provides information, assessment and referral for those experiencing problems on or off the job, as well as program awareness training for managers, supervisors, union representatives, and line workers. Workplace educational programs, problem prevention initiatives, and response to workplace trauma are available to all State agencies and facilities. Read more on the Employee Assistance Program website.
WellNYS Everyday
WellNYS Everyday is a wellness initiative dedicated to educating, engaging, and empowering New York State employees and their families, by encouraging participation in healthy behaviors. The vision is to increase the number of state employees who choose to eat healthier and become more physically active. To move toward this vision, employees and family members are encouraged to participate in the Monthly Challenges. The following portals are available:
o WellNYS Everyday Tip for the Day - everyday a new tip will be displayed on the home page
o NYS Workplace Walking Maps - links to walking maps for NYS Workplaces
o Physical Activities around NYS - listing of walking, running, cycling, or hiking events, etc.
o WellNYS in your Workplace - ideas how to engage in healthy behaviors while in NYS workplaces.
o I Did It! - success stories from participants; employees can nominate themselves or others to be recognized for making better wellness choices, or by participating in an event like a walkathon, bike ride, road race, or weight loss challenge
o Monthly Behavior Challenges. Employees and family members will be encouraged to register and track a different healthy behavior each month on the WellNYS Everyday website. If they participate for a minimum of 15 days, they will receive a completion award.
You may access WellNYS Everyday at: http://www.worklife.ny.gov, then click on the WellNYS logo on the right side of the homepage.
ORGANIZING AN EVENT
Political Activity on Campus
As an academic institution, SUNY New Paltz recognizes and welcomes the educational benefits of exposing students to political debate and information, including partisan political speech. The College makes some of its facilities available to a wide range of outside speakers and expressive activities and opens such facilities to political speech. However, the State University has guidelines to access such facilities, as well as guidelines on political activities of state employees while at work. More information regarding the policy and guidelines for political activities on campus can be found on our Current Students page.
COMMENTS & SUGGESTIONS

Please email Anneliese Kniffin-Savchak in the Office of Human Resources, Diversity & Inclusion (kniffina@newpaltz.edu) with any comments or to suggest additions to this page.