Office:
Lecture Center 2, on the Ground Level
Monday—Friday, 8:30 a.m.-5 p.m.
Phone: 845-257-3632
Evenings: 845-257-3639
Fax: 845-257-3646
Evening Classroom Support:
Monday—Thursday, 5-10 p.m.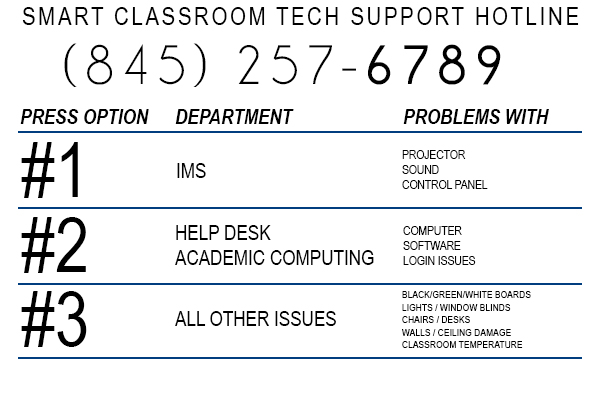 ---
Instructional Media Services is dedicated to providing media support to the New Paltz faculty/staff community. IMS is a service-oriented department with responsibilities in the following categories:
Provide media support to the campus for classes, conferences and events
Distribute and maintain classroom audiovisual equipment
Research, evaluate and implement new technology in the classrooms
Consult, research, recommend, purchase, install and maintain instructional technology hardware
Provide videoconferencing facilities and services
Smart classroom orientation and assistance:
Instructional Media Services offers orientation and assistance in all smart classrooms across campus. Personal one-on-one orientation sessions generally run about 10 minutes and are held in your assigned classroom. Faculty members are encouraged to call the IMS office at x3632 to schedule a short session. Sessions are held at the convenience of the faculty member and could be in any classroom at any time Monday through Thursday from 8 a.m. to 9:30 p.m. and Friday from 8 a.m. to 5 p.m. Call us to schedule your session!
Most smart classrooms contain printed instructions, which are located on the instructor's stations. You may also view or print the instructions from the IMS web site.
Visit Classrooms With Installed Technology for further information.
Equipment orders and cancellations:
Please call our office to place an order. We need two working days' notice if you intend to use our equipment or services. Weekend requests require at least two weeks notice. Booking early will assure prompt delivery of your requested services. Last minute orders are difficult to fill. When you make an equipment order for the entire semester, we will deliver your request for every class. However, THIS DOES NOT INCLUDE FINALS WEEK. If you need to use equipment for your final exam, please make a separate reservation. And if you cancel your class, call us to cancel your equipment!
For reservations contact:
Instructional Media Services
Lecture Center 2
845-257-3632