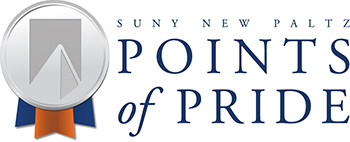 The mission of the SUNY New Paltz Honors Program is to provide an enhanced intellectual experience in a climate conducive to interaction among highly motivated students and faculty. This experience will seek to develop and intensify skills from a conceptual point of view in a diverse multidisciplinary analytical environment that nurtures independent thinking, creativity, respect and social responsibility.
Goals:
To build and sustain a diverse community that reflects the student body of the campus.
To integrate this scholarly community within the larger campus.
To promote deep engagement with ideas through innovative pedagogy and creative, interdisciplinary curriculum.
To nurture intellectual leadership as well as a sense of social responsibility and civic engagement - -on campus, in the village, within the state, or, ideally, internationally.
Learning Outcomes:
To demonstrate excellence in analysis and problem solving skills.
To demonstrate an ability to theorize usings interdisciplinary processes.
To develop communication skills (oral, written, collaborative).
To develop skills to communicate with general and specialized audiences.
To practice and reflect on civic engagement.
The Honors Program consists of around 230 students. Once admitted to the program, students take special Honors seminars, which are interdisciplinary and small in size (usually around 15 students). Unlike traditional lecture courses, Honors seminars emphasize dialogue and non-lecture based learning; students are expected to come to class with something to say and to actively participate in debate and discussion.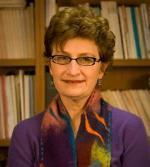 Dr. Patricia Sullivan, Director
Office: CH-H 111
Phone: 845-257-3456
Email: sullivap@newpaltz.edu

Spring 2017 Office Hours
Monday 11:00-12:00 & 2:00-5:00
Tuesday 10:00-12:00 & 2:00-3:00
Wednesday 3:00-5:00
Thursday 11:00-12:00 & 3:00-4:00

And By Appointment

Dr. Pat Sullivan is the director of the Honors Program at SUNY New Paltz and professor in the Department of Digital Media & Journalism. She served as department chair for seven years. She specializes in the study of rhetoric or public communication and has published criticism on a variety of texts (e.g., political speeches, U.S. Supreme Court decisions, autobiographies, media coverage). Current research interests focus on gender, race, and class issues in political communication; political apologies; and ethics and political communication. She is co-author of From the Margins to the Center: Contemporary Women and Political Communication and co-editor of Political Rhetoric, Power, and Renaissance Women and New Approaches to Rhetoric. Her articles have appeared in journals such as Quarterly Journal of Speech, Communication Quarterly, Western Journal of Communication, and Women and Politics. For the Honors Program, she teaches seminars on "The Individual and Society" and "Debates in U.S. History." As a member of the Department of Digital Media & Journalism, she teaches "Introduction to Media Criticism" and "Aesthetics and Criticism of Television". She received her B.A. in English and communication from Marquette University and her Ph.D. in communication (rhetorical studies) from the University of Iowa.
---

---
Events
Thursday, December 8, 2016
1:00-1:15 Noah Goldowitz, "Zhuangzi and Xunzi: Two Extreme Approaches to Death, But Only One Accounts for Loss" (Major: Philosophy, Minor: Business)
1:20-1:35 Natasha Glanzman, "Characters Are People Too: Using Psychology to Create Multi-Dimensional Fictional Characters" (Major: Adolescence Education: English, Minor: Psychology)
1:40-1:55 Clarisse Ramlal, "The Impact Socio Economic, Demographics, and Cultural Backgrounds Have on Elementary School Children in Two Different Districts" (Major: Early Childhood & Childhood Ed. B-6 - English B-6)
Friday, December 2, 2016
2:00-2:15 Elizabeth Sweeney, "Appropriation or Appreciation?: An Analysis of Native American Portrayals in Contemporary Popular Culture" (Major: Adolescence Education: Social Studies)
2:20-2:35 Eloise Pillarella, "An Art Show Featuring a Very Small Sample of the Diversity of Life on Earth" (Major: Early Childhood & Childhood Ed. B-6 - Biology B-6)
2:40-2:55 Sara Walenta, "The C in LGBTQA+: Experiences of Criminalization for Queer Youth" (Major: Sociology - Criminology, Minor: Women's, Gender & Sexuality Studies)
3:10-3:25 Akilah Suleiman, "Henna in the Elementary Classroom" (Major: Early Childhood & Childhood Ed. B-6 - Mathematics B-6, Minor: Deaf Studies)
3:30-3:45 Chiara Ostrin, "Aroma of Chocolate: Effects on Affect and Creativity" (Major: Psychology - Industrial/Organizational, Minor: Art Studio)
3:45-4:00 Abigail Shaffer, "Rapunzel Lost Her Hair: Social Constructs of Femininity as Related to Alopecia and Other Hair Loss Issues" (Majors: Digital Media Production & English - Creative Writing)
Monday, November 28, 2016
3:30-3:45 Catherine Cole, "
Is the NRA the Real Reason the U.S. Has Not Ratified the UN Arms Trade Treaty?" (Major: International Relations)
3:45-4:00 Martina Nadeau,
"
Inefficacious: Service Provision Surrounding Liberal Abortion Laws in Zambia
" (Major: Political Science, Minor: International Relations)
"Beijing on the Streets", Honors Program student, Leah Monsour's Photography Exhibit. Wednesday, November 2 at 4:30p.m., in the Honors Center.
Students from the summer 2016 Guatemala Study Abroad will share their experience in Guatemala. Wednesday, November 2 at 12:30p.m., in the Honors Center.
"Gringo Panic: Sexual Tourism and Moral Policing During the Brazilian World Cup and Olympic Games". Tuesday, November 1 at 5:00p.m., in the Honors Center.
Poetry Reading & Book Signing with Howard Good, Jan Schmidt, H.R. Stoneback, & Pauline Uchmanowicz. Thursday, October 20 at 5:00p.m., in the Honors Center.
CARE Workshop. Monday, October 17 at 5:30p.m., in the Honors Center.
Life & Literature of John Burrough: H.R. Stoneback in Conversation with Jeremy Schraffenberger. Friday, September 30 at 2:00p.m., in the Honors Center.
A Reading with Jeremy Schraffenberger and Adrianne Finlay, Q&A and Book Signing. Friday, September 30 at 3:45p.m., in the Honors Center.
---

Trips
9/11/16 10:00 - 2:30 Storm King Art Center
9/25/16 11:45-2:00 Kykuit: Rockefeller Estate
10/23/16 10:00 - 3:00 Franklin D. Roosevelt Home, Museum, & Library & Val-Kill
There will be more events added to this list as the semester progresses.
---
Isabelle Hayes, Honors Program Orientation Liaison
My name is Isabelle. I'm a sophomore and am a proud member of the Honors Program. I'm a Political Science and Communications double major. My passion lies in environmentalism and I want to work in that field as my career. I'm from Warwick, NY, I love to play badminton and I'm so excited to be this summer's Honors Program Liaison.
SUNY New Paltz 2016 Convocation Ceremony - Faculty Welcome
SUNY New Paltz 2016 Convocation Ceremony - Student Welcome