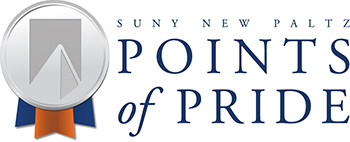 Maria Pianelli
Maria Pianelli is an account associate at LaunchSquad, aspiring author and occasional journalist. She graduated from SUNY New Paltz in 2014 with a degree in Journalism with a concentration in Public Relations and has completed internships at the New Paltz Regional Chamber of Commerce, the Staten Island Advance, and the New Paltz Times. A New York City native, Maria is a published poet and is currently working on her first novel, which explores one's relationship to time.
Below is a link to her blog that she has been working on called The Inbetween. The blog highlights the different experiences college seniors and recent graduates have while assimilating to their post-grad jobs and internships in a way that's humorous, real and relatable. With bloggers from universities including SUNY New Paltz, Cornell, NYU and Hunter, the Inbetween shares a broad range of professional insights across various industries.
Miriam Ward
Miriam Ward is a senior and double major in History and Digital Media Production in the Honors Program. Miriam joined the Honors Program as an incoming first year and works for the program as a student videographer and photographer. During her first year, Miriam was awarded the Meredith Corporation Scholarship from the New York Women in Communications Foundation. During her second year, she was awarded a national scholarship from the Broadcast Education Association and a student AYURE award to fund a Digital Humanities thesis project. Throughout her time at New Paltz, Miriam has held numerous internships at the Meredith Corporation, PBS WNET/Thirteen, and The Rachel Maddow Show at MSNBC. Speaking about her experience at New Paltz, Miriam credits the Honors Program with helping her to grow as an individual thinker, a student leader, and global citizen. "I don't know where I would be without the Honors Program. The faculty and staff, especially Dr. Pat Sullivan, have challenged me to look at education through an interdisciplinary and collaborative lens. The community of Honors students has shaped my experiences here at New Paltz and I am continually inspired by my fellow students and professors. I owe so much to the Honors Program."
Jessica Weeks
Jessica spent the summer of 2014 in Madrid, Spain working as a camp counselor teaching English through the "Leaders of Youth". Below is what she had to say about her time in Spain:
"It was beautiful - the people were stunning, and the architecture was pristine. Spain was a land of wonder and amazement. When I was not working as a camp counselor I always opted for exploring the country of Spain. I saw Cordoba, Seville, Granada, and Barcelona over the course of my two months there. Each city was breathtaking in its own unique way. Cordoba with is beautiful architecture and friendly people. Seville where flamenco dancing was created, was colorful and alive. Granada with its unique Islam history and temples and Barcelona where the beaches and people which walked them were pristine. Madrid, however, had my heart. There was nothing like walking the streets of Madrid on a hot summer day, with a cup of gelato in hand."