Resources
The Visual Resources Library
The Visual Resources Library supports the teaching and research needs of the Art History Department faculty. It is staffed by a full-time visual resources librarian who develops and manages a growing digital image database, as well as a wide-ranging collection of more than 80,000 slides. The facility also houses several scanning and computer stations.
Most images presented for class in the campus' fully equipped electronic classrooms are posted on Blackboard or through the campus' subscription to the ARTstor Digital Library for study.
The Visual Resources Study Room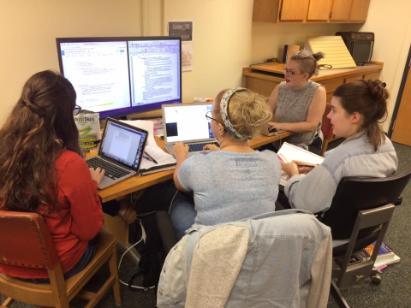 Refurbished during Summer 2016, the Visual Resources Study Room in Smiley Art Building Room 106C boasts a new study station featuring collaborative learning software, Solstice, and a 40 in. 4K, UHD flat-screen display. Here students who bring their own devices (BYOD) can wirelessly share their own notes and images with classmates during study sessions for exams and class projects.
The Study Room is also used for meetings of the SA funded student group, The Art History Association.
Sojourner Truth Library
The Sojourner Truth Library has an impressive collection of books and periodicals on art and architecture, now numbering more than 27,646 volumes, including 5,000 volumes not held in any other SUNY library.
Samuel Dorsky Museum of Art
The department also utilizes the resources of the SUNY New Paltz Samuel Dorsky Museum of Art, which has an active schedule of exhibitions of the art of the past and present, as well as a permanent collection with particular strengths in American and Asian art.
On occasion, classes meet in the museum. Museum Studies courses are coordinated by the staff of the Dorsky Museum and provide students with the opportunity to work extensively with the collection and to assist in organizing exhibitions.