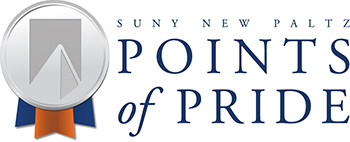 This page will provide you with clear and concise information regarding teacher certification at the State University of New York at New Paltz. The Office of Teaching Initiatives provides comprehensive information regarding the teacher certification process in New York State, including an FAQ page that will answer most of your questions.
Please click on the tabs below to find more information on the following certification topics:
Fingerprints Workshops Certificate Applications Testing Safety Nets Degree Applications
Professional Certification Adding Certifications Certification in Other States
Teacher Certification Requirements: How and When
The New York State Education Department (NYSED) requires teachers to obtain certification before they can teach. Remember, it is your responsibility to stay current on deadlines for graduation, tests, NYSTCE, certification applications, and requirements. The steps to become recommended for certification by SUNY New Paltz involve the following:
ACADEMIC PREPARATION:
You must complete one of our NCATE approved programs of study in education, including an acceptable academic major, the required pedagogical coursework, student teaching placements, and a conferred degree upon graduation.
FINGERPRINTS:
All teacher candidates must be fingerprinted through MorphoTrust upon acceptance into an education degree program. First, you need to self-register to create a TEACH Login Account before getting fingerprinted. Then make an appointment through Identogo using the ORI number. Here is the current list of locations.
The closest MorphoTrust site to campus is Alert Security & Investigations Inc. in Kingston at 130 North Front St., Suite 2 (Downstairs), Kingston, NY 12401 (845-554-9133). Their fingerprinting hours are Monday and Wednesday from 10 a.m. to 3 p.m.; Thursday and Friday from 10 a.m. to 6 p.m.; and every other Saturday from 10 a.m. to 2 p.m. For public transportation to Alert Security, please check the bus schedule, as Alert Security is directly across the street from the Kingston bus station.
Remember: Your fingerprints must be verified on your TEACH Account, and a printout must be submitted to your department to be documented on your campus record. If you have other questions, please refer to the very helpful and detailed FAQ on the new fingerprinting system.
WORKSHOPS:
Child Abuse Identification Workshop and SAVE/School Violence Prevention: These trainings need to be completed for your fieldwork observations. On-campus workshops are offered toward the middle of each semester. Registration forms will be available here soon and the month prior to the workshop on the Old Main 218 Certification Bulletin Board. Proof of completion will be documented on your transcripts and also reported to your TEACH Accounts once the workshops are completed here. Our next on-campus training is To Be Announced in Lecture Center 108.
Otherwise, take the workshops online at www.childabuseworkshop.com or www.violenceworkshop.com and enter the registration code NewPaltz9 for the same rate as on campus. This code only works for SUNY New Paltz students.
For the online or other off-campus versions only, you need to have your SAVE and child abuse workshops documented on your permanent record for recommendation and graduation by sending copies of your workshop certificates of completion to Records and Registration in Haggerty Administration Building (HAB) Room 19, or faxing them to 845-257-3103 to the attention of Rita Cancelliere, or emailing them to recreg@newpaltz.edu.
DASA (Dignity for All Students Act) training: A DASA training must be documented on your transcripts for graduation. On-campus workshops will be offered each semester. Online registration will be available at DASA newpaltz.edu. Proof of completion for the on-campus version will be documented on your transcripts once the workshop is completed. Our next on-campus DASA workshops are To Be Announced in Lecture Center 104.
Otherwise, take the DASA training at our local BOCES Center for School Safety (845-255-8989; 175 Route 32 North, New Paltz, NY 12561).
If you complete an off-campus training, you must have your DASA workshop documented on your permanent record here for graduation by sending a copy of your workshop certificate of completion to Records and Registration in Haggerty Administration Building 19, or by faxing it to 845-257-3103 to the attention of Rita Cancelliere, or by emailing it to recreg@newpaltz.edu
TEACHING CERTIFICATE APPLICATION:
When you start your first student teaching placement, apply for your teaching certificate on your TEACH account.
Student Application Information Sheets with step-by-step directions (and program codes) will show you how to apply for the appropriate teaching certificate. You can only use the specific program code that corresponds to your registered degree and program at SUNY New Paltz.
TEACH Account Password Reset:
There's a self-service feature for students to retrieve their TEACH account user IDs and passwords with no waiting for email responses. Simply click on "USERNAME go to" or "PASSWORD to go."
CERTIFICATION EXAMINATIONS:
Candidates for certification must achieve qualifying scores on the appropriate tests in the New York State Teacher Certification Examination (NYSTCE) program. For more general information about the NYSTCE program. Register for the tests and choose a location and time. Check to see whether the test in question is offered in the paper-based or computer-based version. Click this link to check out the test preparation guides.
Candidates graduating in May 2014 and after should take the new tests: edTPA, EAS, ALST, and Revised CSTs*. Computer-based NYSTCE tests will be available to be taken on campus in CSB 29 on the following weekend days: To Be Announced. Paper-based testing will be held on campus on a date to be determined.
*Students seeking certification as a Teacher of Students with Speech and Language Disabilities will take the Praxis II exam for Speech-Language Pathology rather than the CST, but this is required at the professional certificate level.
Please check the Exams for all Ed Programs guide to find out which tests you need to take for every education program at SUNY New Paltz.
Preparation for ALST and EAS:
We are offering one-credit modular course to help students prepare for the demands of the English Language Learner portion of the EAS (Educating All Students) test. Please register for Working with English Language Learners EDI399 (or EDI599 at the graduate level) through my.newpaltz.edu
***Please check out our amazing webmixes of study resources to prepare for the ALST and EAS.
For more on Working with English Language Learners and the EAS, please refer to this PowerPoint on ELL for EAS training. Click the following for an ALST preparation PowerPoint presentation on rhetoric completed by Dr. Spangler. And here are the documents from our EAS/ALST training with Dr. Isaac: Eas Study Guide, Eas Rubric, RTI Pamphlet, RTI Reference, ALST Study Guide, ALST Reading with Answers, ALST Rubric.
Preparation for CSTs:
For preparation guides, test frameworks, passing scores, practice tests, and retake options for all of the CSTs, please select the CST you need to take from the NYSTCE drop-down list and click "GO."
edTPA Information:
For general information on the Teacher Performance Assessment portfolio (edTPA), please check our website and NYSED's edTPA resources. For detailed preparation guidelines, access our edTPA Candidate Community site on Blackboard. Be sure to register for the assessment at edTPA.com
School Leadership Assessments (SLA):
(For CAS candidates only) Please complete these assessments after your coursework is finished but before graduation, as passing scores on both the SDL & SBL Parts I and II are required for the degree and recommendation. SDL, SBL, and SDBL Parts One and Two will all be administered individually on computer-based sessions. Assessments are scheduled on a first-come, first-served basis for limited seating, so early registration is essential. For information and links to preparation materials, please check SLA NYSTCE. (Please note that the EAS is now required for both the SDL and SBL certifications.)
***New Safety Nets for Failed Exams:
The Board of Regents extended the edTPA Safety Net and created Safety Nets for the ALST, the EAS, and certain redeveloped CSTs. These Safety Nets will be effective through June 30, 2017, and candidates may take advantage of multiple Safety Nets in order to meet the requirements for certification. All Safety Net exams must be passed on or before June 30, 2017, but candidates will have until June 30, 2018, to meet all other certification requirements. Click Safety Net Directions for details on each Safety Net and the procedure for the ALST and CST Multi-Subject 7-12 Attestations.
DEGREE APPLICATIONS:
All students must apply for graduation and submit their application by the first day of the first month of the graduating semester to Records and Registration in Haggerty Administration Building (HAB) Room 19. You cannot be recommended by the college to NYSED for Teacher Certification without a conferred degree, whether or not you have completed the necessary coursework. The degree applications are available on the Records and Registration website.
Teacher Certification Recommendation Authorization Form:
Remember: SUNY New Paltz cannot recommend you for certification without your permission. Be sure to sign the release at the bottom of the degree application, authorizing SUNY New Paltz to recommend you. If you forget to do this, here's what to do:
1. Log into my.newpaltz.edu
2. Click the Students tab if you are not there already
3. Click School of Education (on the left under RESOURCES)
4. Click Teacher Certification Recommendation Authorization Form and follow the instructions on the page.
Receiving Your Certificate:
The college will recommend you for certification after your degree has been conferred (usually three-to-four weeks after grades are submitted), and then NYSED requires up to 30 days to evaluate your application. Check your TEACH account "Evaluation History" for details on the processing of your application, as you may be missing a requirement, such as a workshop or a test. If all the requirements are met, you will be given a control number on your TEACH account, which you can use as verification for job applications. Log in to your account.
PROFESSIONAL CERTIFICATION:
Teacher Registration:
Every teacher applying for Professional certification must now register with NYSED and shall apply for initial registration during the 2016-2017 school year during his/her month of birth and shall renew his/her registration in the last year of each subsequent five-year period thereafter. Find out more about teacher registration here.
Other requirements for Professional Certification:
In addition to completing your master's degree, you'll also need to provide verification of your Teaching and Mentored Experiences for Professional certification. For more information, please see our Professional Certification Requirements page.
Certificate Progression:
See our step-by-step directions on how to progress your Initial certification to Professional using a master's degree in a different teachable content area from your bachelor's degree.
Professional Development for Certificate Holders:
Professional certificates in all classroom teaching titles and all School Leader titles, as well as the Level III Teaching Assistant certificate must be maintained through continuing professional development.
ADDING CERTIFICATIONS:
The College can recommend you only for the specific title and type of certification which corresponds to your program. If you are seeking to add other certifications, you must apply directly to NYSED online. To identify the specific requirements needed for any given certificate, check NYSED's search certification requirements. See our step-by-step directions on how to apply for an additional certificate.

CERTIFICATION IN OTHER STATES:
Interstate Reciprocity:
Those wishing to teach in states other than New York should check the certification map for information on each state's reciprocity agreement with New York.
Out-of-State Verification:
Those finding employment as teachers in states other than New York should send the out-of-state verification forms to Jennifer Wawrzonek in Records and Registration in Haggerty Administration Building 19 for the signature of the certification officer and the university seal (an original signature is sometimes required).
PROGRAMS:
Undergraduate degree programs at SUNY New Paltz that lead to initial certification include:
Bachelor of Science in Education (Birth-6)
Bachelor of Science or Bachelor of Art in Adolescence Education (7-12)
Bachelor of Science, Art Education
For graduate degree programs at SUNY New Paltz that lead to initial and professional certification, including teacher education, school counseling, and speech and language disabilities, please check the Graduate School's website.
RESOURCES FOR YOU:
Records & Registration: Haggerty Administration Building Room 19. 845-257-3110.
Commencement Information: 845-257-3972
NYSED Office of Teacher Initiatives: 518-474-3901
Autism Workshop online: Enter the registration code NewPaltz9 for the same rate as on campus. This code only works for SUNY New Paltz students.
Registration for Teacher Certification Exams
Certification information: Old Main Building Room 218C. 845-257-2790 or whitakec@newpaltz.edu.