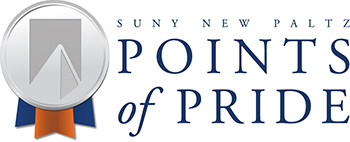 Want to apply to graduate school at SUNY New Paltz?
The Graduate School at SUNY New Paltz offers more than 50 graduate degree programs in areas such as education, science, business, and the arts for students who have the equivalent of a four-year (college) baccalaureate degree.

Before submitting your application, please review the following information regarding our application process for international students.
1. Admission requirements
The basic requirement for admission to the Graduate School is a baccalaureate degree from an accredited institution and a minimum cumulative undergraduate grade-point average (GPA) of 3.00 on a 4.00 scale.


In addition, international students must demonstrate their English language proficiency. They may be asked to submit translations/evaluations of their transcripts by a member organization of the National Association of Credential Evaluation Services. See the chart below for your intended program or general English language proficiency scores.


The Graduate School will consider a three-year bachelor's degree from India as equivalent to a U.S. Bachelor's degree if:

The three-year degree was earned in Division or Class I at universities accredited by the National Assessment and Accreditation Council (NAAC) with a grade of A.

All other three-year degrees from India will be considered as the equivalent of three years of undergraduate study.


2. Check the admissions calendar
Adhering to your program's application deadline is crucial to the success of your application. The Graduate School will not review an incomplete application; therefore, make sure that your application includes:
Official transcripts (in sealed envelopes)
Degree certificate/diploma
Admission essay
Financial documents
A copy of your passport
Letters of recommendation (in sealed envelopes)
Signature Page from the online application or a completed paper application.
In addition, the Graduate School must receive official score reports directly from the agency that administered the exam(s). We do not accept faxed or scanned score reports.
Your application will NOT be reviewed without these items.


ATTENTION:
International admissions for students residing outside of the U.S. closes on Dec. 1 for spring (January) admission, and June 15 for fall (August) admission. Please note that these deadlines are not applicable to international students residing within the U.S. at the time of admission.



3. Review the English language proficiency requirement
Prospective international students for whom English is not the native language, and any applicant whose undergraduate degree is from a country where English is not the main language of instruction, are required to demonstrate English Language Proficiency. Review the chart below for methods of demonstrating language proficiency. NOTE: Individual departments may require a score higher than the minimum acceptable score, so students should consult their departments.
Seven ways to demonstrate English language proficiency:
English Proficiency may be demonstrated by providing evidence of meeting one of these criteria:
An official score of 80 on the TOEFL iBT, 85 for MA English applicants, or a 90 for Second Language Education (TESOL) applicants.

An official score of 550 on the TOEFL PBT, 563 for MA English applicants, or a 575 for Second Language Education (TESOL) applicants.

An official score of 6.5 on the IELTS, or a 7.0 for Second Language Education (TESOL) applicants.

An official score of 53 on the PTE Academic, 57 for MA English applicants, or a 61 for Second Language Education (TESOL) applicants.

A passing score on a proficiency test given upon arrival on campus. (Conditional Admits)

A certificate of English Language Proficiency from the Haggerty English Language Program at SUNY New Paltz.

Official transcripts indicating a college degree from a U.S. institution.
Conditional admission for applicants with limited English proficiency
In the event that you are offered admission having only demonstrated a marginal level of English Language Proficiency, you will be required to sit for a placement exam upon arrival at SUNY New Paltz. The exam may include:
A test of grammar, reading and listening comprehension.
An oral interview, and possibly
A writing sample.
Based upon your performance on the exam, you may be required to register for additional English language instruction. All students must demonstrate the required level of English proficiency before being allowed to begin graduate coursework.
If you need additional information, please contact the Haggerty English Language Program at 845-257-3595.
4. Select your method of application
Online: the online application system allows students constant access to their application.
Applications will be accepted according to the following schedule:

Fall (August) Admission: Nov. 16 - May 15
Spring (January) Admission: Aug. 1 - Nov. 15
Paper: paper applications must be submitted if the applicant prefers to pay the application fee by check or money order or applies after we close the online application system (see online application calendar above).


5. Complete the process
Online: After completing the online portion of the application process, applicants must mail their supplemental items (e.g., transcripts, provisional/degree certs, letters of rec etc.) in ONE COMPLETE PACKET to SUNY New Paltz, The Graduate School, 1 Hawk Drive, New Paltz, NY 12561-2443

Paper: students must collect all of the materials required by the program to which they are applying, and mail them to The Graduate School (address above) in ONE COMPLETE PACKET
REVIEWING YOUR APPLICATION STATUS

After an application has been processed, an email with login information will be sent to you. Once you have your user ID and PIN, you may check the status of your application by visiting: http://applicants.newpaltz.edu/grad.
MFA applicants will be able to upload their portfolios once they log into check the status of their application.
Additional information
The Graduate School sends official notification regarding offers of graduate admission. Any communications concerning admission that are not generated from The Graduate School are unofficial. An I-20 will not be generated without the express approval of the graduate dean.
Federal regulations restrict the Graduate School from sharing any information regarding a student's records with any third party, including parents, guardians or a spouse. If you would like to enable us to speak with an individual regarding your application or student record, please include the Waiver for the Release of Information with your graduate application packet.