Come join us for SUNY Model EU 2014 in Brussels, Capital of Europe!

We had over 150 students and faculty participate in SUNY MEU 2013 in New York City at the SUNY Global Center. This year, we are pleased to announce that our partner, Vesalius College, has agreed to host the upcoming Model EU this Jan. 8-11, 2014. Our fabulous location in Brussels will allow us to do some additional EU programming before the start of Model EU, with visits to the European Parliament and Council on Wednesday Jan. 8. An optional tour of medieval Bruges is also planned for Sunday, Jan. 12, after the successful close of the simulation. Please see the 2014 brochure and registration form below for more details. Register by Nov. 10 to reserve a room at the conference hotel and receive a country and alter ego assignment!
SUNY Model EU is a project funded by the Institute of European Union Studies at SUNY (IEUSS), through the Office of Global Affairs, SUNY System Administration. Like many international simulations, students and universities represent country delegations in preparing to attend a European Council Summit. Usually, these delegations are comprised of four person teams, with each student playing an actual political figure from that country's government. These roles are generally the Head of Government (Prime Minister or President), the Foreign Minister, the country's ambassador to the EU (COREPER II), and a Finance Minister. Larger teams can also bring an additional deputy minister for Europe or deputy Prime Minister. Host teams will generally chair the Head of Government and Foreign Minister meetings, playing the roles of Council President and High Representative for Foreign Affairs. Additional delegation assignments also play the role of the European Commission and Secretariat, as well as the SUNY Model EU Press corps.
Once assigned "roles," country teams work to prepare a single-page proposal for an item to be discussed at the summit, and submit it to the presidency team a little over a month prior to the simulation and the presidency team works with the secretariat to generate an initial agenda of items to be debated in each functional group setting. We try to debate the most important and timely issues confronting Europe, from the crisis in the Eurozone, to the military action in Libya, and problems integrating recent immigrants into European society. Students debate the issues and come to common positions on items before them, working first in small groups (of just their partner ministers) before putting the final conclusions of the presidency to a vote of the whole.
Model EU has proven to be an enormously rewarding experience for our past participants, and a visit to our SUNY Model EU Facebook page will confirm this. Students from all over the SUNY system and northeast have an opportunity to meet and work with students from all over Europe, to learn about one of the most complex and important actors in the international arena today, and to develop their social capital in learning how to present their views before both a small group and plenary setting. Smaller than most Model UN simulations, it is a more participatory experience for all those who do come, and there are fewer "spectators" given the small size and the importance of each country in EU Council decision making.
Country assignments and rooms at the conference hotel are allocated on a first-come, first-serve basis, so register early to reserve your place! There is no minimum number of students required to form a campus delegation. Journalism/communication majors are encouraged to join our SUNY Model EU Press Corps, which produces daily newsletters, as well as a conference blog and video of the simulation itself. We can accommodate up to three 4-5 person country delegations, as well as several additional students who may serve in the Model EU Press Corps. We can also help a single student from your school join another delegation from other schools if you do not have enough to field a full team.
We would welcome the opportunity to discuss the possibility of your school sending a delegation of students to SUNYMEU 2014 as part of a course or as a club. The SUNY Model EU Office provides academic support for both students and faculty advisors, including a SUNY Model EU Manual (available for downloading from this site this fall), so there is no requirement that faculty accompany students. Faculty research panels and workshops are organized to parallel student meetings and promote cross-SUNY and international collaboration among colleagues participating.
If you would like more information, please contact Kathleen Dowley at our SUNYMEU office at 845-257-3558 or at dowleyk@newpaltz.edu. Below you can download the study guide materials, registration forms and informational brochures!
Additional Study Abroad Opportunity for SUNY students:
For those already planning to attend SUNY MEU in Brussels, consider earning three credits and extending your visit to Brussels to learn more about the European Union and its multilevel system of governance in the week following Model EU. See the SUNY New Paltz Center for International Programs Study Abroad winter session site for information about registering for the full study mission, Jan. 7-18 (inclusive of Model EU)!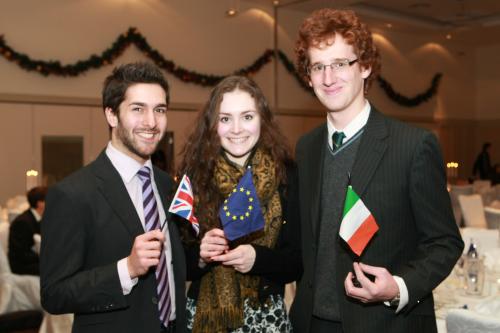 Model EU 2010: Limerick, Ireland at the Opening Ceremony
Delegation from Exeter University, UK
The Conclusions of the SUNY MEU Presidency 2011
Best regards,
Kathleen M. Dowley
Associate Professor of Political Science at SUNY New Paltz
Director, SUNY Model EU
845-257-3558