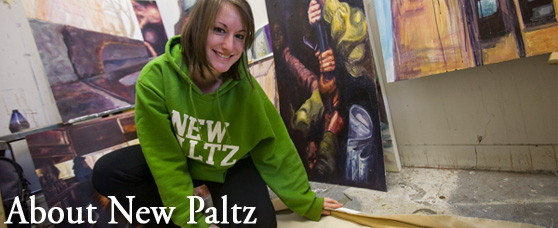 Applications for Fall 2013 still being accepted!
Requirements
Each year, New Paltz welcomes approximately 1,000 students who apply for admission after having completed some coursework at another accredited college. The following information is required to complete the transfer application process:
Official transcripts from all colleges attended
Official high school transcript or GED transcript and SAT or ACT scores
Written statement or resume detailing, if applicable, why your education was interrupted and what you have been doing since leaving college.
Official AP, IB or CLEP test score reports/transcripts, if applicable
If you have less than 45 completed credits, you can either apply to a major or apply as "Undeclared." If you have 45 or more completed credits, you must apply directly to a major; "Undeclared" is not a choice.
A minimum cumulative grade point average of 2.75 is required for admission as a transfer student. In addition to this transfer applicants who have completed less than 45 college credits will have their admission decision based on both their college and high school academic record and standardized test scores.
The majors outlined below carry additional admission major requirements.
Art – A successful portfolio review*
Visual Arts Education – A minimum of a 3.0 and a successful portfolio review*
Music – A successful music audition/interview*
Theatre Arts – A successful theatre audition/interview (enrollment limited to fall semester only)*
Adolescence (Secondary) Education – A "B" or better in English Composition I and II
Early Childhood/Childhood (Elementary) Education – A "B" or better in English Composition I and II
Communication Disorders – A minimum GPA of 3.0
Psychology – A "C" or better in General Psychology
Mathematics & Mathematics/Adolscence Education – Completed Calculus I and be enrolled in Calculus II
Biology - Must have completed General Biology I & II, General Chemistry I & II, and Pre-Calculus
*Contact the specific department for portfolio submission, audition, and interview information.
TRANSFER PROFILE:
Fall Transfer Class: 692
Middle 50% GPA: 3.0 - 3.6
*All information as of July 13, 2012
Send materials to:
Office of Undergraduate Admission
State University of New York at New Paltz
100 Hawk Drive
New Paltz, NY 12561-2499
(845)257-3200 (Telephone)
(845) 257-3209 (Fax)
admissions@newpaltz.edu


An important note: New Paltz admission uses email as its official method of communication. In order to assure that you receive all communications related to your application please make sure your email address that you provided on your application is correct. Please add SUNY New Paltz to your address book to avoid emails from newpaltz.edu being sent to spam folders.