Office of Veteran & Military Services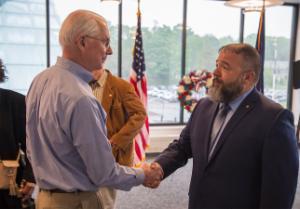 SUNY New Paltz named a Top 10 Military Friendly® School
For the first time ever, SUNY New Paltz has been named a Top 10 Military Friendly® School in the Small Public category, as the College continues its rapid rise into the upper echelon of colleges and universities serving veterans, dependents and active military students.
New Paltz has consistently moved up the Military Friendly® Schools list since first receiving the recognition six years ago. The Top 10 designation is the highest honor available to colleges and universities.
The SUNY New Paltz Office of Veteran and Military Services is honored to help support and guide military service members, veterans, and dependents with your experience in higher education. At SUNY New Paltz, your core values, experiences, and service are never overlooked. We are committed to the intellectual, personal, and professional growth of all our students. As a retired service member with over 22 years of service, I take pride in being charged with helping you pursue your dreams and assist with guiding you down a path of success. I look forward to helping all of you join the talented community of learners and educators that provide extraordinary pathways for enrichment.
The Office of Veteran and Military Services is located in Student Union (SUB 100 South). We are staffed with a full-time Director of Veteran and Military Services and VA School Certifying Official. Our purpose is to provide assistance to all U.S. Service members, veterans, and dependents from application to graduation. Our services include, but are not limited to: assisting with all benefits covered under the various GI Bill® programs; military tuition assistance (TA); veteran scholarships; general questions regarding Department of Veteran Affairs' issues; and free parking permits for military and veteran students. All current and prospective student veterans, service members, and their dependents are encouraged to take advantage of our services.
At SUNY New Paltz, we pride ourselves in equipping our students with not just a degree that will open doors to career opportunities, but also an education that inspires a lifelong passion for learning. We warmly welcome students of diverse backgrounds, cultures, perspectives, and ambitions. As a member of the armed forces, veterans, or dependents communal, you bring an invaluable level of excellence to the New Paltz community. We welcome you to our campus and look forward to helping you along this exciting journey.
Sincerely,
Jason F. Gilliland
Director of Veteran and Military Services
SUNY New Paltz
Office of Veteran and Military Services
SUB 100 B



GI Bill® is a registered trademark of the U.S. Department of Veterans Affairs (VA). More information about education benefits offered by VA is available at the official U.S. government Web site at http://www.benefits.va.gov/gibill