Van Den Berg Hall
The School of Business is located in the van den Berg Hall (VH). It has been recognized by the American School and University Magazine for its outstanding design. The building houses all faculty offices, administrative offices, classrooms and discipline oriented labs designed and equipped exclusively for the School of Business.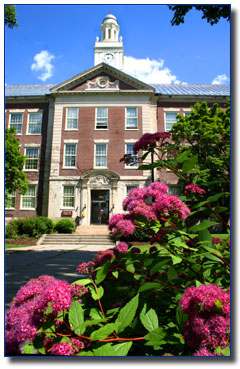 The VH is a wireless environment that contains smart classrooms with all state of the art technological equipment. The building has two computer labs with top of the line hardware and software, one of which is a trading room.
There is a friendly and well-equipped student lounge, with a dedicated space for our career, writing, math and library assistants, graduate assistants and tutors. Study nooks with seating and writing surfaces are located throughout the building. There are LCDs on every floor displaying top business news, stock information and School of Business events and announcements.
The Hudson Valley Venture Hub (VH 219)
The Hudson Valley Venture Hub is a community engagement initiative of the SUNY New Paltz School of Business with the goal of uniting the entrepreneurship ecosystem throughout the Hudson Valley. The space is a dedicated high tech room equipped with professional video equipment and a work space where students and entrepreneurs connect.
The Kenneth D. Pasternak Trading Room (VH 221) is a place for accounting and finance majors to get a real world experience using specific software, or having workshops. We have Stock Trak software that is used in Investment classes. Stock Trak is a web-based software package that simulates markets and allows students to invest in a virtual brokerage account and manage a portfolio.