Health Center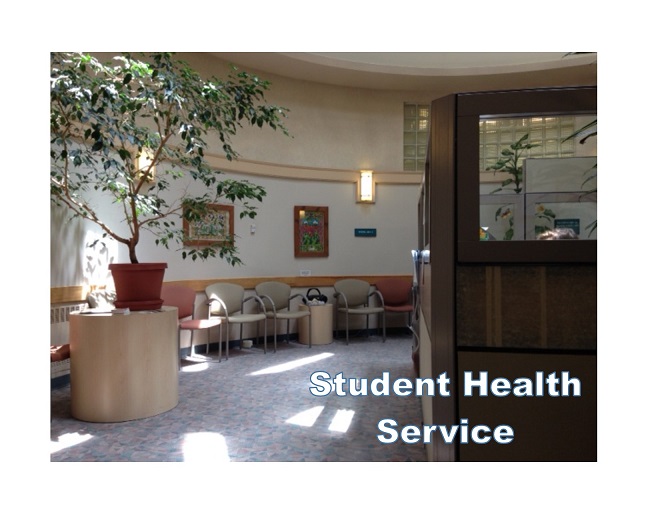 Student Health Service COVID-19 Update
COVID-19 Fall 2022
COVID-19 Bivalent (updated) Booster
WHAT TO DO IF YOU FEEL SICK.
COVID-19 symptoms are usually nonspecific like a cold or allergies. So, you must be alert.
If you have symptoms, begin "precautionary measures"; wear a mask and avoid close contact with others.
Do an antigen test (at-home rapid).
If the test is positive upload a picture of the test to your COVID-19 Profile. Continue precautionary measures. Student Health Service (SHS) will contact you during daytime hours.
If the first test is negative continue precautionary measures and retest in 24 hours.
If the second test is negative, contact SHS for advice. Still be careful not to spread your illness.
WHAT TO DO IF YOU HAVE BEEN IN CLOSE CONTACT WITH AN INDIVIDUAL WHO TESTED POSITIVE FOR COVID-19.
Close contact defined as within 6 feet for more than 15 minutes. Standard classroom exposure is not considered a close contact.
Infectious period for contact with an individual who tested positive.
If the positive individual had no symptoms, contagious period, 2 days before test to 5 days after
If the positive individual had symptoms, contagious period starts 2 days before symptoms and lasts the first 5 days of symptoms
You are required to wear a mask for 10 days after your last contact with the positive individual and avoid close contact with others during that period.
You should:
Test 5 days after your last contact with the positive individual if you don't develop symptoms, if you have tested positive for COVID-19 in the last 30 days don't test if you have no symptoms. If you tested positive for COVID-19 31-90 days ago, test with an antigen test NOT a PCR test.
Test ASAP if you develop symptoms of COVID-19 after an exposure.
If you are symptomatic and your first antigen test was negative, precautionary measures, and repeat an antigen test in 24 hours. If your 2nd antigen test is negative contact SHS for advice.
WHAT TO DO IF YOU TEST POSITIVE FOR COVID-19.
If you test positive for COVID-19 whether you have symptoms or not, you must Isolate.
Upload a picture of the test to your COVID-19 Profile and continue precautionary measures. Student Health Service (SHS) will contact you during daytime hours.
Day 0 would be the day of your positive test if you have no symptoms or the first day of symptoms if you have them.
You must Isolate for days 0-5.
Days 6-10 you may still be contagious, therefore wear a well-fitting mask when around others
If you are feeling better and have no fever you are released from isolation on day 6. If you are not feeling well on day 6 contact SHS for advice.
Student Health Service maintains many procedures to promote social distancing and prevent the spread of COVID-19.
If you become ill or develop a medical concern the Health Center is open Monday through Friday. An appointment can be made by calling 845-257-3400. A Triage nurse will call you back. Based on this encounter you may be advised one of the following:
Self-care measures
Offered an in-person appointment
Offered a telemedicine appointment with a physician
Directed to an Emergency Department in the unlikely case your symptoms warrant this referral
A triage nurse is available Monday to Friday 8:30am to 4:30pm (summer M-F 8am-4pm).
If an in-person appointment is scheduled, wear your face covering to the appointment and be on time.
At this time, you may not bring a friend with you to an appointment.
When you arrive for your appointment, enter the first two sets of doors, call 845-257-3400 option 4 and SHS staff will meet you at the door.
When you enter, you will be led directly to an exam room.
As you enter the office, please cleanse your hands with alcohol based hand sanitizer at the Purell hand station. "PUMP IN".
As you leave your appointment, please use the alcohol hand sanitizer. "Pump out".
CDC – Recommends preventive actions to help prevent the spread of respiratory infections including:
Stay home if you are sick.
Maintain 6 foot spacing when around people even if they appear healthy.
Wear a mask when in public when indicated.
Wash your hands often with soap and water for at least 20 seconds.
If soap and water are not readily available, use an alcohol based sanitizer with at least 60% alcohol.
Avoid close contact with sick people.
Avoid large crowds and gatherings.
Avoid touching your mouth, nose or eyes.
Cover your cough, sneeze into a tissue, use your elbow if a tissue is unavailable, then dispose of the tissue in the trash.
Clean and disinfect frequently touched objects and surfaces using a regular household cleaning spray or wipe.
The above precautions are for the safety and well-being for our community. We apologize for any inconvenience and sincerely wish the best health for everyone!
MISSION STATEMENT
To provide quality medical care in a compassionate environment.
To interact with students in a manner that will teach them how to interact with the healthcare system in the future.
To begin a dialogue with students on how to make healthy choices in life with regard to diet, exercise, sleep, relaxation, interpersonal relationships, tobacco use, alcohol use, drug use, and receiving immunizations.
---
PHONE: 845-257-3400 FAX: 845-257-3415
EMAIL: healthservice@newpaltz.edu
MAIL: Student Health Service, SUNY New Paltz, 1 Hawk Drive, New Paltz, NY 12561

Use IMMUNIZATIONS link to review NYS Required Immunizations and New Paltz Tuberculosis Screening Policy
STUDENT HEALTH SERVICE HOURS
Monday - Friday
8:30 a.m. to 4:30 p.m.: Phone calls are welcome, doors are opened for scheduled appointments.
4:30 p.m. to 5 p.m.: Voicemail receives calls, and staff are finishing the care of those who contacted Student Health Service prior to 4:30 p.m.
INTER-SESSION AND SUMMER HOURS
Monday - Friday
8 a.m. to 4:00 p.m.: Phone calls welcome and doors are opened for scheduled appointments.

NON-EMERGENCIES AFTER HOURS & WEEKENDS

CALL: 845-257-3400, a number to Fonemed a 24 hour nurse advice line will be provided.
EMERGENCIES (This will allow students to receive immediate medical attention)
On-campus students: contact University Police 845-257-2222 or 911
Off-campus students: call 911
LOCATION
Student Health Service is located in the round building across Southside Loop from Gage Hall. The Health Center houses both Student Health Service and the Psychological Counseling Center, which are separate services.
ELIGIBILITY FOR SERVICES
In order to be eligible to use Student Health Service (SHS), students must be registered for classes. Every student needs health insurance. This is not used for the services provided by SHS. Those services are paid for by the Student Health Fee. Insurance is needed for prescription medication, lab tests obtained outside SHS, lab tests obtained at SHS and sent to an outside lab, radiologic tests, specialty physicians, emergency room visits, and hospital stays.

Submission of the Health Report (HR) helps SHS staff obtain important background medical information about the student. It is therefore recommended that the student submit a HR 30 days prior to starting college, but it is not a requirement for use of the Health Center. The Health Report can be downloaded on this website under "Forms."
SCOPE OF PRACTICE
Student Health Service provides non-emergency primary medical care. We care for students who have health problems while college is in session. SHS provides care with an emphasis on preventative health care.
For routine matters such as scheduling appointments for non-urgent, non- emergency reasons, students need to call during our regular business hours.
If a student has an urgent medical problem that they feel cannot wait for our regular office hours, and they are not sure how to proceed, SHS provides a nurse advice service. Call 845-257-3400 to contact a nurse who will discuss a student's urgent medical questions and help them identify their options for care.
Some students, because of the nature of their problems, require comprehensive health care which cannot be provided at SHS. Following initial evaluation at SHS, those students will need to secure off campus healthcare services while attending college. Students who require specialty physician care will be assisted by the Student Health Service staff in accessing this care in conjunction with their primary care medical provider (if they have one) and their insurance plan.
TRANSPORTATION TO/FROM OFF-CAMPUS MEDICAL FACILITIES
NON EMERGENCY TRANSPORTATION
The Health Center does not provide transportation to off-campus medical facilities. When a student is referred by SHS to an off-campus medical facility, he or she may use vouchers from SHS for taxi service to get to the recommended medical treatment facility. After hours, when this transportation is authorized, vouchers may be obtained from the University Police Department.
EMERGENCY TRANSPORTATION
SHS will when indicated activate their emergency 911 system to transport a student to a local emergency room.