Flu Information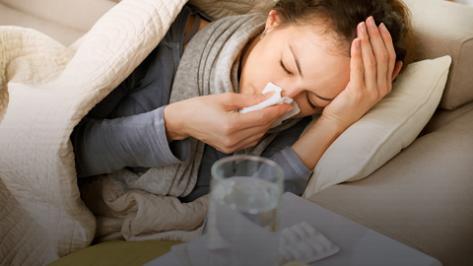 SYMPTOMS OF FLU:
Fever 100.5° to 105°
Fatigue
Headaches
Bodyaches
Dry Cough
Sore Throat
Chills
HOW TO CARE FOR YOURSELF IF YOU HAVE THE FLU:
Stay in your room or go home for the first five days of your illness (this is when you are contagious).
Have a friend obtain food for you from dining hall with sick tray forms (download forms from Residence Life website).
Be careful coughing around others. Use hand sanitizer before touching others and their belongings during the first five days of illness.
Notify your professors of your illness. If needed, Student Health Service will support your absence from class.
Drink plenty of water, caffeine-free soda, or fruit juice.
Eat small amounts of food, even if not hungry.
Treat your fever, bodyaches, and headache with Ibuprofen (Advil, Motrin) 400mg every six hours with food, OR Acetaminophen (Tylenol) 650mg every four hours, OR Acetaminophen (Tylenol Extra Strength) 1000mg every six hours.
Call Student Health Service for advice on managing your cough.
WHEN TO COME TO THE HEALTH CENTER:
Fever greater than 101.5° and very fatigued
You have diabetes, cardiac disease, pulmonary disease, kidney disease, immunosuppression, pregnancy, or hemoglobin abnormalities
You are having difficulty eating or drinking
You are not coping well with symptoms
---