Areas of Study: Painting & Drawing

Mission
The dynamic visual language of painting and drawing is the ideal for invention, exploration, and articulation of ideas. Long revered for their traditions, painting and drawing now intersect with new media and encompass a variety of approaches. In addition to images on canvas and paper, students at SUNY New Paltz experiment with materials and methodologies that challenge the possibilities of the discipline. Ideas are not limited by material definitions. The program is committed to graduating students with substantial portfolios of work, the verbal/critical skills to participate in contemporary dialogue, and the practical resources to be successful working, exhibiting artists. BFA and MFA students at New Paltz benefit from the diverse viewpoints of faculty, visiting artists/critics, and interdisciplinary forums. With guidance, encouragement, and exposure to new ideas, students are challenged to expand the scope of their work and contribute to the evolution of the field.
Faculty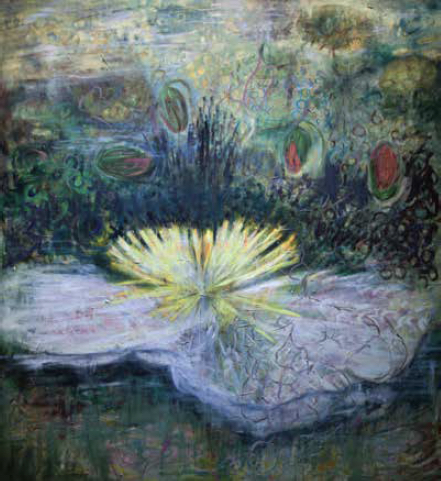 Arnold/ Fugue 2013
Robin Arnold has received numerous honors for her creative work, including a Millay Colony Fellowship and a Ford Foundation Grant. Her works have been exhibited nationally, at such venues as Axel Raben Gallery and Steinbaum Krauss Gallery in New York City, Wake Forest University, the New York State Museum in Albany, Concordia College, Aljira Contemporary Art Center in Newark, and Cornell University. Her work is inspired by botanical phenomena and the synthetic interface between nature and contemporary culture. Robin Arnold holds an MFA from Michigan State University, and previously taught drawing and painting at Syracuse University. She has been honored with five Research and Creative Projects Grants and the SUNY Chancellor's Award for Excellence in Teaching. Her works are held in the photographic archives of the Museum of Modern Art and the Drawing Center in New York City, as well as public collections.
www.robinarnoldstudio.net
arnoldr@newpaltz.edu
(845) 257-3839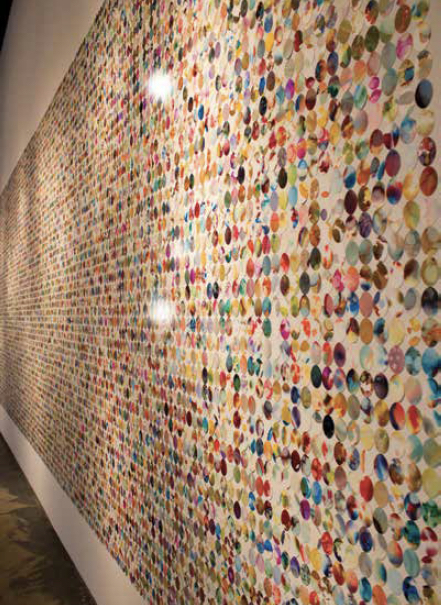 Goodell/ Mesmer Eyes, 2012
Kathy Goodell was born in San Francisco and received both her B.F.A. and M.F.A. from the San Francisco Art Institute. Her works span painting, drawing, sculpture and photography and are often in combination, exploring notions of metaphysics and the uncanny. She has exhibited her work both nationally and internationally, and within the last five years, she participated in more than 90 exhibits in cities across the United States, and throughout Europe, Mexico and South America. In 2013-14 she was awarded a John Simon Guggenheim Fellowship. In 2014 she also received a Camargo Foundation/Jerome Foundation, and BAU Institute Fellowship to France. In 2013 she was featured in the Huffington Post; "In Conversation with Kathy Goodell." She has also been the recipient of multiple awards from the New York Foundation for the Arts; The National Endowment for the Arts; the Pollock-Krasner Foundation for the Arts; the Phelan Award (for a California born artist), and a Fulbright Fellowship. Kathy Goodell previously taught at the University of California; the San Francisco Art Institute, Moore College of Art and Design, and the School of Visual Arts.
www.kathygoodell.com
goodellk@newpaltz.edu
(845) 257-3839
Painting & Drawing: Studio Space & Facilities
MFA painters have generous 200 square foot private studio spaces in the Smiley Art Building. The building is equipped with wi-fi, three computer labs on the second floor, including a 64-inch Epson printer used to teach direct printing and transfer process in Digital Painting courses, and a 3-D digital fabrication lab on the first floor. A key-card system provides after-hours access. A well-equipped wood shop is located in the adjacent Fine Arts Building. The Samuel Dorsky Museum of Art adjoins the complex, and is the location of BFA and MFA thesis exhibitions.
Learn more about our Painting & Drawing facilities and equipment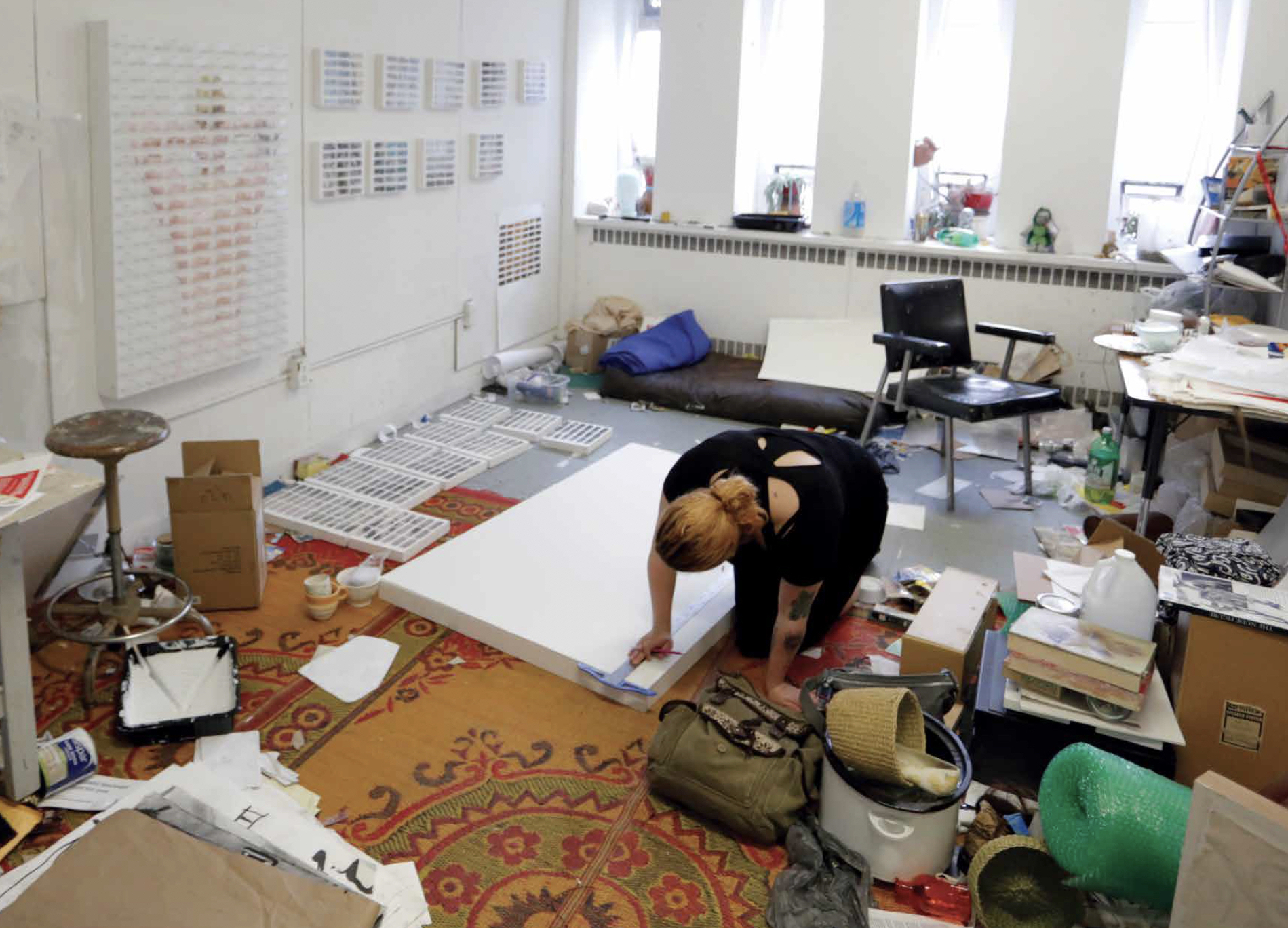 Internship, Residencies and Fieldwork
Internship and fieldwork opportunities are encouraged and accessible via a wide range of institutions and professionals in the Hudson Valley as well as in New York City, just a 90-minute bus ride away. Our students have had internships at the Elizabeth Foundation for the Arts and Marie Walsh Sharpe Foundation (NYC), and residencies at the Vermont Studio Center, the Edward Albee Foundation, Chautauqua School of Art, the Cooper Union in NYC, the Ruth Katzman Fellowship for the League Residency at Vyt, the Albany Barn Studios, and Griffis Art Center in Connecticut.
Student Success
Our graduates exhibit nationally and internationally; venues include: The Armory Show in NYC, Art Basel Miami Beach, Hallwalls Contemporary Art Center in Buffalo, The Arts Club of London, and Harvard University. Former students are on the staff at the Aldrich Museum, the Metropolitan Museum of Art, and the Whitney Museum of American Art. Our graduates have secured teaching positions at the University of Rochester, California State Long Beach, RISD, Massachusetts College of Art, Savannah College of Art and Design, Manhattanville College, Hong Ik University and Gyeongsang National University in South Korea, and SUNY Buffalo.
Graduate honors include: the NYFA Fellowship, the Pollock-Krasner Fellowship, the Thayer Fellowship in the Arts, Vermont Studio Center Residencies, Civitella Ranieri Fellowship in Italy, World Views Residency Fellowship, MacDowell Colony Residency, Whitney Independent Study Program Fellowship, Cooper Union Artist Residency, an American Academy of Arts and Letters Award nomination, and artist books in the collections of the Museum of Modern Art and San Francisco Museum of Modern Art.
Visiting Artists
A partial list of visiting artists includes: Alfredo Jaar, Robert Crumb, Patti Phillips, Nicole Eisenman, Amy Sillman, Polly Apfelbaum, Julie Evans, Byron Kim, Glen Goldberg, Sangram Majumdar, Alexis Rockman, Tom Thayer, Mike Bidlo, Ellen Gallagher, Judith Linhares, Eleanor Heartney, Kojo Griffin, China Marks, Vincent Desiderio, Michael Ashkin, Julie Heffernan, Susanna Coffey, April Gornick, Barbara Takenaga, Marco Maggi, Martin Puryear, Lucy Lippard, Cynthia Lin, Lee Ming Wei, Diller + Scofidio, Marcia Tucker, Alexander Melamid, Terry Zwigoff.