Areas of Study: Ceramics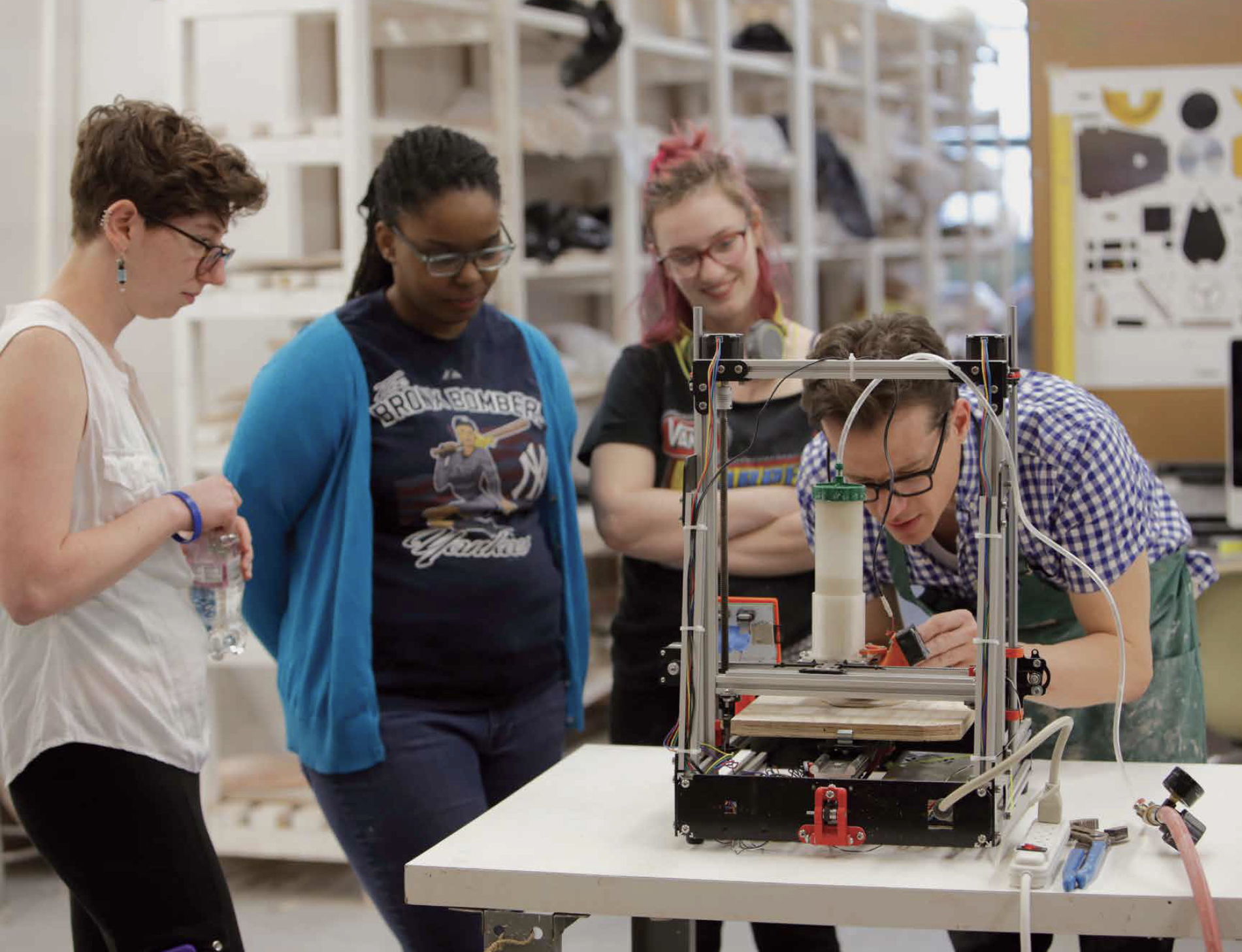 Mission
Our program cultivates the practical, conceptual, and professional growth of our graduate students by providing an environment balanced among technical skill development, critical and theoretical dialogue, and intensive studio research. Faculty guide students' independent research and individual approaches to their practice while fostering independence, self-reliance, and confidence in an environment of peer to peer and student to professor support. The curricular structure challenges students to critically evaluate their work within a material-specific and an interdisciplinary framework, as well as in theoretical and professional contexts, which results in innovative, dynamic, and authentic outcomes ranging from objects and pottery to installation and socially-engaged practice. Students are encouraged to work with methodologies that explore the boundaries of the field while demonstrating an understanding of historic and contemporary ecologies.
Faculty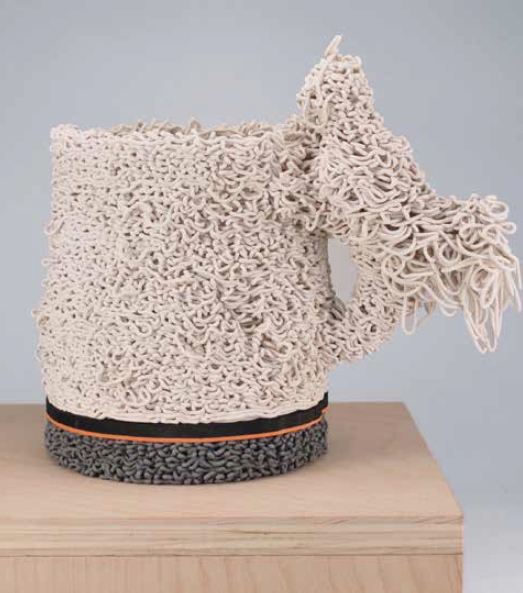 Czibesz/ Madár Bögre, Nagyi, 2015
Bryan Czibesz is an artist and object maker who asks questions of authorship and authenticity by manipulating clay and other materials with a range of hand, digital, and mechanical processes. He earned his MFA from San Diego State University and BA from Humboldt State University. He has exhibited his work in solo and group exhibitions, lectured, and taught workshops in clay and digital fabrication throughout the United States and internationally, including Fondation Bernardaud in Limoges, France, the Houston Center for Contemporary Craft, The Center for Craft, Creativity & Design, the Riga Porcelain Museum in Latvia, the Nelson Atkins Museum, Greenwich House Pottery, and the Honolulu Museum of Art. He has been Artist-in-Residence at The International Ceramics Studio in Kecskemét, Hungary, C.R.E.T.A. Rome, The Clay Studio in Philadelphia, Northern Clay Center in Minneapolis, Watershed Center for Ceramic Arts, and the University of Hawaii at Manoa. He has taught at SUNY New Paltz since 2011.
www.bryanczibesz.com
czibeszb@newpaltz.edu
(845) 257-3834
Ceramics: Studio Space & Facilities
Graduate students are provided a private studio space within the program's expansive 10,000 square foot facility. Graduate students have access to their studios seven days a week and have full access to both materials and all equipment. Our state-of-the-art facility gives students a wide range of technical opportunities and is fully equipped to accommodate both traditional and current ceramic practices. The well resourced, ventilated, and brightly lit studios are designed to be flexible and responsive to the needs of the students and the curriculum. The facility is outfitted with a full range of equipment that is essential to all methods of clay fabrication, surface development, and firing, including computer aided design, 3D printing and prototyping, and manufacturing tools that support our students' expanding production needs. Our generously equipped clay and glaze materials lab support limitless testing and experimentation. Firing ranges from low to high temperatures in electric, gas, soda, and wood kilns. Large, mid-range, and small kilns are available for group and individual firings.
KILNS • 50 ft3 downdraft car kiln • 35 ft3 downdraft car kiln • 12 ft3 downdraft gas kiln • 18 ft3 downdraft soda kiln • 200 ft3 Anagama wood kiln • 25 ft3 front-load electric kiln • 20 ft3 front-load electric kiln • 7 top-load electric kilns • 6 top-load test electric kilns
EQUIPMENT • Mac computer lab • 2 extrusion clay 3D printers • full-color ceramic decal printer • installation and photography room and equipment for documenting work • digital projector • iron oxide decal printer • 2 Peter Pugger mixing pug mills • 1 Peter Pugger mixing and de-airing pug mill • Soldner clay mixer • 2 blunger slip mixers • 2 spray booths • plaster mixing and mold-making room • plaster band saw • plaster lathe • Jolly Jigger • 3 slab rollers • 2 extruders • fully-equipped tool room with hand and power tools
ADDITIONAL RESOURCES ⬪ fully equipped wood shop ⬪ Digital Fabrication Lab, including: • laser cutter • vinyl cutter • 4' x 8' ShopBot CNC router • large format color printer ⬪ Hudson Valley Advanced Manufacturing Center with Stratasys, 3D Systems, and Makerbot printers for plastic, resin, and metal
Learn more about our Ceramics facilities and equipment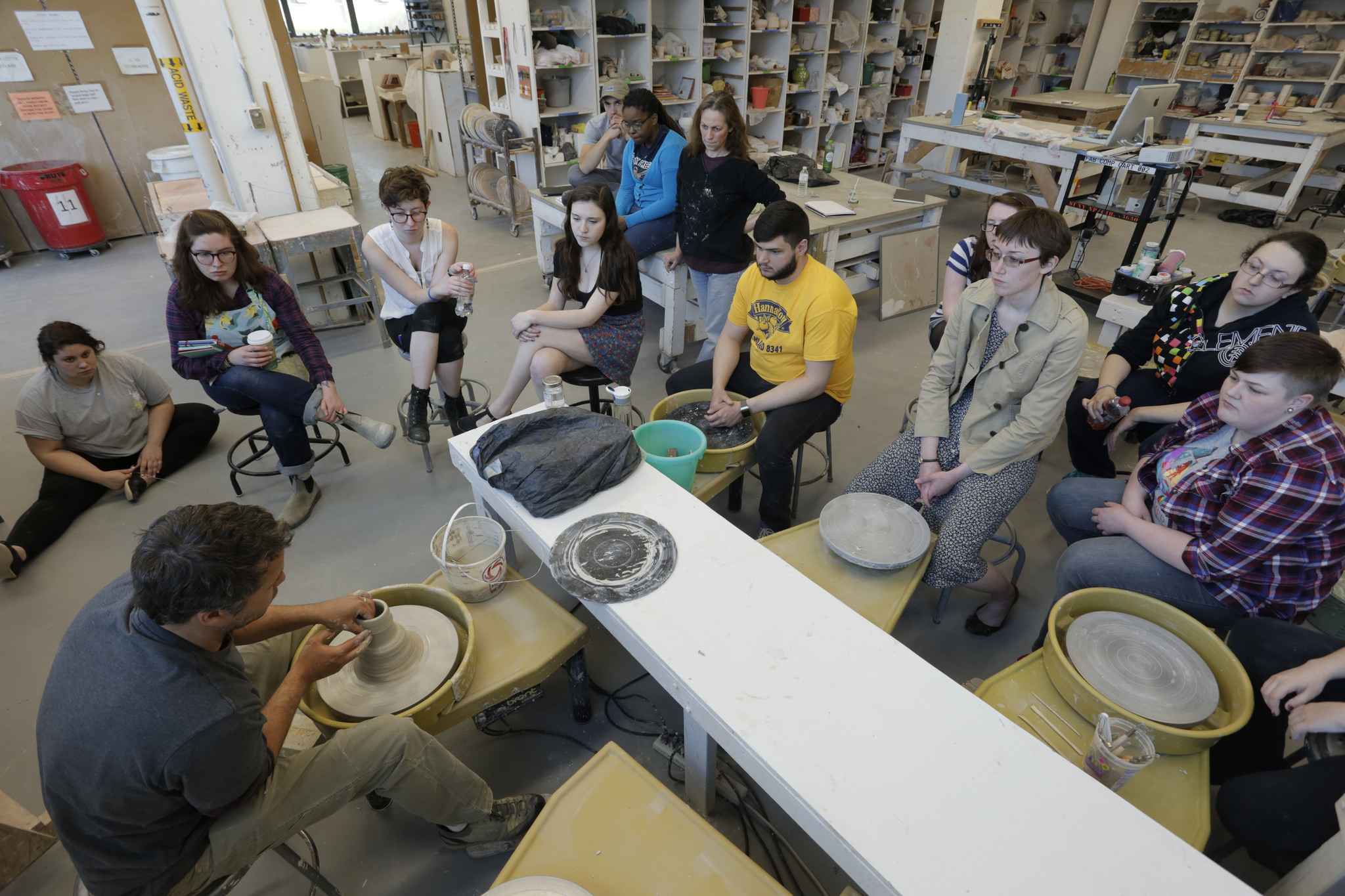 Equipment
Full-color digital ceramic decal printer
2 Mac computers, scanner, printer, etc.
Photo room and equipment for documenting work
Digital projector
2 Peter Pugger pug mills (porcelain, stoneware)
Soldner clay mixer
3 Bluebird clay mixers
2 Blunger-style slip mixers
1 Bluebird vacuum pug mill
Numerous digital and manual scales
2 spray booths, fully equipped
Plaster mold room
Jolly Jigger and plaster turner
3 slab rollers
2 extruders
Auxiliary Tools
(grinders, saw, sand blaster, etc.)
3 downdraft gas car kilns
1 downdraft gas soda kiln
2 front-load electric kilns
7 top-load electric kilns
6 top-load test electric kilns
1 Anagama wood kiln
1 catenary arch downdraft wood kiln
Various Brent (40) and Randall (6) potter's wheels
Auxiliary equipment
Access to fully equipped wood shop
Access to fully equipped Digital Lab including: laser cutter, 3D printer & CNC digital router
Internships, Residencies and Fieldwork
Our students have access to a wide range of world-class institutions, organizations, and professionals for internship and fieldwork opportunities in the Hudson Valley and in New York City, which is a 90-minute bus ride away. Related experiences are highly encouraged as they expand and deepen the students' understanding of the field and related professional goals, and provide invaluable networking opportunities. Students have interned with NYC-based practicing ceramic artists and designers as well as with curators and editors of ceramics publications and ceramics art centers.
Student Success
Our alumni have entered and sustained a broad range of successful careers as ceramic sculptors, studio potters, designers, independent studio artists, educators, and writers in the field. They exhibit and publish their work nationally and internationally and have received awards from international exhibition forums such as the Yingge Taiwan Ceramics Biennale, the Korean Gyeonggi International Ceramic Biennale, and NCECA National exhibitions. Their work and writing is regularly featured in Studio Potter, Ceramics Art and Perception, Ceramics Technical, Ceramics Monthly, and many Lark Published books. Our alumni teach at highly regarded national and international institutions including Emily Carr, KyungHee University, Suwon University, Konkuk University in Korea, the National College of Art in Lahore, Pakistan, Skidmore College, Marymount Manhattan College, as well as community colleges and ceramics programs in prominent public and private schools. Many of our alumni direct programs in art centers sector such as Women's Studio Workshop, Fall Kill Clay Works, Cornell Creative Studios, and Studio Potter. Our graduates have received competitive fellowships and residencies including at the Museum of Arts and Design; The Archie Bray Foundation; Anderson Ranch; The International Ceramics Studio in Kecskemét, Hungary; and the Arctic Circle Expeditionary Residency.
Visiting Artists
Our visiting artist programs are rich with lectures and weeklong workshops supported by the New Paltz Student Art Alliance, Student Association, Design Week, and Andrah Foundation. Recent Visiting artists and critics include: Glenn Adamson, Anders Ruhwald, Arlene Shechet, Ronald Rael, Roberto Lugo, Ezra Shales, Annabeth Rosen, Roxanne Jackson, Del Harrow, Paul Sacaridiz, Claire Twomey, Julian Stair, Bobby Silverman, Judith Schwartz, Helen Drutt, Bruce Dehnert, Doug Peltzman, Ayumi Horie, Klein Reid, Marek Cecula, Adam Welch, Akiyama Yo, Steve Montgomery, Beth Cavener, Richard Notkin, Jennifer Allen, and Brian Harper.