Facilities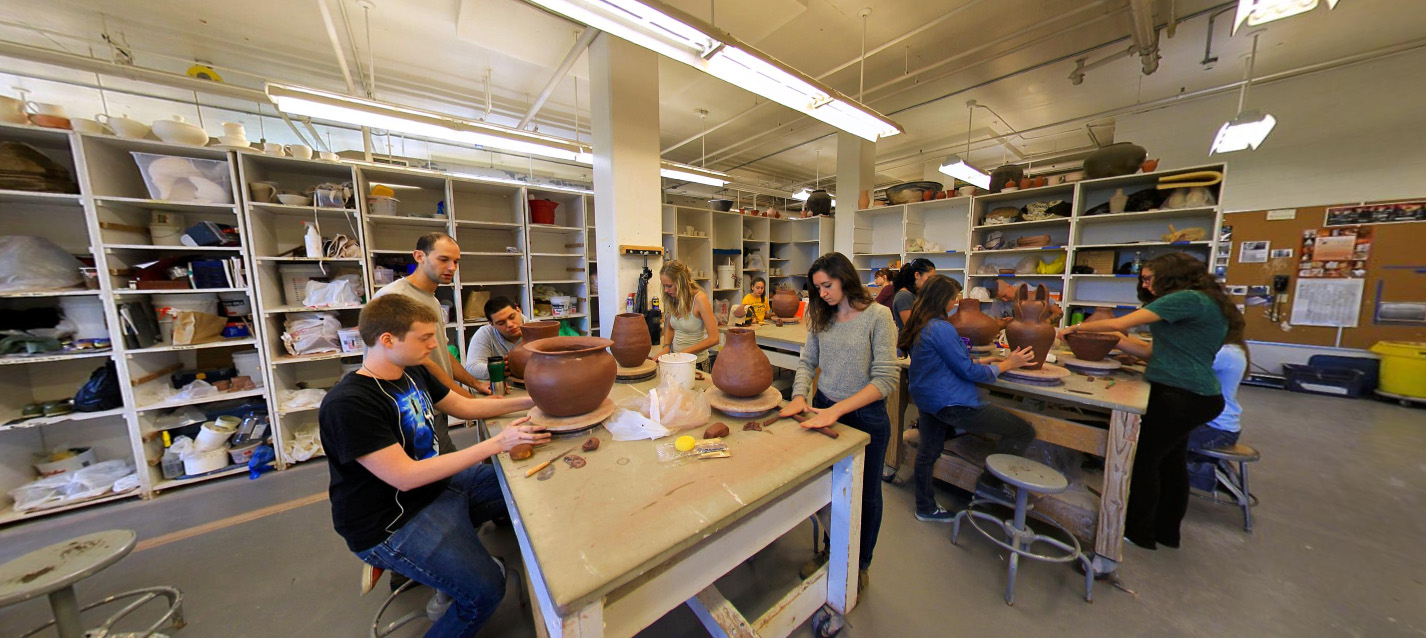 Our state-of-the-art facility is designed to give students a wide range of technical opportunities. The 10,000 square foot Ceramics studio is fully equipped to accommodate most traditional and current ceramic practices. The studios are well resourced, ventilated, and brightly lit, and are designed to be flexible and responsive to the needs of the students and the curriculum. The studio is outfitted with a full range of ceramics equipment that is essential to clay fabrication and all aspects of surface development and firing.
The program also introduces computer-aided design and manufacture of 3-D digital technologies that support students' expanding production abilities. All enrolled students work with faculty, technical staff, and graduate technical assistants to experience the various aspects of clay and glaze formulation and kiln firings. A broad range of materials for testing and experimentation is available for students' use on an as-needed basis. Firing ranges from low to high temperatures in electric, gas, soda, and wood kilns. Large, mid-range, and small kilns are available for group and individual firings.


Undergraduate Work Space
The main work area serves all art majors and includes working tables, many electric wheels, and storage space for works in process. The main work area is open from 7 a.m. to 11 p.m. every day. Students who declare a BFA in Ceramics are allocated an individual work and storage space. These spaces are open from 7 a.m. to 2 p.m. every day. The clay mixing, glaze, plaster mold forming, and kiln rooms are used by the larger community of all students enrolled in Ceramics.

Graduate Work Space
Graduate studios are located off the main work area. Graduate students have access to their studios seven days a week and have full access to both materials and all equipment.
Equipment

Full-color digital ceramic decal printer

2 Mac computers, scanner, printer, etc.

Photo room and equipment for documenting work

Digital projector

2 Peter Pugger pug mills (porcelain, stoneware)

1 Soldner clay mixer

3 Bluebird clay mixers

2 Blunger-style slip mixers

1 Bluebird vacuum pug mill

Numerous digital and manual scales

2 spray booths, fully equipped

Plaster mold room

Jolly Jigger and plaster turner

3 slab rollers

2 extruders

Auxiliary tools (grinders, saw, sand blaster, etc.)

3 downdraft gas car kilns

1 downdraft gas soda kiln

2 front-load electric kilns

7 top-load electric kilns

6 top-load test electric kilns

1 Anagama wood kiln

1 catenary arch downdraft wood kiln

Various Brent (46) potter's wheels

Auxiliary equipment

Access to fully equipped wood shop

Access to fully equipped Digital Lab including:

laser cutter
3-D printer
CNC digital router