Areas of Study: Sculpture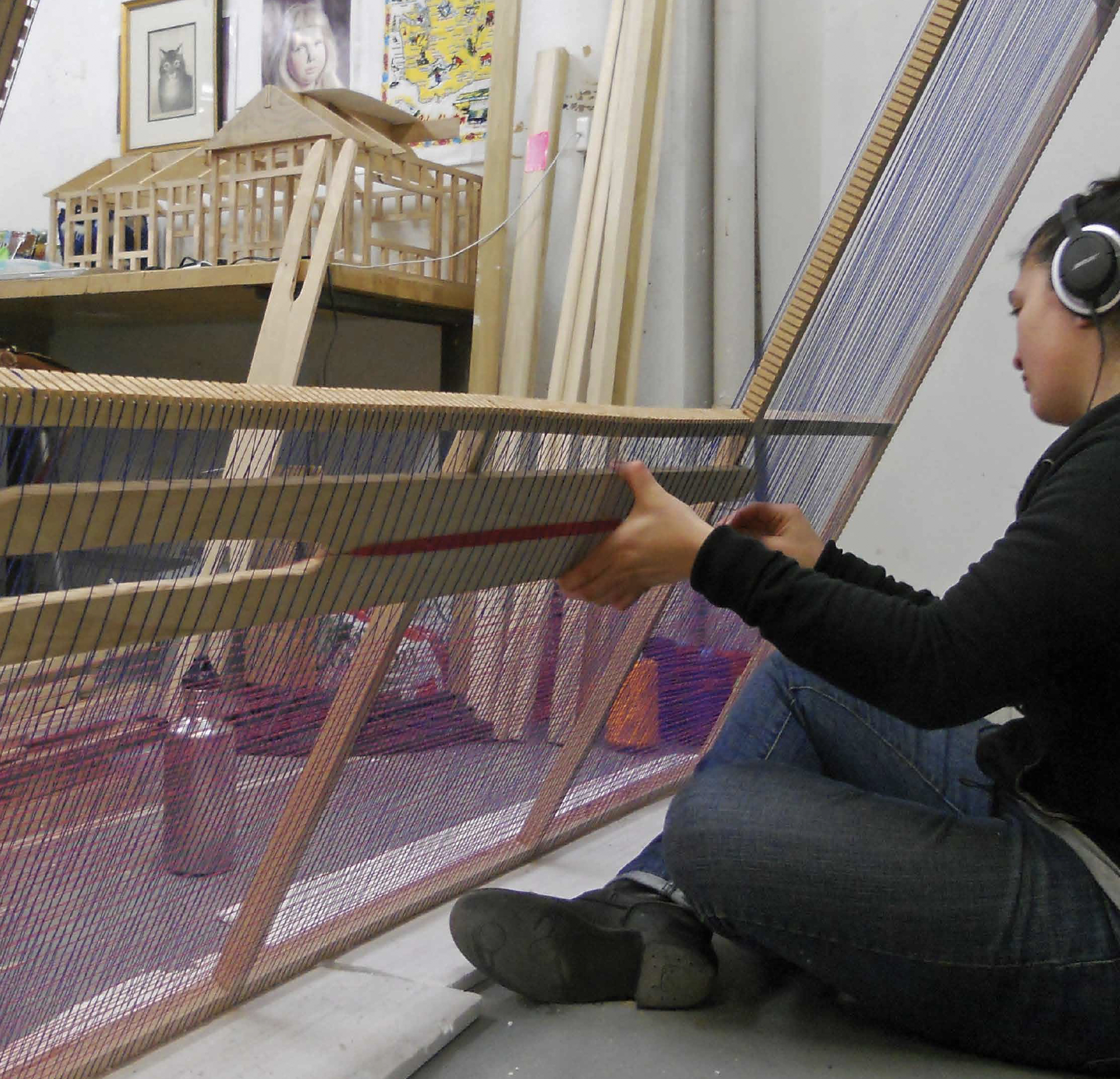 Mission
The Sculpture program at SUNY New Paltz provides students with a broad foundation of technical, conceptual, critical, and professional skills to facilitate the execution of their ideas and careers. The Sculpture Faculty encourage an interdisciplinary approach and the sculpture curriculum reflects the expansive breadth of media, techniques, content and contexts inherent within contemporary sculpture practice. Courses are offered in installation art, site-specific and situational sculpture, time-based media, kinetics and electronics, and sound, as well as traditional sculpture processes such as casting, welding/ metal fabrication, and material investigations. Students have ample opportunity to further their professional skills and research with internships and fieldwork projects within the abundant local art resources both in the Hudson Valley and nearby New York City. Similarly, students are uniquely situated within the context of a liberal arts university to inform their practice through other areas of study and art studio electives. The Sculpture faculty invite students that are willing to challenge the conventions and parameters of the field while articulating their unique vision through experimentation, inquiry, rigorous making, and risk taking.
Faculty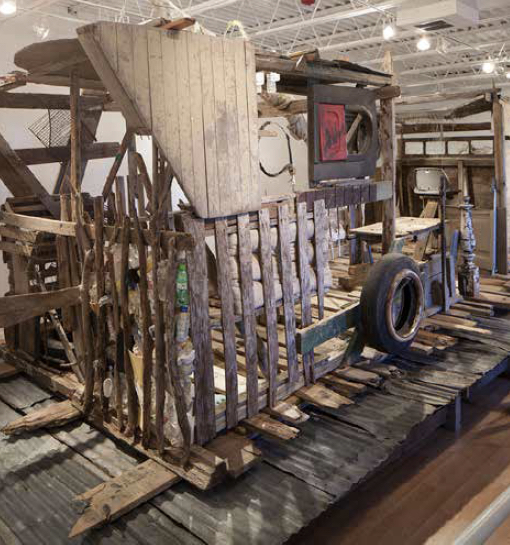 Asbill/ Raft, 2013.
Michael Asbill weaves arts advocacy, community engagement, environmentalism, and curatorial endeavor into his installation and public art practice. His work has been experienced in venues such as Sporobole and Galerie Zybaldone (Sherbrooke, QC), Flux Factory (Long Island City, NY), The Oregon City Elevator, and the Poughkeepsie Train Station. As a core collaborator with Habitat for Artists, Michael contributed to eco and social engagement projects for Smack Mellon (Brooklyn, NY), Arts Brookfield (New York, NY), Washington DC's Commission on the Arts and Humanities, the Corcoran Museum (Washington, DC), and 601 Tully (Syracuse, NY). He has received numerous grants, awards, commissions, and honors including the New York State/Province of Quebec Artist-in-Residence Exchange Grant, inclusion in the "Introducing" series at the Roger Smith Hotel, and was an honoree at the Ulster County Executive Arts Awards by Arts Mid-Hudson with title of "Artivist" which was invented to acknowledge his community contributions. Michael is the founder and director of CHRCH Project Space (Rosendale, NY), a residency for the development of pioneering, communitybased, participatory artworks.
www.michaelasbill.com
asbillm@newpaltz
(845) 257-3835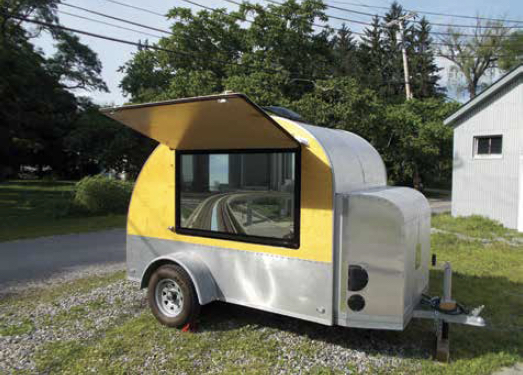 Puthoff/ Wayfinding Series, 2015/ wayfindingseries.com
Professor Puthoff joined the faculty at SUNY New Paltz in 2003. Her work ranges in scale and scope from artist books to immersive installations, while her mediums encompass everything from the lofi (cast sugar, film, clay) to the hifi (video, robotics, generative sound installations). Her sculptures are often mobile, situating themselves into the most curious contexts. Her work has been recognized by numerous grants, artist residencies and awards including: a 2011 NYFA Artist's Fellowship in Digital and Electronic Arts and the Artist in the Marketplace Fellowship at the Bronx Museum for the Arts, as well as artist residencies at the European Ceramic Work Centre (Netherlands), Women's Studio Workshop and Sculpture Space (NY), and Banff Art Centre (Canada). Her work has been exhibited nationally and internationally including at the Neues Kunstforum (Germany), Radiator Gallery (NYC), OUT VIDEO Festival, National Centre for Contemporary Arts (Russia), Eyelounge and the Arizona State University Art Museum (Phoenix, AZ), The Art House at the Jones Center (Austin, TX), and Bliss (Pasadena, CA).
www.emilyputhoff.com
puthoffe@newpaltz.edu
(845) 257-7835
Sculpture: Studio Space & Facilities
Encompassing 10,000 square feet of studio space, the sculpture studio provides an ample area for woodworking, metal fabrication, mold making and casting, a critique/lecture room and individual MFA and BFA studio spaces. Sculpture students have access to a wide range of equipment that includes welding and metal fabrication tools, woodworking machinery, video and sound equipment, well stocked tool room, and a computer lab for digital video/sound editing, 3D modeling, and robotic programming. Students also can access other studios, such as the 3D digital fabrication laboratory and wood studio, via elective course work. A large dock area and indoor rotunda provide space for student display of experimental and installation art.
Learn more about our Sculpture facilities and equipment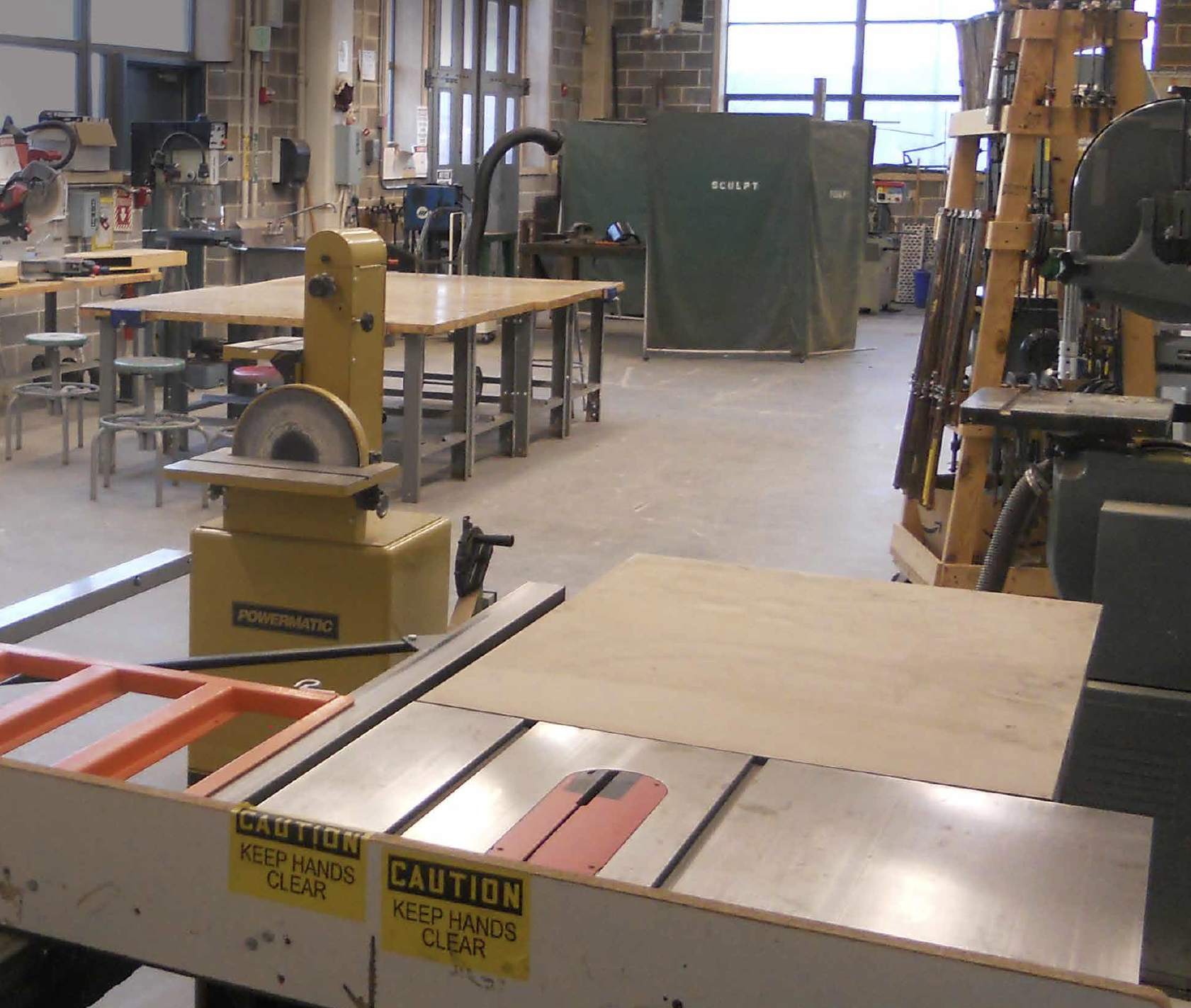 Internship, Residencies and Fieldwork
Our students have easy access to a wide range of world class institutions, organizations, and professionals for internship and fieldwork opportunities in the Hudson Valley as well as in New York City, which is only a 90 minute bus ride away. Field experiences are highly encouraged as they expand and deepen the students' understanding of the profession and provide invaluable networking opportunities. Our students have interned with the following artists: Robert Morris, Martin Puryear, Petah Coyne, Jean Shin, Amanda Browder, and Pat Oleszko as well as at the Sculpture Center, the International Sculpture Center, Women's Studio Workshop, and Dia:Beacon.
Student Success
Our graduates have entered into and sustained a broad range of successful careers including as practicing professional artists, highly-skilled art fabricators, illustrators, small business entrepreneurs, art handlers, nonprofit leaders, famous taxidermists, gallery and museum personnel, and art teachers and college faculty. Our students have been honored with the prestigious Outstanding Student Achievement in Contemporary Sculpture Award from the International Sculpture Society five times (3 winners, 2 honorable mentions) in the last 10 years. In addition, they have been awarded the Windgate Fellowship, the Artist Trust Project Grant, and the AIM Fellowship. They have exhibited at the Brooklyn Museum of Art (Brooklyn, NY), Bronx Museum of the Arts (Bronx, NY), Hudson Valley Center for Contemporary Art (Peekskill, NY), Wave Hill Art Center (Bronx, NY), El Museo Del Barrio (NYC), La Luz de Jesus Gallery (Los Angeles, CA), SITE Santa Fe (NM), and Yvon Lambert (NYC/Paris), Zwirner & Wirth (NYC) and Mike Weiss Gallery (NYC).
Our students have been awarded artist residencies at the Skowhegan School of Painting and Sculpture, Lower Manhattan Cultural Council Swing Space, Vermont Studio Center, Franconia Sculpture Park, Center for Photography in Woodstock, Salem Art Works, Snug Harbor, Fountainhead, Dyson's Artist Residency at Pace University, Gallery Aferro, and SOMA Mexico City. Lastly, New Paltz Sculpture Alumni have also been featured on the TV shows: Oddities, Odd Folks Home and American Ninja Warriors.
Visiting Artists
Throughout the academic year, SUNY New Paltz invites several visiting artists, historians, designers, and critics to campus to meet with students, critique their work, and share their thoughts and insights. Our proximity to New York City allows us to attract a diverse list of exemplary figures including: Diana Al Hadid, Janine Antoni, Huma Bhabha, Mel Chin, Petah Coyne, Arthur Danto, Coco Fusco, Dave Hickey, Alfredo Jaar, Ann Hamilton, Jim Jarmusch, Lucy Lippard, Elizabeth Murray, Judy Pfaff, Martin Puryear, Paul Ramirez Jonas, Ursula Von Rydingsvaard, Carolee Schneeman, David Levi Strauss, and Fred Wilson.