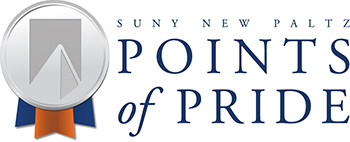 » Freshmen and Transfer Student Scholarships:
Many students receive scholarships and awards from their local communities and are encouraged to research private scholarships on the web.
Although the college does not have a substantial merit-based program, it does participate on a limited basis with school districts that may have local "Dollars for Scholars" chapters which is coordinated with your high school guidance departments.
Please note that the Financial Aid Office only awards Federal and State regulated grant, work and loan programs based upon the FAFSA.
Upon acceptance to the college, any limited available merit awards would be offered by the Admissions Office at that time. There is no separate application.
» Continuing SUNY New Paltz Student Scholarships:
The online application process for 2016-2017 SUNY New Paltz Scholarships is now open! The application deadline is April 8th, 2016. The link to Apply for Scholarships Online can be found on my.newpaltz.edu on the Students tab under Money. Start by completing the General Application then click the Opportunities tabto view the scholarships. Be sure to start your application early to allow ample time for your professors to submit their recommendations by the deadline.
» Private Scholarships:
We encourage students to seek outside resources in addition to the Foundation Scholarships. Visit ourPrivate Scholarship page for information and useful search engine tips.
---
»Get an edge up on the competition! Exploring Scholarship Opportunities for Current New Paltz students.