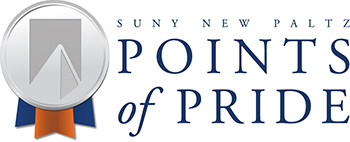 NEWS and UPDATES
» Incoming Freshmen
Make sure to check out this web page which outlines the timeline for aid processing. Our financial aid checklist is also a great resource to make sure you're ready for the fall semester!
» Questions about the verification process?
If you've been selected for verification and have not completed the process yet you can see what items are missing under my.newpaltz- My Financial Aid - Eligibility. You must satisfy the missing requirements so we can determine your eligibility and offer you an aid package. If you have questions on the process view our verification page for more complete information.
» Loan Disbursements

Loans disburse mid-week on a rolling basis starting 9/1/16 for fall. Have your fall loans disbursed already? If not, make sure you've completed your loan requirements...
→If you accept a Direct Student Loan then you must login to studentloans.gov with your student FSA ID and
Complete Entrance Counseling for State University College at New Paltz
Complete a Master Promissory Note for subsidized/unsubsidized loan
→If you accept a Direct Parent PLUS Loan your parent must complete a credit check REQUEST (our PLUS pagehas more details). To apply your parent must login to studentloans.gov with their ID (not the student's ID) and
Click and COMPLETE THE PLUS REQUEST via APPLY FOR A Plus Loan
If approved, they will be asked to complete a Master Promissory Note for a Parent PLUS loan
» Do you need help using the IRS Data Retrieval Tool on your FAFSA?

Make sure to view our helpful tutorial that walks you through the process >> DRT Tutorial
» Have you heard of the Governor's new STEM Incentive Program?
Read up on the proposed program guidelines here >> STEM Q and A
The application is not yet available, but hesc.ny.gov will update their website with more detailed program information after the NYS budget passes.
» Did you accept a PLUS loan?

Just like student loans, fall and spring semester Plus loans disburse once a week starting in early Sept for fall and late Jan for spring. But what if yours hasn't paid out yet? If it has not disbursed then it's likely that your parent still needs to complete the credit check application. These instructions help parents navigate the application process:PLUS REQUEST
NOTE: Signing a master promissory note is only part of the process. Parent borrowers must also click 'REQUEST A DIRECT PLUS LOAN' to complete the quick application and credit check on studentloans.gov.
» PELL GRANT CHANGES

Effective July 1st 2012, eligible students will be limited to receive Pell for a maximum of 12 full-time semesters (or the equivalent). You can read more about Pell Grant eligibility here: GRANTS