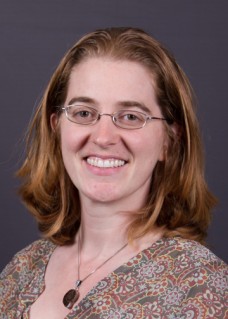 Lisa Mitten, MPP, M
Campus Sustainability Coordinator
mittenl@newpaltz.edu
845-257-3325
Service Building 205
Office hours: By appointment
Lisa Mitten became the college's first Campus Sustainability Coordinator in May of 2013. She strives to create a more sustainable campus and world by transforming ideas into action at SUNY New Paltz. She spearheads sustainability efforts within Facilities Management and also coordinates sustainability efforts across campus between students, faculty, and staff. As a member of the Strategic Planning Council, she is working with colleagues from across campus to integrate the Sustainable Development Goals into the campus' strategic planning process. She co-coordinates the Sustainability Faculty Learning Community and manages a team of student Sustainability Ambassadors. Other current projects include updating the campus sustainability plan and working with a consortium of New York State higher education institutions to meet the Chancellor of the SUNY System's goal to procure large-scale, utility-grade renewable energy to become 100% carbon neutral for electricity as soon as possible.
Brian Pine
Energy Management Coordinator

pineb@newpaltz.edu
845-257-3322
Service Building 205
Brian Pine retired as Director of Facilities Operations after seven years of service to New Paltz in December of 2012 (and 30 years of experience in NYS public facilities) and returned to campus in the spring of 2013 to focus on energy management. While he was director, Brian obtained over $550,000 in funding from Central Hudson and New York State Energy Research and Development Authority (NYSERDA) to support the campus' sustainability and energy initiatives. He was responsible for the campus-wide metering project installation, solar photovoltaic panels installations, greenhouse gas emission studies, and building energy analysis studies. Brian is now responsible for coordinating New Paltz's Energy Master Plan efforts, implementing energy conservation measures that reduce the campus' carbon footprint, coordinating NYSERDA funding for energy initiatives, and other projects. Since 2015, Brian has raised $1.7 million of external funding to support renewable energy, battery storage, and energy efficiency projects. Some of Brian's work includes coordinating:
LED lighting for all exterior lighting as well as for Coykendall Science Hall, Lecture Center, the Humanities Building, and Jacobson Faculty Tower
284 KW of on-campus rooftop and ground-mount solar photovoltaics
Battery storage at Elting Gym, a regional emergency relief shelter connected to 100 KW of solar photovoltaics and the grid
Insulating jackets on mechanical room piping in 25 buildings on campus
A total of 26 EV charging station parking spots
A demand response program earning the campus over $200,000 since 2013