Distinguished Speaker Series
The Power of Humor

Tuesday, October 18, 2022 | 7 pm (EST)
SUNY New Paltz, Lecture Center 100

---
Laughter is universal, it gives us joy. Humor also provides us insight into ourselves and our culture—our world, even. We can see how humor unites us, but it also has the power to divide, using ridicule to attack and make others feel powerless. When used thoughtfully, humor shows us our common humanity as we laugh at ourselves. Political cartoons expose new, important trends, hold leaders accountable, and they help us see a distilled view of the news. With laughter, we let down our defenses and not only are we more able to bond with others, but we are also open to new ideas. This is the power of humor.

Join us for a funny and meaningful talk that will be full of cartoons and some historical references. We'll end on a positive note of using humor as a communication tool to bridge divides. Booksigning follows program.
Liza Donnelly is a is an award-winning cartoonist and writer for The New Yorker Magazine and is a contributor to The NY Times, Washington Post, Medium, CNN, and CBS News
---
General admission is complimentary. A $10.00 donation is suggested to the SUNY New Paltz Foundation to support future educational programs for our students.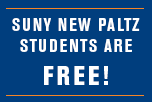 If you have any special accessibility needs, please contact sandickl@newpaltz.edu as soon as possible prior to the event to make appropriate accommodations.
Now in its fourteenth successful year, our Distinguished Speaker Series features high-profile individuals from literature, public affairs, and popular culture, with each presentation attracting the campus community and the wider public, generating media coverage, and providing memorable experiences for our students. SUNY New Paltz received a generous gift from a private donor to initially underwrite a portion of this signature campus program.
Opportunities are available to recognize you or your business before and throughout the event. For information, sandickl@newpaltz.edu.