Distinguished Speaker Series
Life in the Attention Age

Saturday, March 4, 2023 | 3 pm - 4 pm

SUNY New Paltz, Lecture Center 100
SOLD OUT!
Additional seating is available in Lecture Center 102 to view the program.
Please reserve your ticket(s) below.

---
In his timely talk, "Life in the Attention Age," Hayes will share his unique perspective on how attention has become one of the most valuable resources in American life, and how the competition for attention in the news, social media and other venues has transformed everything from our politics to our inner lives.
---
General admission is complimentary. A $10.00 donation is suggested to the SUNY New Paltz Foundation to support educational opportunities for our students.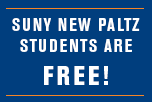 If you have special accessibility quesitons or require accommodations to fully participate in this event, please contact sandickl@newpaltz.edu as soon as possible to make appropriate accommodations.
Now in its fifteenth successful year, our Distinguished Speaker Series features high-profile individuals from literature, public affairs, and popular culture, with each presentation attracting the campus community and the wider public, generating media coverage, and providing memorable experiences for our students. SUNY New Paltz received a generous gift from a private donor to initially underwrite a portion of this signature campus program.
Opportunities are available to recognize you or your business before and throughout the event. For information, sandickl@newpaltz.edu.