Distinguished Speaker Series
When We All Speak Truth to Power, Who's Listening?
Story-Listening for Social Change
Monday, April 12, 2021
5 - 6 p.m. EST

---
Zaheer Ali, Oral Historian & Educator

---
Storytelling is one of the most powerful tools organizers and activists have at our disposal--the ability to tell powerful stories of resistance and transformation that amplify marginalized voices, challenge conventional unwisdom, and imagine new possibilities for the future. Yet, in order for us to tell powerful stories, we must first commit ourselves to listening to them, intentionally, openly, and deeply. Drawing on decades of experience as an oral historian and educator, Zaheer Ali will make a case for story-listening as an intentional, creative, and political practice. As story listeners, we value everyone's stories, we believe in their capacity to tell them, and we commit ourselves to creating and nurturing communities that will not just hear them, but listen.
---
General admission is complimentary. A $10.00 donation is suggested to the SUNY New Paltz Foundation to support future educational programs for our students.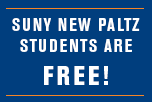 WebEx link will be sent prior to the program
If you have any special accessibility needs, please contact sandickl@newpaltz.edu as soon as possible prior to the event to make appropriate accommodations.
Now in its thirteenth successful year, our Distinguished Speaker Series features high-profile individuals from literature, public affairs, and popular culture, with each presentation attracting the campus community and the wider public, generating media coverage, and providing memorable experiences for our students. SUNY New Paltz received a generous gift from a private donor to initially underwrite a portion of this signature campus program.
Opportunities are available to recognize you or your business before and throughout the event. For information, sandickl@newpaltz.edu.