Distinguished Speaker Series
Building a Better Future by Supporting Academic Innovation and Entrepreneurship
Tuesday, November 17, 2020 - 7 p.m.
---
Rodney D. Priestley, first Vice Dean for Innovation, Professor, Department of Chemical and Biological Engineering and Associate Director, Princeton Center for Complex Materials

Princeton University
---
Academic institutions are at the forefront of producing new knowledge and understanding about the world in which we live in. These insights, inventions, and innovations can have a profound and positive impact on society. However, for that to happen, there must be a commitment and structure in place to support the translation of scholarly research and creativity beyond campus borders. Vice Dean Priestly is tasked with building and supporting innovation and entrepreneurship in a manner that is consistent with the mission of the institution. Our goal is to build a better future. After a brief discussion about his research, he will focus the lecture on our efforts to grow the innovation ecosystem in ways that build on our unique strengths, are inclusive to all, and inspire new partnerships and ventures.
---
Tickets: $10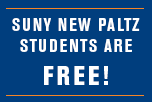 WebEx link will be sent prior to the program
Please call 845-257-3880 for further information regarding tickets. If you have accessibility questions or require accommodations to fully participate in this event, please call 845-257-3972 at least two weeks prior to the program.
Now in its twelfth successful year, our Distinguished Speaker Series features high-profile individuals from literature, public affairs, and popular culture, with each presentation attracting the campus community and the wider public, generating media coverage, and providing memorable experiences for our students. SUNY New Paltz received a generous gift from a private donor to initially underwrite a portion of this signature campus program.
Thank you! Your generous support sustains the Distinguished Speaker Series and plays a key role in our student's educational experience by allowing them to attend the Series and other campus events for free.
Opportunities are available to recognize you or your business before and throughout the event. For information, 845-257-3972.
The goal of the Distinguished Speaker Series is to connect alumni, community members, friends, faculty, staff, students and their families with well-known authors, policy makers and leaders, scientists, media experts, business people, and other luminaries, on our campus.