Regina Calcaterra '88 will share her story of resilience, optimism, self-determination, and how small acts of kindness for a child living on the fringe of society can have an everlasting impact. She will also share how you have the power to define your future. Regina's book, Etched in Sand, rose to No. 2 on The New York Times best seller list and remained there for 16 weeks.
Tickets also available through:

Parker Theatre Box Office:
Monday - Friday 11:30 a.m. - 4:30 p.m.
February 16 - March 8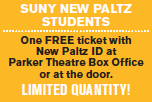 Will call and box office tables will also be open one hour prior to the event in the Lecture Center lobby.

For ticket information, please call 845-257-3880.

For information about the Distinguished Speaker Series and sponsorship recognition opportunities, please call 845-257-3972 or development@newpaltz.edu.


The Power of Resilience

Wednesday, March 11, 2015
7:30 p.m.
SUNY New Paltz Lecture Center 100
Reserved seating. Book signing and dessert reception to follow event.
Regina Calcaterra '88 is a SUNY New Paltz graduate and The New York Times best-selling author of Etched in Sand, a memoir about how she and her siblings survived growing up homeless on Long Island. Etched in Sand rose to No. 2 on The New York Times best sellers list and, as a result of its messages of resiliency and optimism, has been integrated into middle, high school, and college curricula throughout the U.S.
For the past 26 years, Calcaterra has spent her policy, managerial, and legal career in both the private and public sectors. She presently works as an attorney for New York State. Calcaterra recently served as executive director of two New York State commissions, one related to investigating the state's utility companies' preparation and response to recent
significant weather events. The second commission was charged with investigating public corruption. Under her guidance, both commissions put forth comprehensive reports identifying recommendations that were primarily adopted into state laws and regulations. Prior to her state appointments, Calcaterra served as chief deputy to the Suffolk County executive, where she managed a county of over 1.6 million residents, a $2.7 billion annual budget, and a 9,500-employee workforce. During her tenure she managed the county's fiscal crisis and oversaw the county's day-to-day operations and its immediate response and recovery to Super Storm Sandy. The majority of Calcaterra's private sector experience was as a partner to Barrack, Rodos & Bacine, an internationally recognized securities litigation firm where she represented defrauded public and labor pension funds from those who committed corporate fraud on Wall Street.
She proudly serves as board vice president to You Gotta Believe, an organization that works to find older foster children forever homes. She is a graduate of Seton Hall University School of Law and is admitted to practice law in the state of New York, commonwealth of Pennsylvania, and the Eastern and Southern U.S. District Courts.