Cory Booker Highlights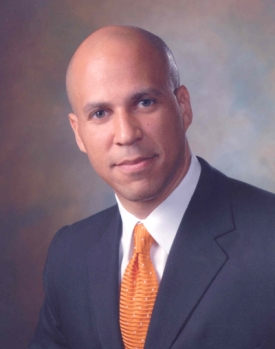 A native of northern New Jersey, Cory Booker's passion for politics and justice was instilled at an early age by a family committed to change. His parents successfully fought against racial discrimination and shattered corporate ceilings, inspiring him to pursue a life of breaking barriers and working for change. On May 9, 2006, Cory Booker was elected Mayor of Newark, with a landslide victory in the Newark Mayoral race.
While a varsity football player and class president at Stanford University, Booker ran a local crisis hotline and organized programs for city youth in East Palo Alto, California. As a Rhodes Scholar at Oxford University, Booker made headlines through his friendship with then-Lubavitcher Rabbi Schmuley Boteach. Their friendship, and Booker's leadership of the L'Chaim Society, was a powerful example of Booker's strong belief in the strength of diversity and the tremendous possibilities that result when people move beyond simple racial, ethnic and religious tolerance.
During his first election, Booker rose to prominence by upsetting a four-term incumbent to become councilman. He knocked on tens of thousands of doors, inspiring over a thousand previously discouraged voters to turn out for the first time.
Booker lives his politics, often in unconventional and creative ways. In the summer of 1999, he went on a 10-day hunger strike in one of the most drug-infested housing complexes in Newark, an effort that resulted in increased police presence and improved security for residents. For five months in 2000, Booker took to the streets; he lived in a motor home and parked it on the worst drug corners in the city, inspiring residents and businesses to fight against drug dealing and crime. For this, TIME magazine called him "The Savior of Newark," and he proved to the city and the nation that he is dedicated to fighting inner-city problems.
"Democracy is not a spectator sport. It's about rolling up your sleeves and getting to work. Change comes from good people coming together with collective struggles and doing something about it."
Booker brings his passion for social change to the podium. Sharing stories informed by real life, Booker demonstrates the need for everyone to take responsibility to help this nation live up to its promise. Booker also sheds light on the necessary reform government needs to undergo to become equipped to deal with the challenges of modern times. Drawing from a deep belief in service and social justice, Booker inspires audiences to greater civic responsibility and issues a call to action for America.
ABOUT CORY BOOKER: As Newark's Central Ward councilman, Booker introduced dozens of pieces of legislation and resolutions that have impacted housing, youth, safety, jobs and created better government. He has earned a reputation as a leader with innovative ideas and a willingness to take bold actions. From increased security in public housing to new playgrounds, his initiatives are changing lives.
Booker was an All-American football player and excelled in sports throughout his academic career. He ran a mentoring program for low-income youth while studying history in Oxford, England. While earning his law degree at Yale University, he co-founded and ran legal clinics to help low-income residents of New Haven. He is currently the director of Newark Now, a grassroots nonprofit group and a senior fellow at the Rutger's School of Public Policy and Planning.