Students: Jacob Flier Piano Competition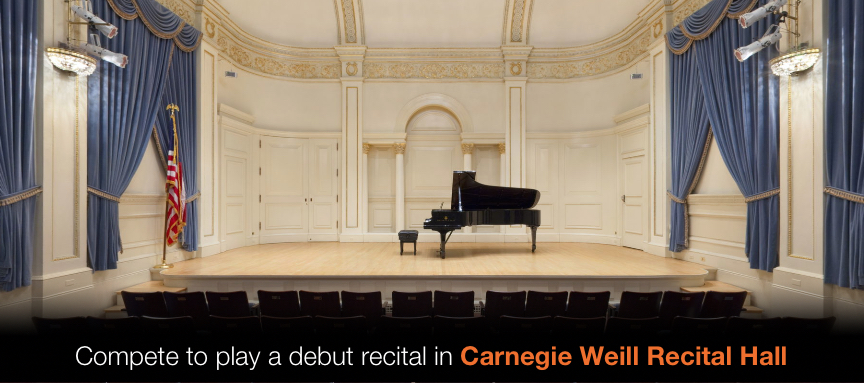 ---
Compete to play a debut recital in Carnegie Weill Recital Hall
The competition is open to all students up to age 35. The winner performs a debut recital in Carnegie Weill Recital Hall in the following season. In addition, the winner will share a recital with the second and third-place winners at the following year's PianoSummer at New Paltz Jacob Flier Piano Competition Gala.
Participant Requirements:
Jacob Flier Piano Competition is open to all admitted PianoSummer at New Paltz students up to age 35.
Prescreening
First 4 PianoSummer at New Paltz faculty lessons
First Round
J.S. Bach: One prelude and fugue from The Well Tempered Clavier
Two major works of different composers and style (at least 30-minutes)
Final Round
Any concerto by one of the following composers: Mozart, Haydn, Beethoven, Schumann, Brahms, Chopin, Liszt, Grieg, Mendelssohn, Tchaikovsky, Rachmaninoff, Ravel, Saint-Saëns, Prokofiev, Gershwin, Barber, Shostakovich, Franck Symphonic Variations
2019 Winners
No First Place Winner
Second Place:
Alina Smirnova was born in Moscow in 1991. At age 12, she made her solo recital debut in the Great Hall of the Moscow Conservatory and, a year later, her orchestral debut there in Shostakovich's First Piano Concerto. Since then, she has become a laureate of numerous national and international competitions and the recipient of several grants. In 2015 she graduated with honors from the Moscow Conservatory, where she studied under EIena Kuznetsova, Irina Kirillova and Tigran Alikhanov. Smirnova concertizes extensively both in Russia and abroad (including in Germany, France, Japan, and Estonia) as a solo recitalist, chamber musician, and with orchestras.
Ji Youn Lee began playing piano at the age of 5. She went to Yewon School—Korea's first middle school dedicated to arts—and Seoul Arts High School, where she won the Best Performer's Award for three consecutive years. Lee's numerous successes in piano competitions include top prizes in the New England Conservatory Concerto Competition, the Ewha Kyunghyang Music Competition, the CTS competition, the Korea Chopin Competition and the Sejong Music Competition. As an active performer, she has made appearances in solo recitals and concert series at many concert venues in Korea and the United States. She recently played with the New England Conservatory Symphony at Jordan Hall in Boston, Massachusetts. She is a junior studying with HaeSun Paik at New England Conservatory.
Third Place:
Nenad Ivovic has won more than 15 prizes at international competitions over the course of his career. He regularly performs at concerts in the United States and Europe. Ivovic holds a master's degree from Tel Aviv University, where he studied under Emanuel Krasovsky, and he also earned a Master of Musical Arts degree from Yale University, where he studied with Boris Berman. He has participated in master classes with such esteemed musicians as Andras Schiff, Alexander Toradze, Alexander Korsantia, Vladimir Feltsman, Peter Frankl, Mikhail Voskresensky, and others. Starting in September, Ivovic will hold a Collaborative Piano Fellowship position at Yale University.
Hyo Eun Park was born in 1995 in Seoul, South Korea. She began playing piano at the age of 5, and attended Seoul National University from 2014 to 2019. She is currently under the guidance of Hie-Yon Choi. Park won top prizes at numerous competitions such as the Epinal International Piano Competition (second prize, France, 2017), the Maj Lind International Piano Competition (finalist, Finland, 2017), and the Bösendorfer and Yamaha USASU International Piano Competition (second prize, USA, 2019). She was also privileged to perform with orchestras in South Korea, such as the Bucheon Philharmonic, the Daegu Symphony Orchestra, and the Southern Nazarene University Symphony.
Past Winners
2013 - Ketevan Kartvelishvili
2012 - Hidemi Minagawa
2011 - Baron Fenwick
2010 - Jun Luke Foster
2009 - Joey Chang / Yinfei Wang
2008 - No winner
2007 - Timur Moustakimov
2006 - Hyung-Min Suh
2005 - Jennifer Shinyoung Ju
2004 - Alexander Beridze
2003 - Michael Berkovsky
2002 - Daniel Shleyenkov
2001 - No winner
2000 - Oxana Mihailhoff
1999 - No winner
1998 - Daria Rabotkina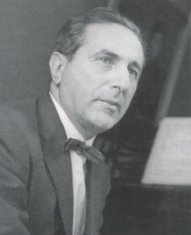 The Jacob Flier Piano Competition was established to honor this distinguished Russian pianist who taught for many years at the Moscow Conservatory and who brought up generations of prominent musicians including Vladimir Feltsman.