Mechanical Engineering
Mechanical Engineering is the latest addition to the well-respected undergraduate programs offered by the Division of Engineering Programs. Innovation, creativity, and cutting-edge learning are the long recognized hallmarks of the School of Science and Engineering at SUNY New Paltz.
The SUNY New Paltz Advantage:
An engineering program with a focus on undergraduate students
Small classes and labs from freshman through senior year
Close faculty interaction – advising, mentoring, and collaborating
Real world experiences through internships as well as independent and mentored research
A well-rounded education based upon a broad General Education experience and strong foundation of mathematics and natural science
An innovative integration and collaboration between engineering and the fine arts
Quality facilities including use of the nation's first MakerBot Innovation Center
Preparing graduates for life after graduation and the ability to enter into some of the nation's finest graduate programs and employment by top regional and national firms and agencies
Mechanical Engineering continues to be a growing program in the field of engineering due to a rapidly changing technological society and expanding industrial needs. The program at New Paltz is designed to meet these needs.
Engineering Design EXPO Megawatt Sponsors: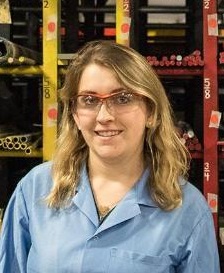 Alumni Profiles: Kayla Marchant '17
Mechanical Engineering, quality engineer for FALA Technologies, Kingston, N.Y.
"I think we all aspire to land a job soon after we earn our degrees. And it looks like many of the first six to graduate from this program have really hit the ground running."