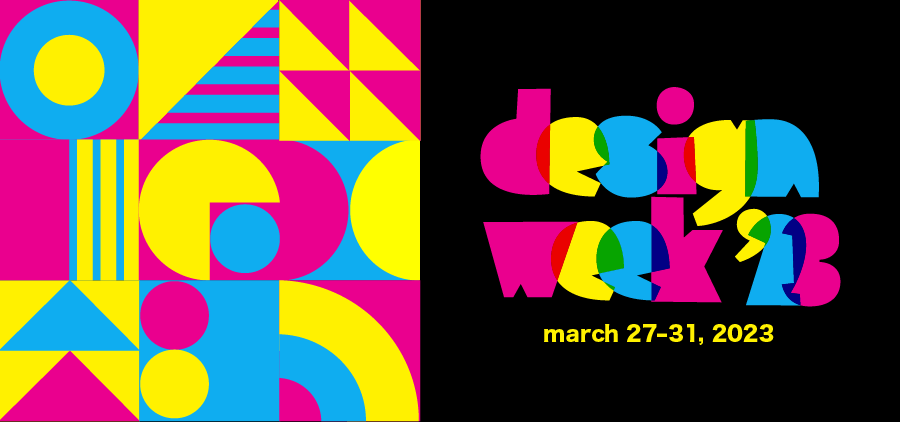 NEW PALTZ DESIGN WEEK 2023
March 27–31, 2023
New Paltz Design Week features lectures, workshops, and events celebrating design across disciplines on campus and in the region, organized by the Graphic Design Program, Digital Design and Fabrication, and the School of Fine & Performing Arts with support from the Department of Art, the Office of Campus Sustainability, the School of Science and Engineering and the Hudson Valley Additive Manufacturing Center.
Now in its seventh year, Design Week offers an exciting mix of lectures, workshops, and events.
Design Week 2023 branding by Angela Earvolino (BFA GD '24)
Learn about sponsorship opportunities or become a Friend of Design Week!
KEYNOTE SPEAKERS:
Alan Bigelow, PhD Solar Cookers International
Tuesday, March 28, 11a, SUB 62/63
George Czinkota, Czinkota Studios
Thursday, March 30, 11a, Old Main 232
Beatriz Lozano, beatrizl.com
Friday, March 31, 3:30p, CSB Auditorium
Read more about our Design Week 2023 keynote speakers.
SPECIAL EVENTS:
Alumni Q&A with Andrea Carrillo, Brianna Rascoe, and Nicolette Seeback Ruggiero
Wednesday, March 29, 5-6:30pm, OLB 103E
Register here
Co-sponsored with the New Paltz Women's Leadership Summit
Design Week Slide Slam
Friday, March 31, 6:30-8:30pm, The Terrace
Short presentations by students, alumni, faculty, and designers in the region, MC'd by Prof. Aaron Nelson
WORKSHOPS
Bookbinding, artificial intelligence, 3D scanning, design manifestos and augmented reality are just some of the Design Week 2023 workshop topics. Check them all out and sign up. Space is limited.
Follow NP Design Week on Facebook.
Design Week 2023 at a Glance:
Monday March 27
WORKSHOP:Mini Me Magnet 3D Scanning, 3p, SAB 100 (Digital Fabrication Lab)
WORKSHOP: Everything You Wanted To Know About Portfolios But Were Too Afraid To Ask,
7pm, OLB 103A

Tuesday March 28
KEYNOTE LECTURE: No Planet was Harmed in the Making of this Meal, Alan Bigelow, Solar Cookers International
11a, SUB 62/63
WORKSHOP: Cooking Differently with Alan Bigelow
1:30-3:30p, Honors Center

WORKSHOP: Undesign with Design Society, the Graphic Design Student Club
7p, OLB 103B

Wednesday, March 29
WORKSHOP: Design Your Design Manifesto
10a-12pm, OLB 103A
WORKSHOP: Build your first handmade sketch book with Japanese 4-hole bookbinding
12–4pm, OLB Bookbinding Room
WORKSHOP: Portfolio Reviews with Alumni
1-2:30p, OLB 103E
SPECIAL EVENT: Alumni Q&A Session
co-sponsored with the Women's Leadership Summit
5-6:30p, OLB 103E
Thursday, March 30
KEYNOTE LECTURE: George Czinkota, Czinkota Studios
11am, Old Main 232
WORKSHOP: Creative Machines: AI + Design
12:30-2:30p, OLB 103B
WORKSHOP: Mac Icon Mania!
5-7p, OLB 103E
WORKSHOP: Build a Free Web-Based Portfolio
7-9pm, OLB 103B
WORKSHOP: Let's Make Zines!, 7–9pm, STL
Friday, March 31
WORKSHOP: Intro to Augmented Reality Typography with Beatriz Lozano
11a–2:30p, 103A
KEYNOTE LECTURE: Beatriz Lozano
3:30p, CSB Auditorium
SLIDE SLAM
6:30-8:30p, The College Terrace
THANK YOU TO OUR FRIENDS OF DESIGN WEEK 2023:
Mika Busante '18
Debra J. Branitz '73
Casey Labatt-Simon '18
Shauna M. Keating '16
Kristoff Lalicki '18
Jacqueline B. McCullough '16
Brianna B. Rascoe '15