Participants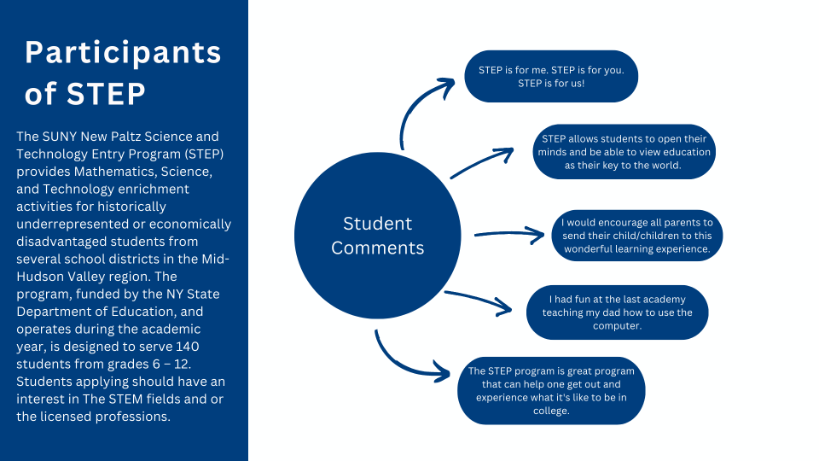 The SUNY New Paltz Science and Technology Entry Program (STEP) provides Mathematics, Science, and Technology enrichment activities for historically underrepresented or economically disadvantaged students from several school districts in the Mid-Hudson Valley region. The program, funded by the NY State Department of Education, and operates during the academic year, is designed to serve 140 students from grades 6 – 12. Students applying should have an interest in The STEM fields and or the licensed professions.
Shauntaya Christie Newburgh Free Academy
What is STEP? STEP is Educational. STEP is Interactive. STEP is Creative.
There isn't a "best" part of STEP. It is an overall phenomenal experience. Everything is great. I wondered whether STEP would be worth waking up early on a Saturday morning and when I came for my first time this year I was blown away by how much I learned and the experience that I witheld in my hands. I am now awaiting the college life.
STEP is for me. STEP is for you. STEP is for us!
Clarissa M. Espinosa Middletown High School
The Science and Technology Entry Program (STEP) is a great program that enriches young minds with information about everyday school subjects all the way to the college process. STEP allows students to open their minds and be able to view education as their key to the world. A higher education is provided through different hands on activities and lessons. At every STEP class there is a speaker as well who shares their knowledge in their field of expertise. Not only does STEP teach students that education is the important thing in life, it improves their skills as a learner, observer, and writer.
Chantia Dennis Poughkeepsie High School

This program helps to build or extend the minds of young students between the grades of 7-12. My first day at the STEP program I was lost because I didn't know anyone but then when my classes began its like everyone around me I've known them all along. I've learned new things that I haven't learned in school, also to be aware of my environment. I would encourage all parents to send their child/children to this wonderful learning experience.
Kiana Dawkins Beacon High School
When you come to New Paltz for STEP you shouldn't be nervous, because this can give you an opportunity to meet new people and see how the students act when they go to the classes. I had fun at the last academy teaching my dad how to use the computer.
Raeshawn Small Poughkeepsie High School
The STEP program is great program that can help one get out and experience what it's like to be in college. The first day of STEP can be a nerve racking experience because you may not know what's going to be there and who's gonna be there. Once you proceed through the day you start to get used to it and you get comfortable with the environment. The modules that you take during this program have fun activities that you do. You do lab experiments that are hands on and they're very enjoyable. One of my favorite activities was using liquid nitrogen to make ice cream, it was delicious.