MUSEUM HOURS:
September 2 - 3: CLOSED for school holiday
Regular hours: Open Wednesday through Sunday: 11 am – 5 pm
Closed Mondays and Tuesdays, holidays, and intersession



2023 CLOSURES
February: 2/18 & 2/19 closed for Presidents Day
March: 3/11 –3/19 closed for Spring break
April: 4/6 – 4/9 closed for Passover/Good Friday
May: 5/27 & 5/28 closed for Memorial Day
July: 7/1 - 7/4 closed for July 4th Holiday
September: 9/02 - 9/03 closed for Labor Day Weekend
October: 10/7 - 10/8 closed for School Holiday
November: 11/22 - 11/26 closed for Thanksgiving Holiday
ADMISSION: $5 Suggested donation

LOCATION:
The Dorsky is located on the SUNY New Paltz campus close to the main entrance on Route 32 S./South Manheim Boulevard. When you enter campus look for the glass pyramid structure which is the Student Union Building. The Museum can be seen beyond that building. Approach the Musueum via the plaza between the glass pyramid and the tall Haggerty Administration Building.

Samuel Dorsky Museum of Art
State University of New York at New Paltz
1 Hawk Drive (GPS: 75 S. Manheim Boulevard)
New Paltz, NY 12561
845.257.3844
Click here for Interactive Campus Map

DIRECTIONS:
From New Paltz Route 299/Main Street, go ½ a mile south on Route 32/South Manheim Blvd.
Turn right into the main campus entrance.
If you enter campus from another direction, please follow signs to the Main Entrance.
PARKING:
The best places to park are the Administration lot at the Campus main entrance or the Route 32 parking across the street.
Parking requires a $3/day permit and allows parking in any lot except residential lots. On weekends parking is free.
Parking permit machines are located in the Route 32 parking lot, across the street from the Campus main entrance, or can be purchased during the week at the Welcome Center in the Haggerty Administration Building.
Free one-hour parking can be found by the Haggerty Circle in front of the glass pyramid, Student Union, and Haggerty Administration Buildings.
Visit the Parking Web site for more details.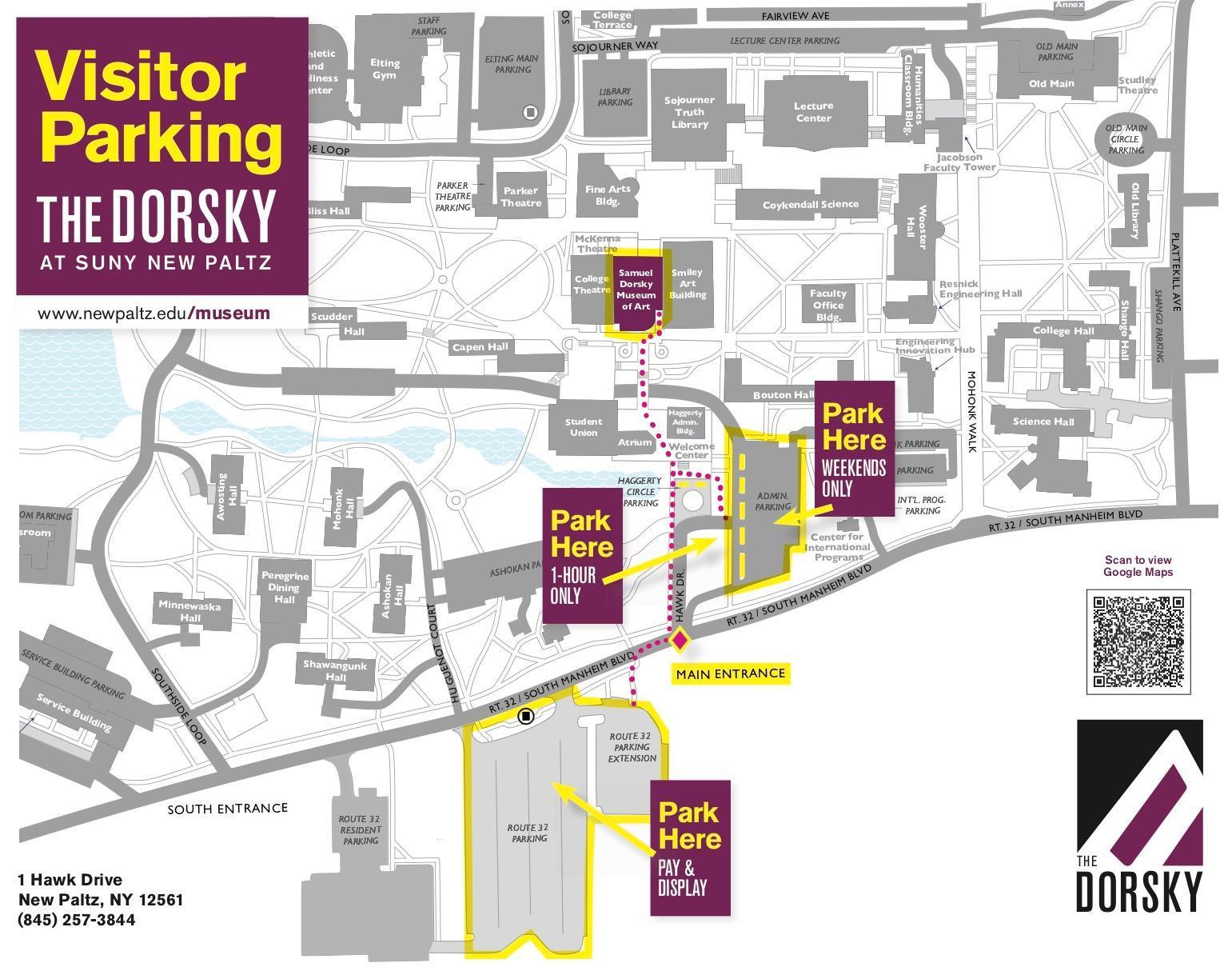 ACCESSIBILITY:
The Dorsky strives to ensure that its facilities, exhibitions, and programs are accessible to all.


Accessible parking is located at the Main Entrance, in the lot in front of the Haggerty Administration Building and Student Union Building. We can also arrange for cars to drop visitors off close to the Museum main entrance.

All Museum galleries are fully accessible for mobility devices including manual or electric wheelchairs, seated electric scooters, knee scooters, crutches, and walkers.

Wheelchairs are available on a first-come first-serve basis. You can request one at the front desk.

Lightweight, portable gallery stools are available for visitors to use.
Registered service animals may be brought into all areas of the Museum.
For any questions about accessibility or to plan your visit to the Museum, please contact Zach Bowman at
bowmanz@newpaltz.edu
or 845.257.3604.


GROUP VISITS, GUIDED TOURS, and COLLECTION ACCESS:
For information on guided tours, bringing a group to the Museum, or accessing objects from the permanent collection which are not currently on view, visit our Group Visits page.

MUSEUM POLICIES
Please keep hands away from all artworks and walls.
No food or drink is allowed in the galleries.
Flash photography and camera extension poles are not allowed unless specifically permitted.
Attendants are present to assure the safety of the artworks, and to assist visitors. Please follow their directions when asked.
Backpacks, umbrellas, and all items 11 x 14 inches (28 x 35.5 cm) or larger are not allowed in the galleries. The museum does not have a designated bag check, but visitors are invited to leave their bags with the front desk.
We reserve the right to modify our hours of operation, capacity, or visitor guidelines as circumstances require.
We will deny entry to any person who fails to follow these policies or whose conduct puts Dorsky staff, visitors, or property at risk.