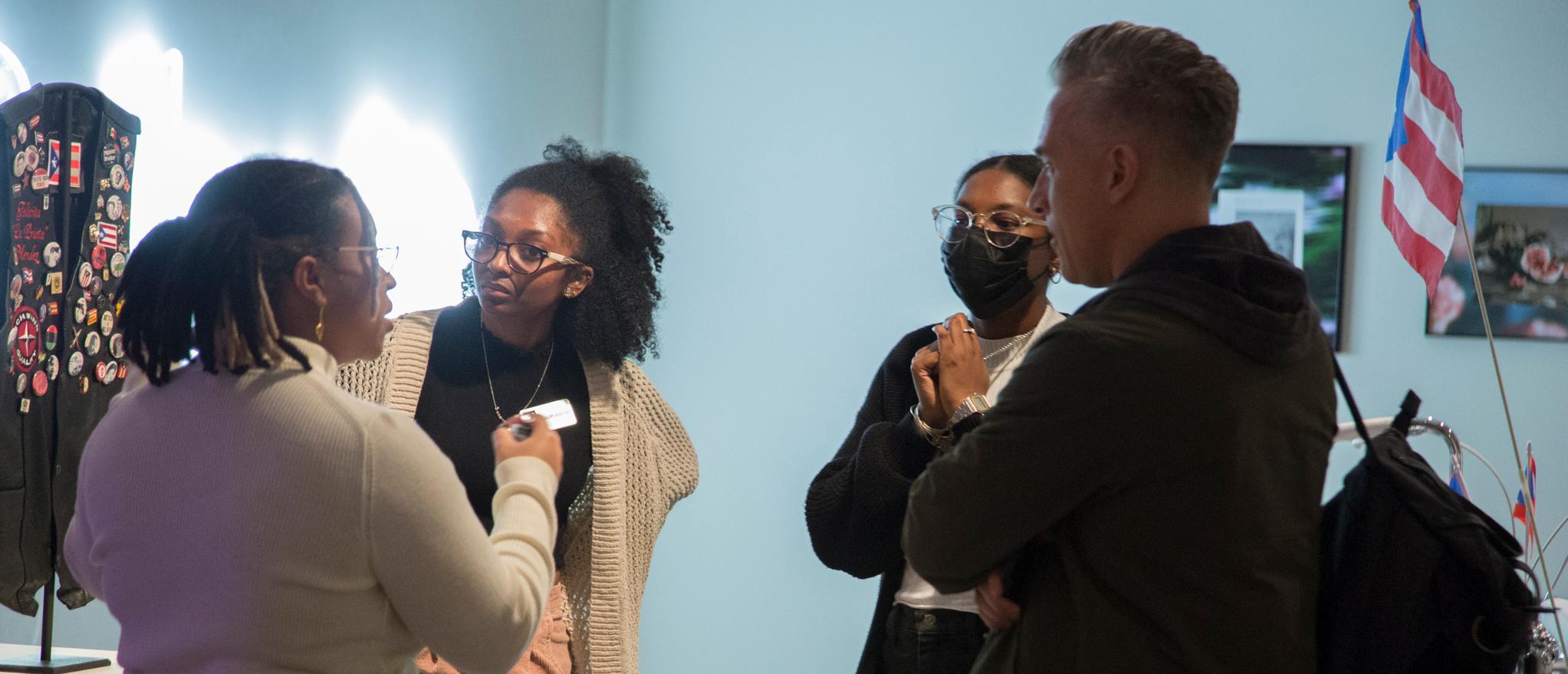 SUNY New Paltz students are always welcome to stop by and spend time in The Dorsky—this is YOUR museum.
We want to collaborate with you so don't be a stranger. Come to the Museum. Enjoy the art. Introduce yourself. Ask questions. We can't wait to meet you!
Here are some ways to get involved:
Study and Enjoy works in our Collection
You are welcome to view artworks in our collection that are not on display. Browse our collection online here and then fill out this form requesting Collection Access. Please submit your form 3 weeks in advance to allow time to assess and retrieve objects.


Student Groups and Associations
We are happy to work with you on creating an event at the Museum or hosting your group for a tour.
Get in touch with Zachary Bowman via email or phone at 845.257.3604 to set something up.

Dorsky Museum Ambassadors
The Dorsky Ambassadors student association's mission is to increase student engagement with the Museum by organizing events that are sure to entertain, enlighten, and engage their community.
Joining this fun group is an opportunity for students interested in working in Museums to gain professional development and build their resume, while learning the ins and outs of how a museum operates. They host multiple events throughout the year ranging from gallery talks, social events, workshops, and performances by students. If you are interested in joining or collaborating with the Museum Ambassadors, you can e-mail them at dorskyambassadors@gmail.com.

Student Thesis Exhibitions
Graduating BFA and MFA students work with Museum staff on presenting thesis exhibitions each semester, providing the experience of organizing and installing a professional exhibition, and giving the general public a glimpse into the exciting art work being made by SUNY New Paltz students.
Independent Study and Internships for Credit
If you have an idea for a project connected to the Museum or would like to get work experience with one of our departments an independent study or internship for credit may be right for you. Please contact conlana@newpaltz.edu to explore possibilities.
Gallery Attendant Jobs
Students with work study awards may apply to work at the Museum as a gallery attendant, engaging with our visitors and keeping the artwork on display safe. You can apply via the campus job board here
Owens Administrative Internship
This annual internship for a student seeking a degree in the Liberal Arts and Sciences assists in the planning, organization and day-to-day administrative operations of the museum's offices, providing support for many kinds of projects over the course of the year. Applications are due during the spring semester; you can learn more and apply here
Artist-in-Residence
Each spring we invite an MFA student to spend four months working with the Museum, responding to our collection and bringing new art, ideas, and audiences to The Dorsky. The call to apply is sent out to MFA students each summer and announced during the fall. You can learn more here
Graduate Assistantship
Each year an MFA student is the Museum Graduate Assistant, working with our Preparator to install and maintain our exhibitions. For more information on how to apply, please talk with the Chair of the MFA program and learn more info here