Curated by art faculty and students
April 26 – May 21, 2019
Alice & Horace Chandler Gallery and North Gallery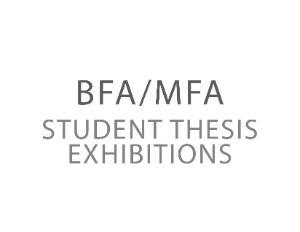 At the end of each semester, students graduating with Bachelor of Fine Arts or Master of Fine Arts degrees exhibit art work created as part of their thesis projects in the museum's west wing. The BFA and MFA students have worked with one another and with faculty advisors and museum staff to plan these exhibitions. Each student has completed the design and installation of his or her own work.
BFA I (4/26–30): Kaitlyn Antoniadis | Jack Burnham | Marissa Contelmo | Julianne Farella | Sari Friedman | Alyssa Karis | Brendan Komarek | Jingdi Ma | John Murphy | Arielle Ponder | Marco Venegas
BFA II (5/3–5): Amanda Aponte | Julia Betts | Kaitlyn Burch | Brandon Fiege | Zhike Gan | Serena Hale | Joseph Kattou | Liz Leupold | Irene Raptopoulos | Johnathan Renino | Alejandra Salinas
MFA I (5/10–14): Sylvie Lissa Alusitz | Julia Arvay | B. Jensen Hale | Tamar Hedges | Amanda Heidel | Geuryung Lee | David Munford | Heather Rosenbach | Jolynn Santiago | Sharon Strauss
MFA II (5/17–21): Emily Brownawell | Xiao Chen | Lynn Herring | Bora Kim | Betsy Lewis | Ruizhi Li | Rosa Loveszy | Megumi Naganoma | Andrew Sartorious
---
Curated by Alyson Baker and Candice Madey
June 15 – November 10, 2019
Alice and Horace Chandler and North Galleries
The 2019 edition of the Hudson Valley Artists series is titled Madness in Vegetables: Hudson Valley Artists 2019. It calls for works that address the political and civic implications of choosing a rural life; the enticing beauty and repellent brutality of nature; our ever-changing climate; the wild character of plants, gardens, forests, and fauna; the relevance, power and forms of anthropomorphic mythmaking; and poetic and fantastical interpretations of the woodlands.
---
Curated by Karen Quinn
August 28 – December 8, 2019
Morgan Anderson and Howard Greenberg Family Galleries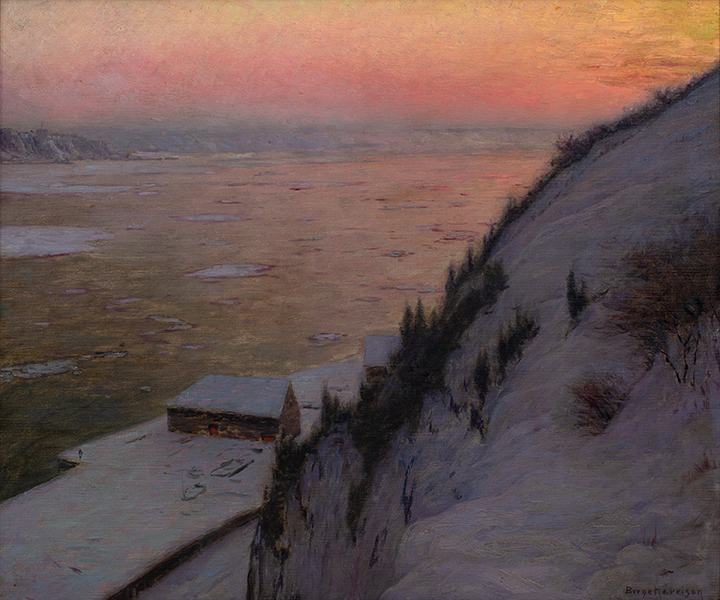 Birge Harrison, Lawrence River Sunset, n.d., oil on canvas, New York State Museum, Historic Woodstock Art Colony: Arthur A. Anderson Collection
Tonalism has long been considered a conservative late 19th-century approach to painting, often discussed as the antithesis to Impressionism. Recent publications have begun to reconsider Tonalism as innovative in its approach to representation both conceptually and as realized, an approach that helped to lay the groundwork for modernism and contemporary art. This exhibition will reposition Tonalism in this new context.
Many of the works included in this exhibition will be loaned by private collectors, thereby offering viewers the chance to see works that are not in the public domain.
---