While most of the Hudson River School painters came from far beyond its riverbanks, Jervis McEntee (1828-1891) was born and died in Rondout (later Kingston), on the Hudson's west bank. Moreover, he devoted the major part of his energies to painting the nuances of the local Hudson Valley and nearby Catskills, following his own unique artistic compass. The exhibition and accompanying catalogue will present McEntee's art in the context of his aesthetic and poetic temperament, and the inspiration and encouragement he derived from his close circle of artist friends, which included architect Calvert Vaux and fellow landscape painters Frederic Church, Sanford Gifford, John F. Weir, and Worthington Whittredge.
The stylistic range and aesthetic quality of the paintings and drawings in the exhibition demonstrate that McEntee set his own course, absorbing influences of his fellow Hudson River School painters while also responding to the atmospheric painting of J.M.W. Turner, the trauma of the Civil War, and the shifts in American taste to French Barbizon painting and Impressionism.
The exhibition includes works that cover the sweep of McEntee's career, from his descriptive local landscape paintings of the 1850s to his nearly impressionist works of the 1880s. A significant number of major canvases demonstrate McEntee's special infatuation with late fall, a time of repose in nature. Panoramic landscapes and intimate scenes of trees and creeks show the range and passion that McEntee brought to documenting the moods and vistas of his beloved Catskills and Hudson Valley. McEntee also traveled widely. Works in the exhibition include a painting made in Nevada in 1881, an informal scene of Frederic Church's camping party in Maine in 1879, and a group of paintings, plein air oil sketches, and a sketchbook made during McEntee's travels in Italy in 1868–69. The exhibition presents the full scope of McEntee's creative output, revealing how he developed compositions from pencil drawings to oil sketches to finished paintings.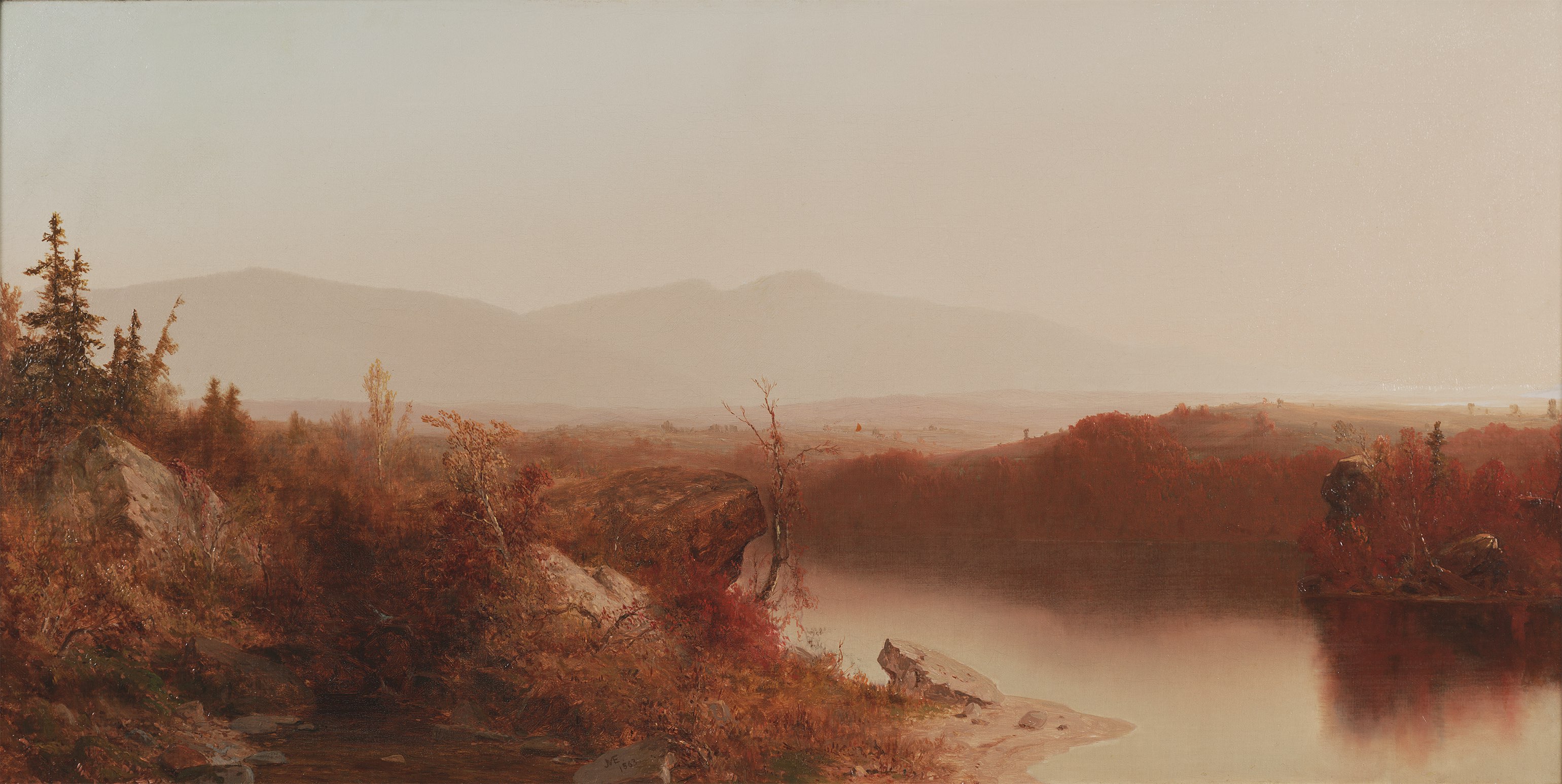 Jervis McEntee, View Facing the Catskills, 1863, oil on canvas, Private Collection
The exhibition is accompanied by a 130-page catalogue which presents new scholarship and color reproductions. The three scholarly essays are by exhibition curator Lee A. Vedder; Kerry Dean Carso, a scholar of the historic Hudson Valley and professor at SUNY New Paltz; and American studies professor David Schuyler, the leading historian on McEntee. The catalogue also includes reprints of key texts from the rare memorial publication "Jervis McEntee: American Landscape Painter" (1892). There will be over 50 color plates.
The time is long overdue for a reappraisal of this fascinating artist who played such a pivotal role in the art world of his day. Since his Memorial Exhibition in 1891, there have been several important efforts in this direction sponsored by commercial galleries, but there has never been a monographic exhibition of his paintings organized by a museum.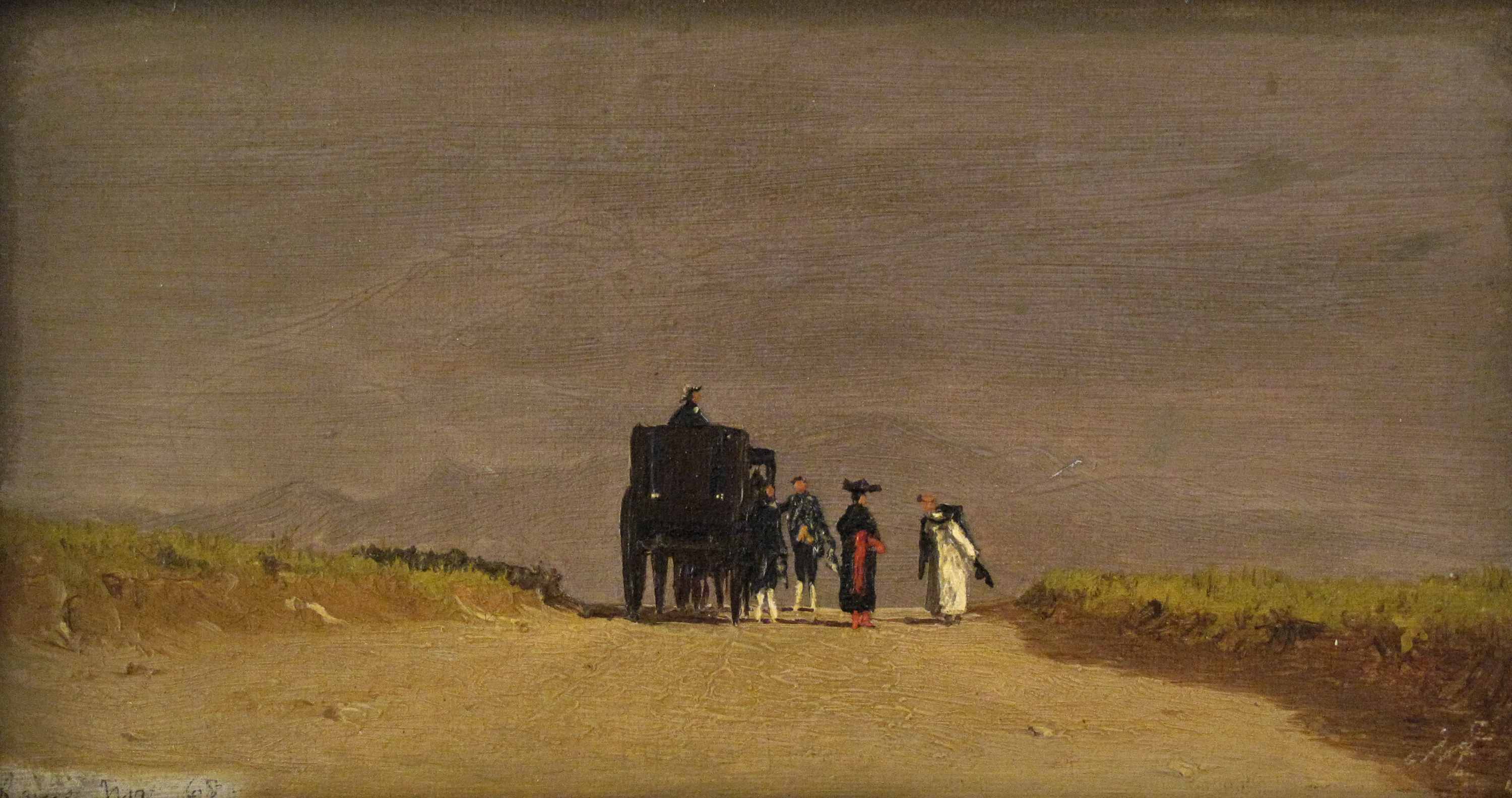 Jervis McEntee, Journey's Pause in the Roman Campagna, 1868, oil on canvas, gift of Helen McEntee, 2010.013.002

Lenders to the exhibition include The Metropolitan Museum of Art, Brooklyn Museum, Frances Lehman Loeb Art Center at Vassar College, Birmingham Museum of Art, Pennsylvania Academy of Fine Arts, New-York Historical Society, Yale University Art Gallery, and other important public and private collections.
Funding for Jervis McEntee is provided by the Friends of the Samuel Dorsky Museum of Art and SUNY New Paltz. Additional major funding for the exhibition and catalogue has been provided by the Malka Fund, Furthermore: a program of the J.M. Kaplan Fund, and the James and Mary Ottaway Hudson River Catalog Endowment.
A related exhibition, Jervis McEntee: Kingston's Artist of the Hudson River School, organized by the Friends of Historic Kingston, is on view in its gallery at the corner of Wall and Main Streets in Kingston's Stockade District and is open Fridays and Saturdays from 11 am to 4 pm through Oct. 31, 2015.