Printmaking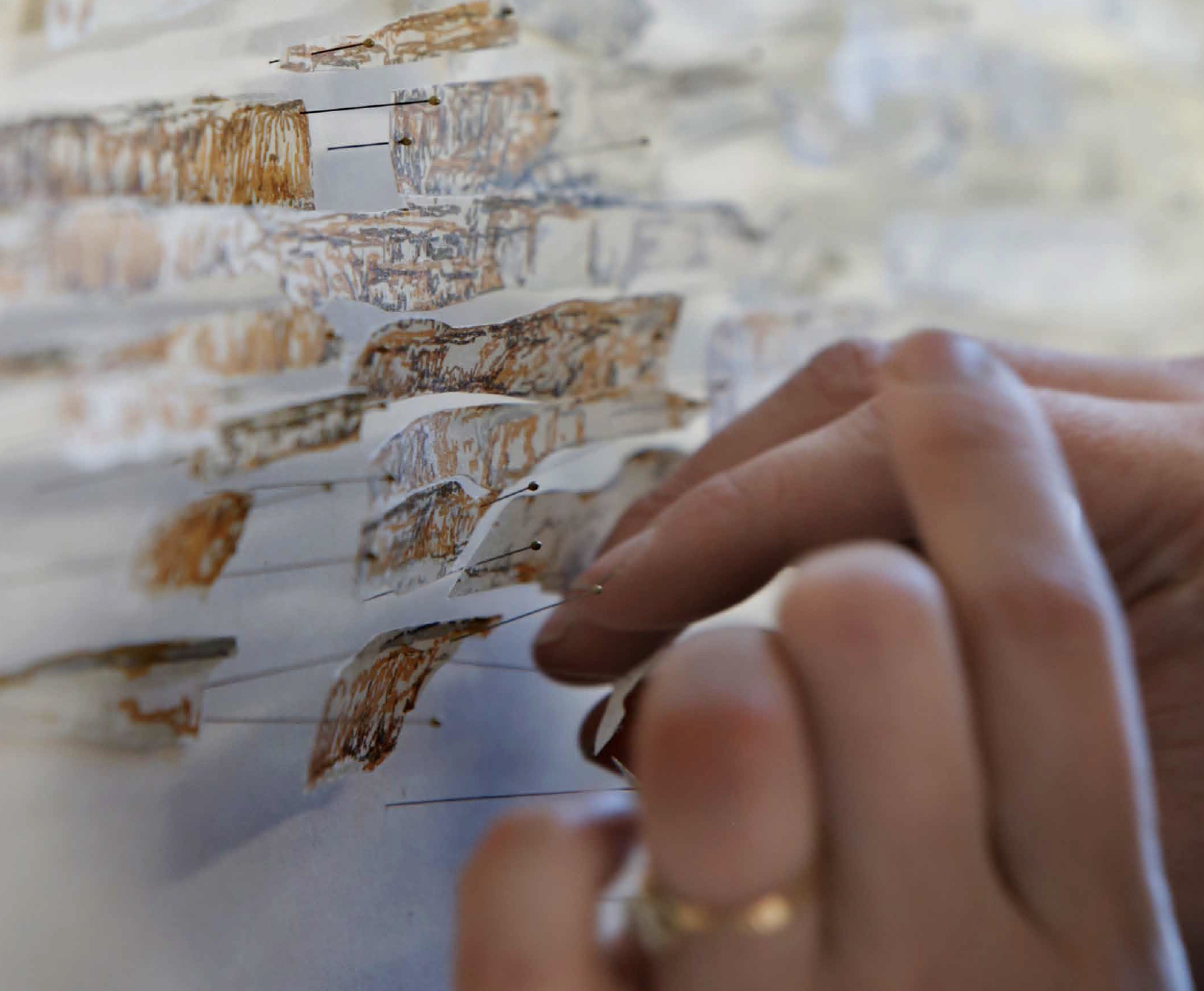 Mission
The Printmaking Program prepares students to be professional artists and to teach art at the college level. Our program offers a broad range of traditional, contemporary, and innovative techniques while encouraging students to formulate and articulate their philosophical and personal concepts and translate them into visual ideas. This intensive studio experience combines critical and theoretical dialogue. We are dedicated to acquainting students with the rich and diverse world of multicultural art and its formative impact on contemporary art. Over the past three decades digital technologies have expanded the possibilities for making print-based images and objects in ways that continue to emerge. In response to these new technologies, we continuously redefine our curriculum and introduce new courses that connect students from different areas with digital imagery and the editions of multicolor prints. Our students are engaged in the creation of diverse multimedia projects that include installations, three-dimensional objects, and digital printmaking.
Printmaking: Studio Space & Facilities
The Printmaking Program's expansive studios offer nearly eight thousand square feet of total space, and are considered state of the art in both design and safety. A highly efficient central ventilation system creates continuous, safe air quality throughout the entire printmaking studio. Contemporary printmaking art processes include multi-media applications where traditional and cutting edge techniques merge. A partial list of equipment includes: five lithography presses, (including a 3' x 5' Takach press); a large inventory of stones ranging from small to very large; four relief/etching presses, (including a 4' x 8' Takach press), a photo-silkscreen studio with two exposure units and five vacuum printing tables large and medium format, a medium size hand paper making facility. The computer lab-room holds six computer stations with two wide-format and three medium size printers. A critique room is equipped with three walls for displaying work, a digital projector a large screen, and a long hallway gallery well suited to the display of work.
Learn more about our Printmaking facilities and equipment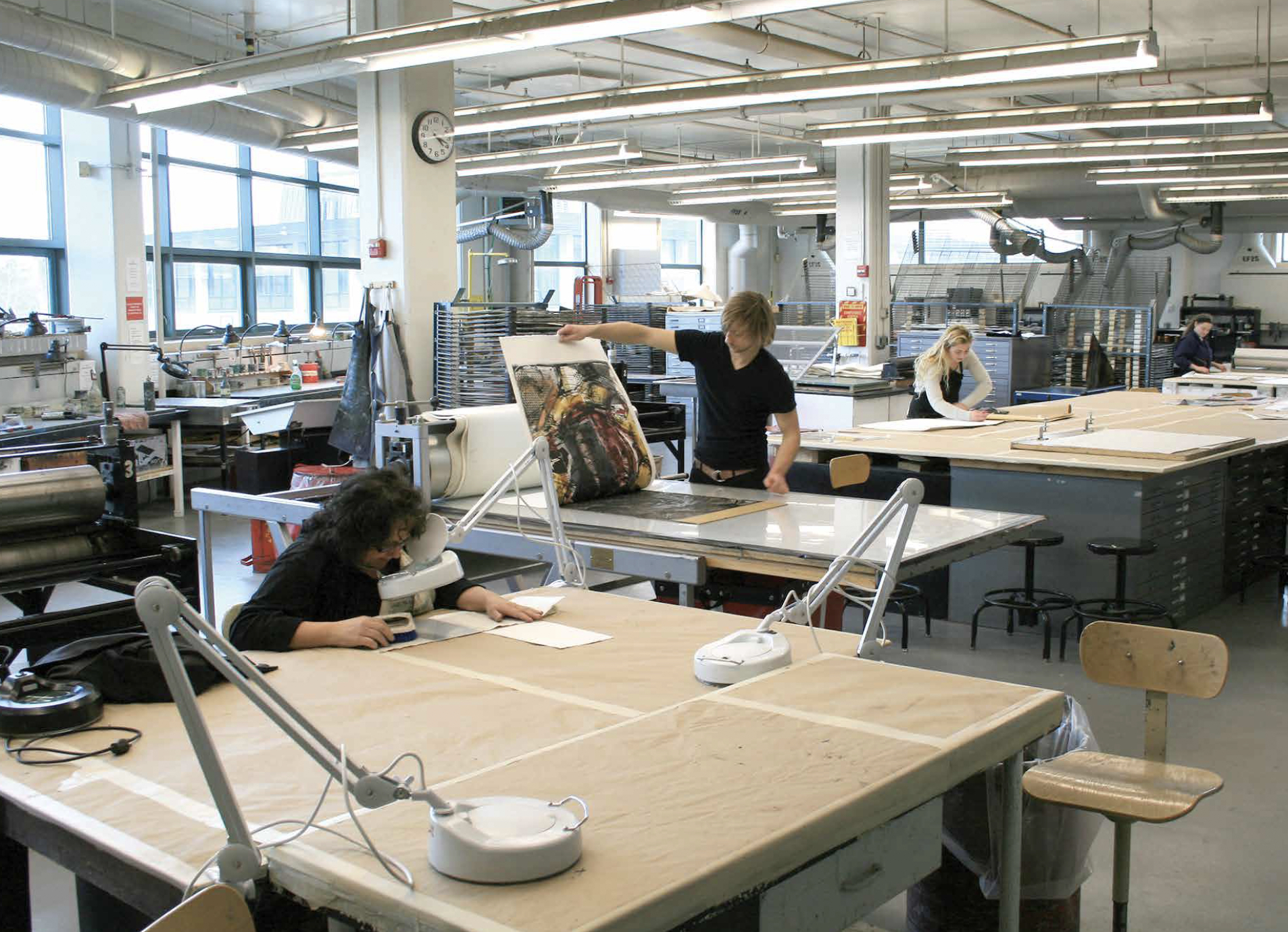 Internship, Residencies and Fieldwork
Our students have many additional opportunities to work on and off campus while enrolled, complementing their academic studies. We are in close proximity to many mid-Hudson Valley art venues and artists' studios, and there is easy access to NYC via bus for opportunities at galleries, museum's, art studios, and numerous non-profit organizations. Several MFA Printmaking students have been awarded the Graduate Assistantship at the Samuel Dorsky Museum on campus, and Creative Research Project Grants that assist them with specific artistic projects, supporting workshops off campus and/or materials. Printmaking students have had summer internships at Pace Editions in NYC, the International Print Center innNew York, Simmelink/Sukimoto Editions,nand have worked with leading artists in the field as assistants.
Student Success
EXHIBITIONS: Our alumni are invited to exhibit at top venues around the world, including the Venice Biennial, SMTG Krakow Triennial, Tallinn Triennial, Oldenburg Triennial, Graphica Creativa Triennial, Douro Biennial, and many museums, universities and galleries.
AWARDS: Alumni awards include the New York Foundation for the Arts Fellowship in Printmaking, Drawing, and Artists Books; Fulbright Award; Southern Graphics Council International MFA Award. Several recent alumni were awarded internships at the Robert Blackburn Printmaking Workshop, NYC; two have also gone on to work as the Studio Technician there. Other residencies and internships alumni received: Lower East Side Printshop, NYC; Women's Studio Workshop, Rosendale, NY; and Artist in Residence at The Arctic Circle, Svalbard, Norway. Our alumni are also awarded public and privately commissioned projects.
EMPLOYMENT: In addition to working as actively practicing artists, many of our alumni are professors, studio technicians, artists' assistants, printers for leading fine art printing publishers, and exhibition specialists at universities and art venues around the world. Some recent alumni have founded their own print studios, paper studios and publishing companies, completed the Tamarind Professional Printer Program and co-founded an international art book fair.
Visiting Artists
Our close proximity to NYC facilitates visits to campus by artists, printers, critics, curators, and alumni to share their experiences. A brief list includes: Lynn Allen, Charles Beneke, Luis Camnitzer, Alicia Candiani, Combat Paper, Devraj Dakoji, Dean Dass, Ismael Frigerio, Daniel Martinez, Liliana Porter, Andres Serrano, Richard Noyce, Andrew Raftery, Phil Sanders, Tanja Softic, Juan Sanchez, Paula vonSydow, Carol Wax and Linda Weintraub. We schedule field trips to Print Week in NYC each November, and also visit area venues, and NYC print collections, galleries, studios, and museums. Print Club organizes a trip to Southern Graphics International's Printmaking Conference each year.
Program Information:
Jill Parisi-Phillips, Associate Professor
parisij@newpaltz.edu or (845) 257-7871