Facilities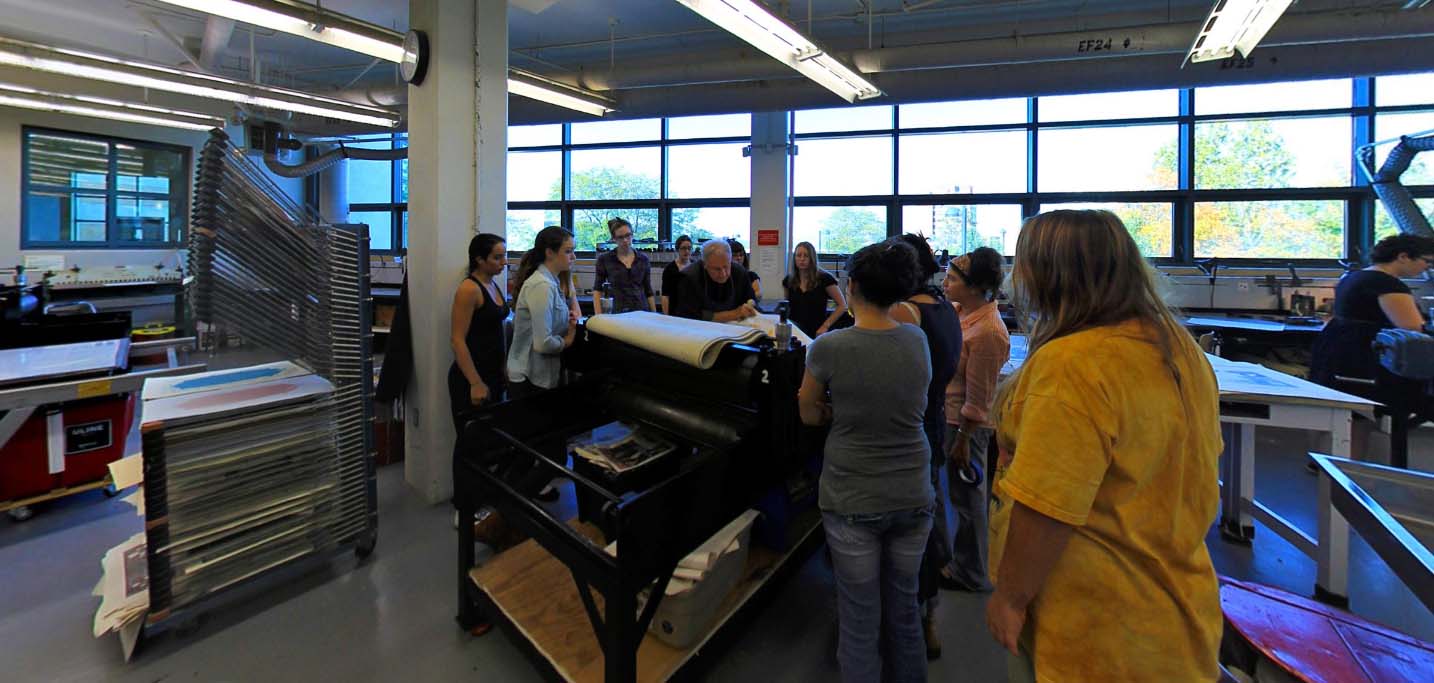 The Printmaking Program's expansive studios offer nearly eight thousand square feet of total space, and are considered state of the art in both design and safety. The program, with an extensive inventory of equipment and resources, provides the student with the ability to work in both traditional and contemporary printmaking processes.
With spacious and well-lit work spaces–featuring spectacular views of the Shawangunk Ridge and Catskill Mountains–the studio easily accommodates innovative and large-scale projects. A highly efficient central ventilation system creates continuous, safe air quality throughout the entire printmaking studio. A recent addition to the studio is the small paper making area.
3 Charles Brand etching presses (36"x60", 30"x50", 26"x48")
1 Takach etching press (48"x96")
Separate, well-ventilated acid room
2 nitric baths (24"x36")
Large ferric-chloride bath and vertical tank
Aquatint box (48"x48"x81")
Industrial hot plate (24"x36")
39" plate shear
5 various-sized drying racks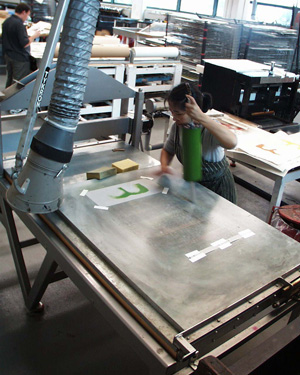 Full inventory of small, medium, and large lithograph stones and chemistry
3 Charles Brand lithography presses (30"x50", 24"x40")
1 Takach lithography press (40"x70")
1 Fuchs and Lang lithography press (26"x40")
Aluminum plate and photolithography chemistry and plate backers
Stone lift
Professional selection of leather and composite rollers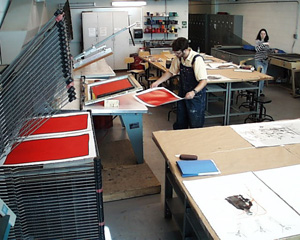 1 Douthitt silkscreen exposure unit (64"x78")
1 Richmond silkscreen exposure unit (40"x45")
2 vacuum printing tables; one with printing arm (96"x60")
3 vacuum printing tables (48"x72", 36"x48")
Professional selection of scoop coaters and squeegees
Separate washout room with power washer
Separate, light-safe screen drying area
4 various sized drying racks
Extensive screen storage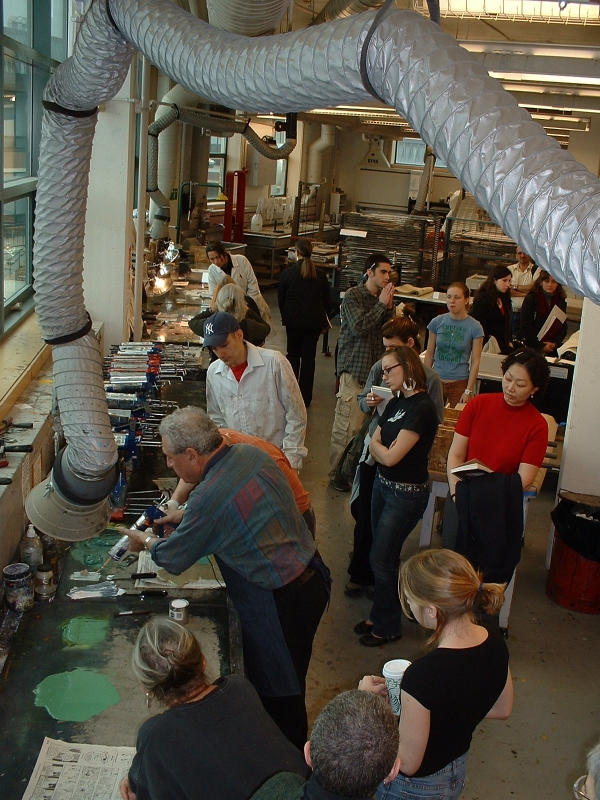 Spray booth (36"x72")
3 light tables (24"x36", 30"x40", 48"x60")
70" x 36" stainless steel paper sink
Clean paper-tearing area
3 various-sized paper cutters
Board shear for bookbinding
Professional selection of brayers and rollers
Extensive flat file storage
Scroll saw, compound miter saw, bench grinder and a variety of power and hand tools
Overhead transparency projectors
Portable iMac station with DLP projector and document camera
Epson PowerLite 760 LCD projector
Pneumatic power tool collection
3 Foredom flexible-shaft engraving tools
Large studio sinks
Reserve sets of felts, brayers, and rollers
Type-letter set with proofing press
Savin 4018 photocopier
Various display and exhibition areas
Separate critique room
Separate BFA/MFA studio
Separate etching and solvent wash-out room with four large hood areas
Printmaking library and print archive
Flexible fume ventilation hoods throughout the main studio
Lowel tungsten lights with umbrellas
Projector cart with Intel MacPro
Wireless studios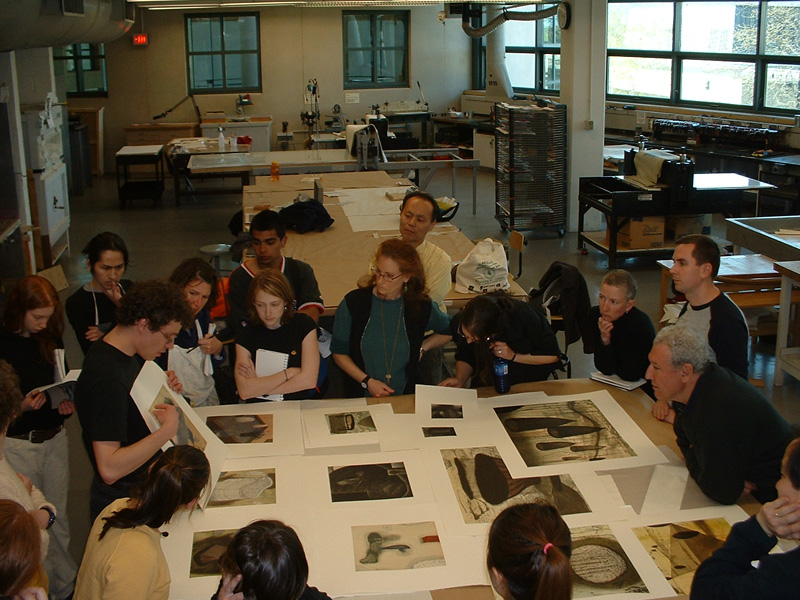 The Art Department's extensive woodworking studio
The Smiley Art Building computer graphics labs

Currently in development are improvements to the papermaking area, including systems and programs for recycling paper on campus and growing fibers from the Eastern and Western traditions for student use.
Darkroom
Amergraph Magnum flip-top platemaker (36"x46")
Photopolymer etching capabilities
HP DesignJet 510 wide-format printer
Large Takach registration punch
Developing sink (30"x82")


Digital Labs
11-station Macintosh lab with Mac Pro/G5 computers with current versions of Adobe Creative Suite, Microsoft Office, various image and video-editing applications, and broadband internet access
5 Intel MacPro computers with 17" LED displays
6 27" QuadCore iMacs
Epson Stylus Pro 9600
Epson 7600 wide-format printer with direct feed after-market system in 6 shades of black ink
3 Epson 9880 with K3 UltraChrome ink
Epson Workforce 1100
HP LaserJet
2 Epson Perfection 4870 photo scanners
Epson Expression 10,000 XL photo scanner
Software including Adobe Creative Suite, Final Cut Express, Silverfast, Colorburst 6.0, ILife, XRite Eye-One Profile maker, Profiling software, and Microsoft Office
Papermaking Area
31" x 48" x 64" Dry-stack system for drying handmade paper and flattening prints
Hydraulic Aardvark papermaking press 18" max width/length board dependent
Whiz mixer
Professional selection of moulds and deckles
Wool felts