Michele Di Palo-Williams '77
Michele Di Palo-Williams '77 has more than thirty years of experience in health care research. She has worked for health care advocacy associations as well as in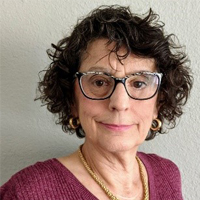 academic and corporate settings. Starting in policy study at the Kennedy School of Government at Harvard University, Michele moved to advocacy research for the Massachusetts Hospital Association. As the assistant director of Health Services Evaluation at Blue Cross Blue Shield of Massachusetts, she developed methods and tools to analyze patterns and quality of care for over two million members. As the director of Medical Policy Administration, she helped determine which medical services, procedures, and devices would be eligible for coverage.
Ms. Di Palo-Williams served on the Board of the Salvation Army of Waltham, Massachusetts. She assisted in the launch of a culinary arts program at the Boston Kroc Center and volunteered at several food relief programs.
Graduating magna cum laude from SUNY New Paltz '77, she went on to earn a master's degree from the Graduate School of Arts and Science at Harvard University. Since retiring, she and her husband moved to Las Vegas, Nevada where they are involved in animal rescue. This includes fostering twenty dogs with only one 'foster failure' – their pet Toni.