Why Alumni Giving Matters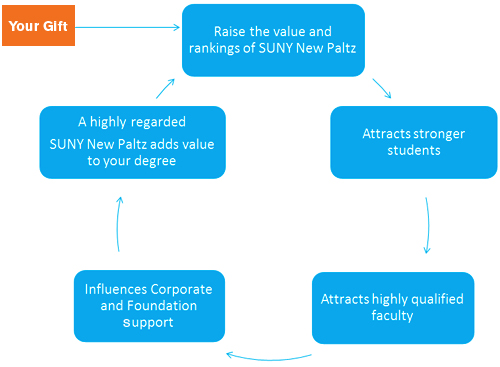 Your gift influences the Alumni Participation rate.
This is the percentage of alumni who give back to their alma mater. Over the years this alumni participation rate has become a key element in the U.S. News and World Report Best Colleges ranking. A high alumni participation rate indicates alumni satisfactionwith their alma mater. This year SUNY New Paltz rose in U.S. News & World Report ranking. SUNY New Paltz went from No. 6 to No. 4 among public regional universities in the North offering both bachelor's and master's degree programs.
Every gift counts. Every donor makes a difference.
Whether it's $20.20 in honor of this year's class or $1,000, you have the chance to support your college and provide pivotal support to students and faculty. Your contribution will play a key role in the student's educational experience and positively affect the alumni participation rate.
Imagine if every Alumni gave just $10, we could raise over half a million dollars!
Alumni engagement and backing for the college along with contributions to the Fund for New Paltz will allow us to continue to cultivate programs that will ensure that our students made the right choice, like you, to get the best education possible at SUNY New Paltz.
Support SUNY New Paltz Today
Your participation is key in rising up the ranks and adding value to your degree.
---