Elizabeth Perez '98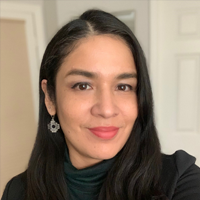 Elizabeth Perez '98 currently serves as an Assistant Vice President, Senior Lead electrical engineer at multinational engineering and design firm, WSP USA. She is currently working on various Zero-Emission Bus Fleet transition programs as well as supporting the electrification business in the Capital District. Perez is experienced in electrical building design of large to mid-size projects both in public and private sectors. Prior to WSP, Perez served as a project manager/senior electrical engineer at Setty and Associates in Washington DC since 2014. Setty is a multi-disciplinary design engineering firm specializing in high quality mechanical, electrical, plumbing, and fire protection consulting services. Her experience included project management for Government building projects (GSA and USDA) and engineering design for the University of Maryland Computer Science Building, Inova Loudon Hospital, IMF, World Bank buildings, DOD, CIA and private developers. As a project manager, she managed multi-disciplinary project teams and provides mentoring to junior staffs as well as client relations. As an engineer, she incorporated innovative and sustainable design methods in buildings (LEED, Net-zero). She has over 23 years of experience on electrical system design (power systems, lighting and fire alarm) in high rise commercial, healthcare, performance art centers, museums, airports, government buildings, and rail.
After graduating from SUNY New Paltz with BS in electrical engineering, Perez started working in Manhattan at Arup, an international London based firm. The 16,000 person team of designers, engineers, planner and consultant's company gave her the opportunity to work on major international and national projects such as Abu Dhabi International Airport, New Museum of Contemporary Art, Muhammad Ali Center, 2nd Avenue Subway in New York City, Air Force Memorial in Washington DC, Kimmel Center in Philadelphia, Pa. and Nelson-Atkins Museum of Art.
As an electrical engineering major, Perez was one of two women and one of only a handful of Latino students in the program. She is a first-generation student and the first child of her family to go to college. Younger brother Cesar Perez '98 received his BS in Biology from SUNY New Paltz and went on to earn a PhD in microbiology at NYU. He is currently a director at the FDA and one of the reasons Perez moved to Maryland. Youngest brother Edison Perez '01 also graduated from New Paltz with a computer science degree and currently works at aerospace technology corporation Lockheed Martin.
Ms. Perez was a featured speaker at the college's 2021 Women's Leadership Summit