Frequently Asked Questions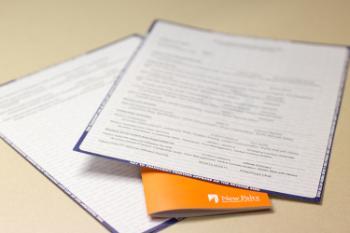 WHAT IS A CO-CURRICULAR TRANSCRIPT?
The Co-Curricular Transcript is a Web-based official document where you can list your out-of-classroom experiences occurring on campus at New Paltz. It also highlights desirable skills and outcomes employers seek from graduates. To give the Co-Curricular Transcript an official "stamp of approval," every experience you submit must be validated by a college employee. This program is a collaborative partnership between the Center for Student Engagement, the Career Resource Center, and Records and Registration.
WHY SHOULD I HAVE A CO-CURRICULAR TRANSCRIPT?
The Co-Curricular Transcript is an excellent way to monitor and track your out-of-classroom experiences while attending New Paltz. As the program allows you to track the skills and outcomes employers desire, you can get guidance developing your skills by seeking other co-curricular experiences offered on the New Paltz campus. The Co-Curricular Transcript can also be attached to job or graduate school applications, or as a supplemental document to your resume.
HOW TO START A CO-CURRICULAR TRANSCRIPT
All undergraduate students are pre-enrolled into the Co-Curricular Transcript on my.newpaltz.edu via the Student Services tab.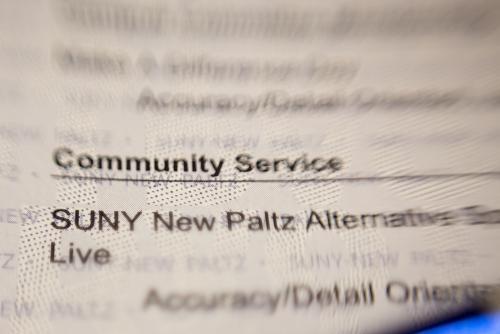 HOW DOES THE CO-CURRICULAR TRANSCRIPT WORK?
Once you are enrolled in the Co-Curricular Transcript program, you can select from nearly 2000 student experiences. Once you identify the experience you have completed, you complete the online form in my.newpaltz.edu. You will be asked to select up to five skills or learning outcomes that you believe you learned the most from having completed that experience. Continue and repeat for each experience that you have.
Once you submit an experience, an e-mail will be generated to the campus employee who can verify that experience. Once they verify the experience, it will be added to your transcript. If you cannot find your experience, please e-mail cse@newpaltz.edu with the experience name and which campus employee oversees, advises, or manages that experience. The Office of Student Activities will work with that person to add the experience to the program. In order for us to make the program an official, college-verified transcript, all experiences must be validated by an employee of the college.
HOW TO GET A COPY OF YOUR CO-CURRICULAR TRANSCRIPT
You can download an unofficial copy of your Co-Curricular Transcript at any time by visiting my.newpaltz.edu.
You can obtain an official copy of your Co-Curricular Transcript when you request a copy of your official academic transcript. Visit the Office of Records and Registration's website for more information.
QUESTIONS?
Enrollment, participation and general questions: Center for Student Engagement, Student Union 211, 845-257-3025, cse@newpaltz.edu
Career coaching, guidance, and using your Co-Curricular Transcript: Career Resource Center, Humanities Room 105
Official copies: Records and Registration, Haggerty Room 19